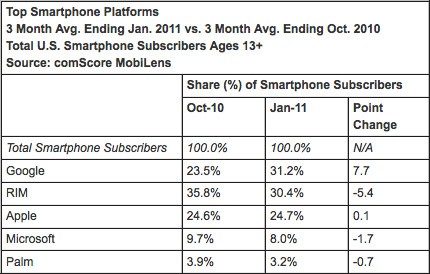 RIM has been #1 in total smartphone subscribers for a long time in USA. Android has grown from a few percentage points to 31% in a little over a year, even surpassing RIM, which dropped about 5% from a year ago, while Apple remained stable at close to 25%. So what does Android taking leadership mean for RIM and Apple?
Apple is a very strong competitor, so while it won't decline, it won't grow much either. iOS has been pretty stagnant market share wise in USA since early 2010. I believe it will remain at about 25% in USA and about 15% globally with some slight growth over the years while the market is still growing and they can capture share from Blackberry OS or Symbian.
As for RIM, it doesn't look that good. They are almost in the same position as Nokia is, although somewhat better since their profits are not declining yet, but it's obvious their Blackberry platform is. It will keep declining, and even if they make Android apps work on their phones, this will only make it more obvious that RIM has to ultimately switch to Android, too.
This would be great news for Android. If Google couldn't get Nokia, at least if they get RIM they'd get huge inroads in the enterprise world, while RIM and Microsoft have dominated.