As is tradition for Google to do each month, they AGAIN released a chart determining the percentage of usage for each Android version. The most significant development, it seems, for April was that KitKat actually gained quite a bit – some 3.2 point – thus bringing its overall market share to 8.5%. I will go ahead and post the chart below so you can see for yourselves: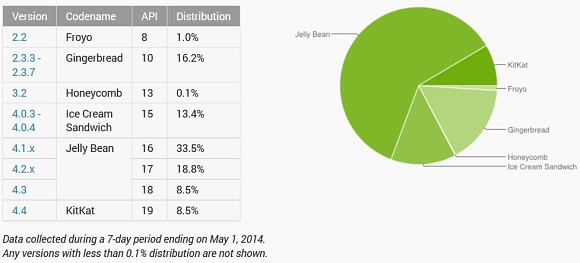 There were mixed fates with different results for the 3 versions of Jelly Bean. The 4.1 version dropped 0.9 points, however it still remains the most widely-adopted version with its 33.5% share. Surprisingly enough, 4.3 ALSO dropped 0.4 points, being now tied to KitKat at 8.5%. Even more surprising, as opposed to its other two Jelly Bean brethren, the 4.2 version was expanded by 0.7 points, bringing it to 18.8% share.
As it was to be expected, all the releases prior to Jelly Bean kept losing ground. Ice Scream Sandwich went down by 0.7 points, Gingerbread lost 1.6 points and Froyo also lost 0.1 points. Honeycomb is still there too with it 0.1% share, and will probably remain there until Google officially pronounces it extinct.
It's interesting how the older versions still prevail over the newer ones – on one side it shows that not too many people are willing to buy into the new devices the second they come out ( probably due to poverty being on the rise everywhere ), but on the other side it also shows an unwillingness to adapt to new things ( I, myself am an example of that, although I'm ashamed to admit it ). Take the Windows versions for example – Windows 8 has been out for how long now? – and yet still it doesn't have HALF the share of Windows 7. Even more so, it actually has less than half the share that XP has right now, and that one has been pronounced officially dead.
Hopefully KitKat will increase in its share, but frankly I blame it all on the fact that too many phones receive their updates too late – therefore Jelly Bean will probably still be top-dog months from now as well ( even if, by that time, another version may be out ).