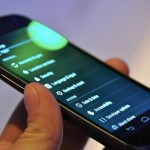 The Samsung Galaxy Nexus was the first smartphone to come out that was designed specifically for the 4th version of the Android operating system, also known as Ice Cream Sandwich. This Samsung phone originally came exclusively in black; however plans were in the works to later release the Galaxy Nexus in white. Well, this is not reality in the United Kingdom where consumers can now select from two colours rather than one. The white Galaxy Nexus became available on the 13th of February.
The white version of Samsung's popular Galaxy Nexus comes with the same internal design as the black Galaxy Nexus. This would include the impressive 4.65 inch HD Super AMOLED display. This display comes with a resolution of 720p or 1280 by 720 which is one of the best on the market today. Also, included in the white version of the Galaxy Nexus is the 5 megapixel camera. The new colour also comes with the same fast 1.2 GHz dual core processor. This makes it easy for users to quickly surf the internet on the go. The only difference is in its colour. Samsung has long prided itself on its ability to offer what their consumers wanted. Many people desired having this phone in an additional colour.
The white version of Samsung's Galaxy Nexus was first scheduled to be released in Asia. Specifically, Singapore was the first country to receive this version of the phone. The United Kingdom followed closely as the second mobile phone market to receive the white phone. It is now reported that the United States now has access to the white version of the Galaxy Nexus. This news comes from reports of the device being seen for sale on American websites. The white Galaxy Nexus only comes in a 16 GB model just as the black phone. There are no plans to offer versions of the phone with great storage.