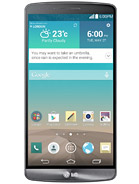 Today we'll be taking a look at the LG G3, the first phone to ever come out with a QHD screen and one of the latest flagships released by LG. Some very interesting choices were made for this phone and it took some rather unorthodox paths in the great smartphone race that's ever on the way and ever moving forward with newer and better devices. This race that seems to take place is often due to the fact that Samsung always seems to be the first to release their flagships, and thus most competitors need to make their variant in time for that release, as it's pretty doubtful that once a customer bought an 800 dollar device he'll have that kind of cash for another one a month later.
I suppose that it wasn't really up to them, after all, LG were working on a new system to implement to their phones and this newer system wasn't necessarily that easy to obtain. While other competitors are trying to make stronger phones by simply overclocking, stabilizing and optimizing the resources, LG chose to place more focus on another thing this time – pushing the boundaries of phones / tablets / phablets, and they actually succeeded in doing so. That's not to say that their phone isn't well optimized, it's just that it feels like more work was put into that other aspect than into optimization and at some points, it ends up scoring somewhat lower than other flagships in benchmark tests.
SUMMARY
For those that don't have the time or aren't willing to read the whole thing, this "tl;dr" section is for you. If you'd like a phone that's fantastic with its photography abilities, can create 2160p content and has one of the best screens out there then this is the best possible choice. The LG G3 does have its share of flaws too, as in slightly poorer optimization in certain areas than other flagships of its current generation. I guess you can somewhat compare this device to the HTC One ( the M8 one ), although in the same size the G3 managed to fit a 5.5 inch screen instead of a 5.0 inch screen and a stronger battery. On paper, the G3 is better than every other device, but without some serious software optimization so that the device will better use all of its resources it won't really be that successful. It's still worth its asked price and still one of the best smartphones out there, it's just that choosing to release LATER than the rest actually sets expectations a bit higher from the public, expectations that it doesn't necessarily live up to. The LG G3 is still one of the fastest smartphones out there, it's just not THE fastest.
GENERAL
There are multiple versions of this device, specifically due to its availability – some areas offer the GSM model, others the CDMA one. Depending on the carrier you choose, they all have the same capabilities – all versions of this phone use 2G, 3G and 4G LTE networks ( no matter if it's GSM or CDMA ). The type of SIM card found in this device is of Micro-SIM format. Currently, it's available world-wide, the few places that haven't received it yet being set to get it in the nearby future. The phone was initially announced in May and later released in June.
BODY
The body of this phone is quite interesting – never before has there been a phone that uses space as efficiently as the LG G3. Heck, the razor-thin margins ( or bezels ) of the screen allow it to be simply a 5.5 inch screen with a bit of plastic underneath it that hosts the microphone and a very small upper plastic pieces holding the front-shooting camera. The body has that beautiful brushed aluminium look to it, though it's not made of metal but rather it's easily classified as faux-metal. The specifics about the size and weight of this device are: 146.3 x 74.6 x 8.9 mm ( or 5.76 x 2.94 x 0.35 in ) and weighs in circa 149 g ( or 5.26 oz ).
DISPLAY
The display of this device is the newest type of screen out there, one that goes by the name of QHD and can fit a much larger resolution at an increased quality. The exact type of screen of this device is true HD-IPS+ LCD at 16 million colors. The specifics of this screen are that it can fit a resolution of 1440 x 2560 pixels on a 5.5 inch screen featuring a pixel density of around 534 pixels per inch. The display is also protected by a little something known as Corning Gorilla Glass 3, a very effective screen protection method against accidemta; scratches and maybe even a few drops now and again ( though I wouldn't really drop it on purpose – more often than not it's the components that break, rather than the screen ). While this display does offer increased quality and great viewing angles, it has proven that its contrast and direct sunlight legibility aren't among the best out there.
SOUND
As far as audio is concerned, the sound coming from this device is among the clearest and cleanest you will find right now, being also enhanced by a Dolby Mobile Sound enhancement. As opposed to the HTC One M8, this one doesn't really have stereo speakers and instead only has the one, but it's good enough ( most people listen to things through head-phones, anyway ).
MEMORY
As far as memory goes, the LG G3 will be available in two versions – one for a lower budget ( with 16 GB of internal storage and 2 GB of RAM ) and one for a higher one ( with 32 GB of internal storage and 3 GB of RAM ). Both of those previously mentioned versions have a MicroSD card slot that can use any card of up to 128 GB, in case you need more storage space for your device.
DATA CONNECTION
The connectivity of this device is great, having the fastest LTE type out there on it ( the Cat 4 kind with 50 MB/s Upload Speed and 150 MB/s Download ). The WLAN of this phone is Wi-Fi 802.11 a/b/g/n/ac with Dual-Band, Wi-Fi Direct and Wi-Fi hostpost support. The LG G3 also comes equipped with both an NFC port and an Infrared Port on it. The Bluetooth version of this device is v4.0 with A2DP and LE. The USB port is also of MicroUSB v2.0 format ( with SlimPort ) that has support for both USB Host and USB On-the-Go.
CAMERA
The camera of this device is one of the more sensational things found on the LG G3. There are two cameras on this phone, both capable of marvelous things – a 13 MP main one and a secondary 2.1 MP one for all the selfie-maniacs out there. Both can record video at 1080p at 30 frames per second, except the main one can also record in 2160p at 30 frames per second ( as previously mentioned ) and 720p at 120 frames per second ( if you want to add a bit of slow-motion effect to your video ). Some of the features of the main camera include: Phase Detection / Laser Autofocus, Optical Image Stabilization, Dual-LED ( Dual Tone ) Flash, 1/3″ Sensor Size, Simultaneous Video and Image Recording, Geo-Tagging, Face Detection, HDR ( for both Pictures and Videos ), Stereo Sound Recording and Video Stabilization. This is actually one of the better cameras found on a phone out there.
BATTERY LIFE
The battery of this phone is quite massive, yet despite its great Li-Ion 3000 mAh aspect, it still doesn't grant too impressive life-spans, partly due to the fact that the massive QHD screens takes its toll. Still, the battery does clock a pretty good endurance rating. It clocks around 69 hours of life, or if you want to get into more specific stuff: 25 hours of talk-time, 7 hours of web browsing or 10 hours of video-playback.
HARDWARE
The hardware of this device is quite powerful, though it does tend to over-heat a bit and the software isn't exactly PERFECT for it – as I've said, the hardware is good and very capable, but it does require some degree of software optimization to reach its full potential. The exact specs of the phone are: a Qualcomm Snapdragon 801 chipset, a Quad-Core 2.5 GHz Krait 400 processor and an Adreno 330 graphics card.
SOFTWARE
The software version found on this device is Android OS v4.4.2 KitKat and there's no word yet IF or WHEN this device will receive an update to a later version ( granted, the later versions didn't necessarily change much on the other devices they came out on ).
FEATURES
The features of the LG G3 are pretty numerous and useful. The sensors on this device include Accelerometer, Gyro, Proximity and Compass. The LG G3 uses HTML5 for the browser, has Stereo FM radio with RDS. The GPS of this device has support for both A-GPS and GLONASS alike. The LG G3 is available in a multitude of colors including: Metallic Black, Silk White, SHine Gold, Moon Violet and Burgundy Red. I kind of prefer the metallic colors more than the others, to be honest.

Here's a brief list of the things this device is capable of:
Active noise cancellation with dedicated mic
SNS applications
MP4/DviX/XviD/H.264/H.263/WMV player
MP3/WAV/FLAC/eAAC+/WMA player
Photo viewer/editor
Document viewer
Organizer
Voice memo/dial/commands
Predictive text input
That's about it for the LG G3. If you'd like to purchase this phone and try it out for yourself, I can provide you with a link where I've managed to find it for a more accessible price – simply click HERE. The phone is great – had more attention been given to details and LG not tried to rush it to the market ahead of its time in order to win the arms-race, at least on the QHD screen side, I'm sure it would have been the best. In other words, it's great flagship, but it has the potential for much more.