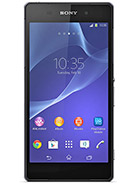 Today I'll be telling you a few details about the popular Sony Xperia Z2, or Sony's latest flagship. This is, by far, the strongest phone released by Sony up until now – I just had to lay that out there. I have to hand it to Sony on this one – considering how many divisions and how many things they'd created, you wouldn't think they had the time to push the boundaries of mobile technology yet again ( to be fair, that's a bar that has to be raised by more than one person, and so it has – simply look at the other current flagships or the things that will come out this year ). This phone is truly a wonder of modern tech and has a decent number of great features on it – the problem with it, however, is that it looks the same as every other Xperia phone ever created. Look as much as you'd like, the differences in design won't be that massive.
Most people aren't bothered by that, but this exact failure to make things look different from one another ( well not so much different, but at least easy to distinguish between them ) has been the reason stopping me from ever purchasing an iPhone ( that and the horrid OS and the over-pricing and the fact that it's inferior to an Android phone in every given way ) or other such devices.
SUMMARY
I'll dedicate this section to answering a few simple questions: Is the phone good? and Is it worth its demanded price? Firstly, the phone is one of the best existing phones at the current time. While it does have a few drawbacks, they're altogether minor and either easy to adjust ( like, if you keep the camera settings on Auto it will only use 8 MP of the 20 MP total ) or you get used to them in time ( like the volume not being as loud as other phones, but the sound being crystal clear nonetheless ). In the grand scheme of things, the advantages outweigh the drawbacks by far, and that's something I always like to consider when paying for something. If the ratio between good and bad is positive, then it's a plus in my books – if the ratio is above 1, then the pricing starts to look quite enticing. Speaking of the price, you may want to keep in mind that it's a Flagship – aka the most powerful AND most expensive phone ( not counting those solid-gold diamond-encrusted useless things ) – so you should have no surprises when you learn that the phone will take way over 800 dollars ( 880 to be more precise – or 680 euros or somewhere around that, depending on your exchange rate ).
GENERAL
There's not really anything out of the ordinary with the networking as far as the Sony Xperia Z2 – it uses the standard 2G and 3G types of networks and it has 4G LTE ( which will be somewhat different in name, depending your location, but all will be similar in purpose – so take joy in that ). The type of SIM card that goes into this device is of Micro-SIM format. As far as availability goes, this phone has experienced quite a few mishaps – unofficially it's been out since April, but due to a shortage of stock rather soon, the official release date for most people was pushed in May. Currently it's available in most countries ( if it's not, it should be any day now ).
BODY
While the pictures may not look it, the phone is quite massive indeed. Although, to be fair, when you have a 5.2 inch screen, you can't really expect to make a small phone. Still, the body doesn't seem unnecessarily big and there's not a lot of wasted space. Specifically, the phone seems to be 146.8 x 73.3 x 8.2 mm big ( or circa 5.78 x 2.89 x 0.32 in ) and it weighs circa 163 g ( or 5.75 oz ). The body of the phone is also IP58 certified dust-proof and water-proof for over 1 meter and 30 minutes.
DISPLAY
The type of screen on this phone is quite unique. The screen is an IPS LCD Capacitive Touchscreen with 16 million colors. The phone's screen is 5.2 inches large and can hold a resolution of 1080 x 1920 pixels and has a pixel density of approximately 424 pixels per inch. The screen is also protected by a Shatter-Proof and Scratch-Resistant sheen of glass. The multitouch on this display is also one of the finest out there that can support up to 10 fingers ( Sony always had a reputation for including this kind of multi-touch on their phones ). Also, it's worth mentioning that the display has Triluminos technology, and on the software-side it's enhanced by the X-Reality Engine. The colors on this screen tend to be very clear, but not as vibrant or supra-saturated as an AMOLED ( most people prefer it to be so, but I frankly like it when it's overly bright and saturated – it creates a sort of "eye-candy" effect ).
SOUND
The audio output of this phone is pretty standard as far as features go. It doesn't seem to have any software-based sound enhancements, although it does have a hardware-based one, more precisely: Stereo Speakers instead of one large loudspeaker. In case  you've skipped the Summary portion, the one known drawback here is the volume – it's not as large as some would expect. However, the quality is exquisite and there's nothing to reproach about it.
MEMORY
The Sony Xperia Z2 is one of the more interesting devices as far as memory is concerned. It's disappointing to see that it only has 16 GB of internal storage space, but it's very uplifting to see that its card slot can hold any Micro-SD card of up to 128 GB. To top it all off, the Xperia Z2 also has 3 GB of RAM on it, therefore you shouldn't experience any bottlenecking or lagging whatsoever with it.
DATA CONNECTION
The connectivity of the Z2 is pretty great – both with the Internet connection and the others. As expected, it has both GPRS and EDGE, but what's truly impressive is the speeds it can reach via its connections: with the 3G you'll get around 42 MB/s Download Speed and 5.8 MB/s Upload Speed and with the 4G LTE on you'll reach phenomenal speed of 150 MB/s Download and 50 MB/s Upload. The WLAN of the device is 802.11 a/b/g/n/ac and it also has DLNA, Wi-Fi Direct and Wi-Fi Hotspot. This phone also has an NFC connection and Bluetooth v4.0 with A2DP. The USB port of the Xperia Z2 is MicroUSB v2.0 ( with MHL 3 ) and it supports USB Host and USB On-the-Go.
CAMERA
The camera of the Sony Xperia Z2 is one of the more phenomenal features installed on it. Firstly – there are two of them: the main one which is 20.7 MP ( although, as I've previously stated: keeping it on Auto will result in it using only 8 MP of the total available ) and a secondary frontal one which is 2.2 MP. As far as competence goes, the main one can snap photos at resolutions of 5248 x 3936 pixels and record video in the following formats: 2160p at 30 frames per second, 1080p at 60 frames per second ( which I used to think was the smoothest format out there ) and at 720p at 120 frames per second ( which has now taken its place as the smoothest format ) – also the secondary camera can record in 1080p too, but only at 30 frames per second ( which is still extremely well, if you ask me ). Aside from those, the features of the camera are: Autofocus, LED Flash, 1/2.3″ Sensor Size, Geo-Tagging, Touch Focus, Face Detection, Image and Video Stabilization, HDR ( for both image and video ) and Panorama.
BATTERY LIFE
The main drawback that I find with the battery ( I instantly hate this type of battery ) is the fact that it's Non-Removable. Other than that, it's a pretty decent Li-Ion 3200 mAh battery that has the following alleged stats: up to 690 hours of battery life in Stand-By, up to 15 hours of talk-time and up to 120 hours of music play. But let's be serious here – no smartphone ( or very of the older ones ) is capable of offering you more than 3 days of battery life – it's the massive screen that drains so much power ( you won't have that problem with older and smaller smartphones ).
HARDWARE
The hardware found on the Sony Xperia Z2 is one of the finest out there – there's a Qualcomm MSM8974AB Snapdragon 801 chipset with a Quad-Core 2.3 GHz Krait 400 chipset and an Adreno 330 GPU too. As far as hardware goes, there's really nothing to reproach here.
SOFTWARE
Rest assured that the software version found on the Z2 is the latest version of Android OS – v4.4.2 KitKat. Again, nothing to really talk about here.
FEATURES
The features of this device are fairly numerous and quite impressive, too. The sensors on this phone are Accelerometer, Gyro, Proximity, Compass and Barometer. The Xperia Z2 also has HTML5 for the browser, FM radio with RDS, Java through MIDP Emulation and a GPS that supports both A-GPS and GLONASS. The messaging on this phone is done via the standard ways – SMS ( with Threaded View ), MMS, E-Mail, IM and Push E-Mail. This phone is available in 3 colors, too: Black, White and Purple.
Here's a brief list of what the Sony Xperia Z2 is capable of:
ANT+ support
SNS integration
TV-out (via MHL 3 A/V link)
Active noise cancellation with dedicated mic
Xvid/MP4/H.263/H.264 player
MP3/eAAC+/WAV/Flac player
Document viewer
Photo viewer/editor
Voice memo/dial
Predictive text input
That's about all there is to the Sony Xperia Z2. If you'd like to purchase it, I can link you to HERE ( there aren't many left in stock, but the stock is usually updated rather quickly, so you've got that going for you ). This has been it for this phone – I hope you've enjoyed reading it as much as I did writing it and that you've learned a few thing about this phone. I tried keeping it as short as possible so as not to go into too many unnecessary or boring details, yet still cover everything there was to cover.