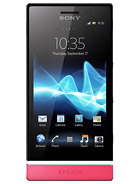 Today we shall be looking at the Sony Xperia U. Yesterday I have said that this phone is similar in quite a few ways to the Sony Xperia P. But truth be told, the Sony Xperia U is quite different from the P. The only similarities ( and striking ones too ) are at the outer body and the fact that they both have that weird plastic thing below the screen which God only knows what purpose it serves. As far as internal components go, this one is a bit weaker than the Sony Xperia P.
Before asking, I have no idea when it is supposed to come out. All I can say for certain is that it was announced in February 2012. Usually the release date is speculated to be a month away from the announcement date ( or more, depending on the case ). People think that it will come out in Q2, but then again people have been wrong before and you can't know for sure anything. And also, before telling me that is already available or something like that, keep in mind that I only say that a phone is available when it can be purchased anywhere ( world-wide ) and without any contractual restrictions. I felt the need of mentioning the contractual restrictions part since I have seen many cases in the past in which they give you the product on the condition that you get a very strict contract with that company. That contract can also be compared to the contract which you sign in order to sell your soul to the devil. That's how many restrictions and fine prints it has.
But enough with all of this. Let us begin this little review / preview.
Processor : Dual-core 1 GHz
RAM : 1 GB
Android OS : 2.3 Gingerbread
Camera : 5 MP
Display : 480 x 854 pixels, 3.5 inches (~280 ppi pixel density)
Let us begin by taking a look at the body of this phone. It is a bit smaller than the Sony Xperia P, on the screen and on the body part. The body of the Sony Xperia U is 112 x 54 x 12 mm large and the phone weighs about 110 grams. The only feature of the Sony Xperia U's body is the same as the P's : touch sensitive controls.
Now let us take a look at the data connectivity of the Sony Xperia U. This phone has GPRS of up to 100 KB/s and EDGE of up to 296 KB/s. Also, this phone has HSDPA with speeds of approximately 14.4 MB/s and HSUPA of approximately 5.76 MB/s. The WLAN of this phone is a Wi-Fi 802.11 b/g/n with Wi-Fi hotspot and DLNA. The Sony Xperia U also has Bluetooth v2.1 with A2DP and EDR. It also has NFC ( which not many phones have ). The USB connection of this phone is MicroUSB v2.0 with USB On-the-Ago support.
Moving on to the display of this phone. You'll notice this part is different from the Xperia P since this phone actually has a smaller screen but ironically it has a bigger pixel density. The screen type is an LED-Backlit LCD with Capacitive Touchscreen and 16 million colors ( just as the Xperia P ). The resolution reached by this screen is 480 x 854 pixels and the size of the screen itself is 3.5 inches  big. As I've mentioned before, the pixel density of this phone is a bit bigger than the Xperia P's pixel density ( with emphasis on A BIT ). By that I meant that this phone has 280 ppi, as opposed to the 275 ppi had by the Xperia P ( but, then again, the Xperia P had a bigger screen than the Sony Xperia U ). The display of this phone also has Multitouch capable of up to 4 different fingers. Why would you need to use 4 simultaneous fingers is beyond me, but the world is full of sick people. Also, just as the Xperia P, the Sony Xperia U has a Scratch-Resistant Glass Display as screen protection. Also, the Sony Xperia U has a few things pre-installed on it which you can switch to if you wish. The things installed are : Sony Mobile BRAVIA Engine and Timescape UI.
Let us take a quick look at the sound of the Sony Xperia U. The alert types supported by this phone are : vibration and MP3 ringtones. This phone also has a Loudspeaker and a 3.5 mm jack. As opposed to the Xperia P, the Sony Xperia U does have a few sound enhancements, which the Xperia P lacked despite the fact that it seemed to be better. The enhancement I am referring to is the Sony 3D surround sound audio technology.
Now let us move on to the memory part of this phone. The Sony Xperia U has the same side effect as the Xperia P : they both lack the memory card slot. The Sony Xperia U has a much smaller internal storage space and RAM, as opposed to the Xperia P which is decently endowed in those parts. The internal storage part of this phone consists of 4 GB of storage and the RAM is limited to 512  MB.
Let us move on to the camera of this phone. The Sony Xperia U has a 5 MP camera, as opposed to the Xperia P which has an 8 MP one. This 5 MP camera is capable of taking photos at resolutions as big as 2592 x 1944 pixels. This camera also has a lot of features. These features include and are limited to : autofocus, LED flash, ge0-tagging, touch focus, face and smile detection, 3D sweep panorama and image stabilization. The video recorder is also pretty awesome, being capable of recording at 720p HD with a steady 30 fps and it also has video light. The Sony Xperia U also has a secondary camera, but that one is a VGA camera so there isn't much to say about it.
Let us now take a look at the hardware of this phone. The Sony Xperia U has the same hardware as the Sony Xperia P. They both has a Dual-Core 1 GHz processor, they both a DB8500 graphical processing unit and they both have an STE U8500 chipset. Same thing, different phone.
Moving on to the software of this phone. The Sony Xperia U has an Operating System just as the Xperia P. They both have Android OS v2.3 Gingerbread installed on them and there is a planned upgrade in the future to Android OS v4.0 Ice Cream Sandwich. However, since there is no solid data about the release of the phone, one can only imagine when the ICS update will come out.
Now let us take a look at the other features of this phone. The sensors of the Sony Xperia U are as follows : accelerometer, gyro, proximity sensors and compass. Recently, most phones announced at the time of this one have these features. The messaging of this phone can e done via : SMS ( in threaded view ), MMS, E-Mail, IM and Push E-Mail. The browser of this phone supports HTML5 and it also has Adobe Flash. The Sony Xperia U also has Stereo FM radio with RDS. The GPS of this phone supports A-GPS and the Java of this phone is available only via Java MIDP emulation. The colors in which this phone will come out in are : black and white but it will have exchangeable button caps in the colors of white, black, pink and yellow.
Now, here is a short list of the features which are too unique to include in their own paragraph :
SNS integration
Active noise cancellation with dedicated mic
MP4/H.263/H.264/WMV player
MP3/eAAC+/WMA/WAV player
Google Search, Maps, Gmail,
YouTube, Calendar, Google Talk
Organizer
Document viewer
Voice memo/dial/commands
Predictive text input
This has been the review / preview of the Sony Xperia U. I hope you enjoyed reading it as much as I enjoyed writing it and if you feel that anything has been left out of this review / preview leave your suggestion in the comments below and I shall be sure to take then into consideration when writing my future projects.