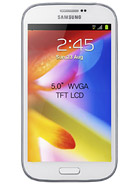 Today we'll be taking a look at the Samsung Galaxy Grand I9080. This is a fairly interesting average Android phone. The Samsung Galaxy Grand I9080 is also available in a Dual-SIM version with the same name. It has but one small difference in the name as the Dual-SIM one is known as the I9082 instead of the I9080. Still, other than that there is no significant difference between the two and I assume that more people will get the normal one instead of the Dual-SIM, especially with the state of our economy. Nowadays, not many people can afford to keep a phone with two different SIM cards. Heck, there are many people who can barely afford to keep a phone.
Even so, the Samsung Galaxy Grand I9080 is still a marvelous device which I am sure will be available for a mid-range price ( since, after all, it doesn't exceed mid-range performance to deserve a higher price ). This is a phone made to be a simple Android phone that can satisfy a large variety of people. Unless you're someone that requires a lot of performance from a phone for who knows what reasons, then this phone will more than fulfill your needs.
OVERVIEW
In case you're looking for a general opinion about the Samsung Galaxy Grand I9080 but do not want to sit and read through all of the review, this Overview part is made to satisfy your exact wish. Be warned, however, since I will offer very little useful information in this part and you may not be as satisfied just by reading this part and ignoring the rest. I highly recommend just getting a general idea here and then going into the advanced stuff lower down in the page.
This is a fairly interesting phones that promises a lot but fails to deliver in certain areas. While this phone is good and has a lot of potential, there are certain areas in which it disappoints. One such area ( and perhaps the only one ) is the screen. I was pleasant surprised to see that the screen is 5.0 inches big, but I was shocked to see the resolution and pixel density of this screen. While there are phones out there that can reach 1080p with a 5.0 screens ( new technology, however ), the Samsung Galaxy Grand I9080 cannot even reach 720p.
However, with all the disappointment the screen brought me I was more than lenient enough as to forgive it due to the many other great things that the Samsung Galaxy Grand I9080 has. It more than makes up for that flaw with all the bells and whistles that the phone has and with its superbe design. I urge you to keep on reading and see for yourself where the good things are. You will be more than satisfied.
GENERAL
Unfortunately, I am unaware what type of SIM this device has. I have searched time and time again, and I am still unaware what type of SIM it is. Either Mini-SIM or Micro-SIM, it should still be good. Still, the networks supported by this device are as following: regular 2G ones ( GSM 850, GSM 900, GSM 1800 and GSM 1900 ) and regular 3G ones ( HSDPA 850, HSDPA 1900 and HSDPA 2100 ). The Samsung Galaxy Grand I9080 was announced in December 2012 and it is believed to come out somewhere around Q1 of 2013. Time will tell us whether or not that prediction has any value to itself.
BODY
The size of this device is pretty irregular. The Samsung Galaxy Grand I9080 is big enough as to have a 5.0 inch screen, but as opposed to other phones with 5.0 inch screens, this one has a particularity which you will recognize in just a moment. In the meantime, the size of this phone is: 143.5 x 76.9 x 9.6 mm big ( or 5.65 x 3.03 x 0.38 in, if you prefer it this way ) and it weighs around 162 grams ( or 5.71 oz, if you'd rather have it this way ).
DISPLAY
The screen of this device is a capacitive touschreen ( am sorry as I cannot say exactly what type of screen it is due to a current lack of data – perhaps in the future it will be known, but it's a mystery at the moment ) with 16 million colors. The disturbing part here is the screen. While it is 5.0 inches in size, it only has a resolution of 480 x 800 pixels. The pixel density is quite damaging ranging around 187 pixels per inch. In total, this screen configuration can be damaging to your eyes, especially if you choose to use it in the dark or at night. Normally I believe that such a pixel density is at least half decent, but we're talking about a pretty big screen and it will have some degree of flickering. Of course, it won't bother me as I have a 256 thousand color screen on my phone, but other may be more sensible than me. Moving on, this device also has Multitouch ( I don't know whether or not this is still worth mentioning because in this day and age all Android smartphones have Multitouch ). Also, the Samsung Galaxy Grand I9080 has TouchWiz UI installed on it. There are some who do not really like User Interfaces on their phones. If you have a problem with it, the only solution would be to have it rooted and uninstall it manually, but that is a solution that can only be successfully applied to those people with enough tech savvy as to revert it afterwards. It is risky, but if you have the know-how you can do it. Otherwise, if you are a casual user of smartphones, I highly suggest learning to live with it.
SOUND
The audio output of this device is pretty basic. There seem to be no notice-able sound enhancements related to the audio output of the Samsung Galaxy Grand I9080. Apart from the dedicated mic and active noise cancelation ( which, to be honest, is more of a feature and you will see that in just a minute ), you cannot really find a whole lot of enhancements. The alert types are the basic ones ( Vibration, MP3 and WAV ), the loudspeaker is as default as it gets and the phone also has a standard 3.5 mm audio jack.
MEMORY
The memory of this device is pretty unique. The internal storage space is quite large, as the phone has 8 GB for you to use. The RAM may be a bit disappointing to some, as many believe that in this day and age a mere 1 GB of RAM for a phone is nowhere near enough. However, despite the RAM being something less than you would expect, this phone has something which you don't really see in the vast majority of other phones. The Samsung Galaxy Grand I9080 has a Micro-SD card slot that can support a Micro-SD card of up to 64 GB. This is something quite rare which you won't see among many of the older phones. You are likely to see it in certain phones from now on, but up until recently only the Galaxy S III had that.
DATA CONNECTION
The Samsung Galaxy Grand I9080 comes with both GPRS and EDGE installed on it. However, it is unknown what Class they are or Speed they can each reach. Leaving that aside, the speed per say of the device is: HSDPA at 21 MB/s and HSUPA at 5.76 Mb/s. The WLAN of this device is a Wi-Fi 802.11 a/b/g/n with support for Wi-Fi hotspot ( again, something you don't see everyday – the a/b/g/n part, not the hotspot ). The Samsung Galaxy Grand I9080 also has a really fast Bluetooth on it, the Bluetooth being a v4.0 one with A2DP, LE and EDR. The USB port of this device is a MicroUSB v2.0 one. However, the USB port has no MHL and since the phone has no HDMI port either you can say goodbye to placing videos or something on a TV ( why you'd want to do that is beyond me, but I do know individuals who would have tried ).
CAMERA
The camera of the Samsung Galaxy Grand I9080 is a very powerful one. The main camera is an 8 MP one that can photograph at resolutions of around 3264 x 2448 pixels and record video in 1080p full HD at around 30 frames per second. The fetures of this main camera are: autofocus, LED flash, geo-tagging, touch focus, face and smile detection and image stabilization. The secondary camera of the Samsung Galaxy Grand I9080 is a 2 MP one. It is rare to find phones with such a large secondary camera. The last time I checked the 2.0 MP frontal camera was the best out there, but things may have changed since I've last checked.
BATTERY LIFE
Not much is truly known about the battery life of the Samsung Galaxy Grand I9080. All that I am certain of is the fact that this phone has a 2100 mAh battery on it. However, I do not yet know how long this battery can sustain the phone's life in either Stand-By or in Talking. Again, I apologize for not being able to provide you with more information here.
HARDWARE
The only notable hardware component of this phone, or so the official description says, is the processor. The CPU of this device is a Dual-Core 1.2 GHz processor. I am unsure of the strength, or even name, of the rest of the hardware components. Perhaps we will know more about the Samsung Galaxy Grand I9080  when it comes out and is available for sale worldwide.
SOFTWARE
The operating system of the Samsung Galaxy Grand I9080 is the latest version of Android – Android OS v4.1.2 Jelly Bean. Therefore, there is no need to discuss further upgrade-ability of the OS of the Samsung Galaxy Grand I9080.
FEATURES
The Samsung Galaxy Grand I9080 is packed with all sorts of features and bells and whistles for your personal use and enjoyment. The sensors of this device are: Accelerometer, Gyro, Proximity and Compass. The messaging on this phone is done via: SMS ( with threaded view ), MMS, E-Mail, Push E-Mail, IM and even RSS. The browser of this device uses HTML5, however, it doesn't have built-in support for Adobe Flash, fact which could prove somewhat problematic in the long run. As of yet, it is still unknown whether or not this phone will have a radio. It is still in the To-Be-Discussed stage. The GPS of this device has built-in support for A-GPS and GLONASS. The Samsung Galaxy Grand I9080 also has Java through a Java MIDP emulator. The colors in which this phone is availble are: Black and White.
Here is a brief list of what the Samsung Galaxy Grand I9080 is capable of:
Active noise cancellation with dedicated mic
SNS integration
MP4/WMV/H.264/H.263 player
MP3/WAV/eAAC+/AC3/FLAC player
Organizer
Image/video editor
Document viewer
Google Search, Maps, Gmail, YouTube, Calendar, Google Talk, Picasa integration
Voice memo/dial/commands
Predictive text input
This concludes our little review of the Samsung Galaxy Grand I9080.  Thank you for reading this review. I hope it has been as helpful as possible. If you feel that anything is lacking from this review feel free to leave your suggestions in the comment section below for things which should be added and I will be sure to take them into consideration when writing my future projects. In the meantime, I sincerely hope you had as much fun reading my little review as I had writing it.