There are many dictionary apps you can use on your Android device, but from all I used, Linguee is the one I liked the most. The interface is so simple and the search is fast and give suggestions and results right while searching so you can explore many words that are related to what you type in the search box.
Right now, there are 8 dictionaries complete, and other 7 in progress. You can translate from German, French, Spanish, Chinese, Russian, Japanese, Portuguese, Italian, Dutch to English. The dictionaries in progress covers German to French, Spanish, Portuguese, French to Spanish and Portuguese, Spanish to Portuguese and Polish to English.
The app is very simple to use. Just open the app and start typing the words you want to get translation and details. The result list will be populated with suggestions starting from the letters you are typing in the search box. The dictionary used is shown in the top-right. If you click on it you can change the active dictionary. If you go into an area where you won't have mobile internet access, or when you don't want to use up your mobile data, you can download the dictionaries locally for offline usage. Then you can instruct the app to use only offline dictionaries.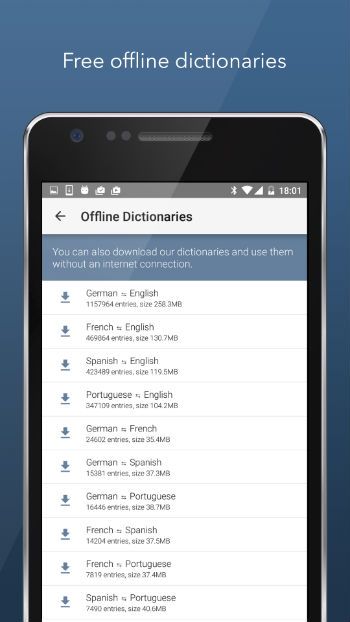 If you don't find the translation of the word you want, the app can do a web search for the definition. Also, you can optimize it for either phone or tablet.
This is a great app for travel. It is also using the microphone so you can speak the word you want to find and it will give you the results directly. You can get Linguee app from Play store.