Thanks to Android and smartphones I am finally able to throw away my scanner. Scanning documents is an important process in my plan to turn completely digital and forget about carrying the map with documents. However, a lot of important documents and books need to be scanned. With the advance in smartphone cameras, if used right and with the right apps you can scan your documents with a quality similar to what you got with your old scanning dedicated device.
I've tried many scanner apps but the one I liked most is TurboScan. The main 2 reasons I liked it was the simple interface, you can start scanning with one click, and the quality of the printed pages.
Simple interface
The interface of TurboScan is very easy to use. You can scan any page with 1 click and then you can add other pages to the document with another click.
Scan quality
The scanned file quality is very good. It automatically matches the edges of the document but you can adjust that if the AI fails to figure it out.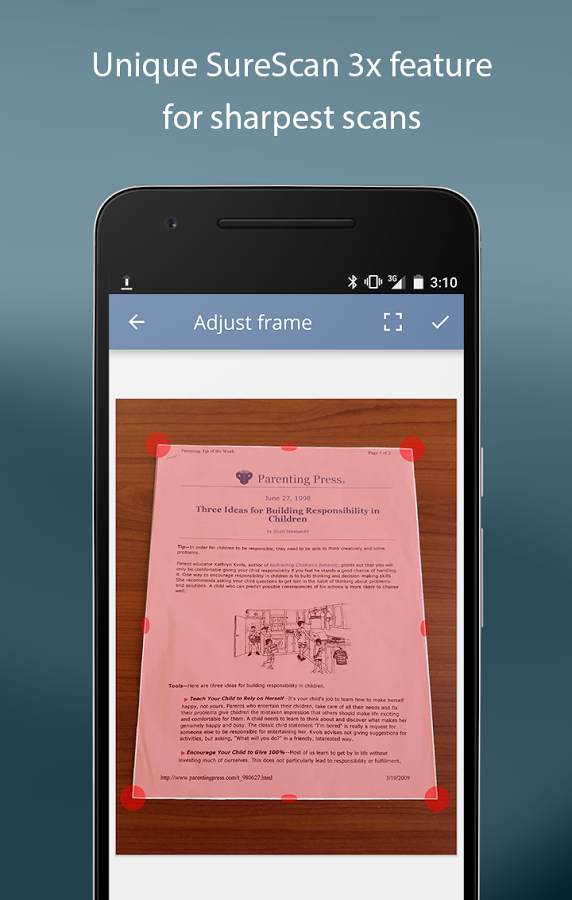 Other important features
If there is low light or low quality, it takes 3 images of the same document and merges the content for a very high quality
Very fast processing
Multiple page scanning and editing
Saving files in cloud
Brightness control
You can find TurboScan for free on Play Store.