FotoJet is an all-in-one graphic tool, it makes collage making, banners designing and photo editing much easier. You can use it to finish your work within minutes.
The design mode provides users plenty of templates to make all kinds of social platforms banners, flyer, poster and so on. Designer makes you look more like a professional designer. You can make your own photo design, advertising design, marketing design and etc with the powerful graphic design tool FotoJet.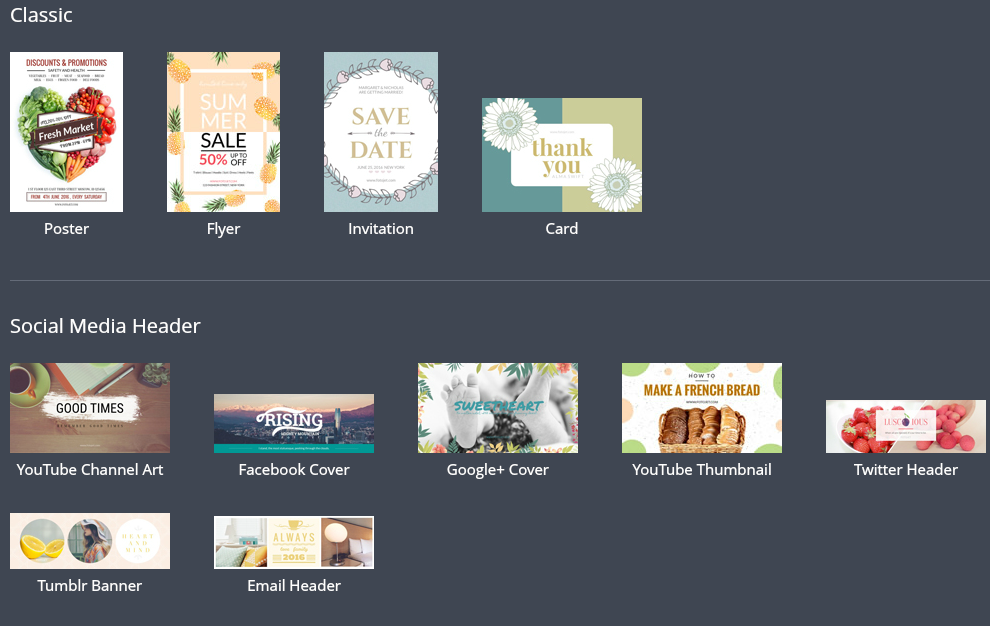 Click poster to get started to customize your unique poster. There are large numbers of poster templates provide for you. After you click the poster, you can see them, and you are allowed to have a quick preview by drag the bar on the right side of the templates list. Just click the one you want to use, then you can start your work. All the templates are matched with beautiful and suitable image, text and clipart. You can use them directly after some slight adjustments, or you can replace them by your image, work and so on. There you three ways for you to upload images, you can upload from your computer, Facebook or search image from stock photo online.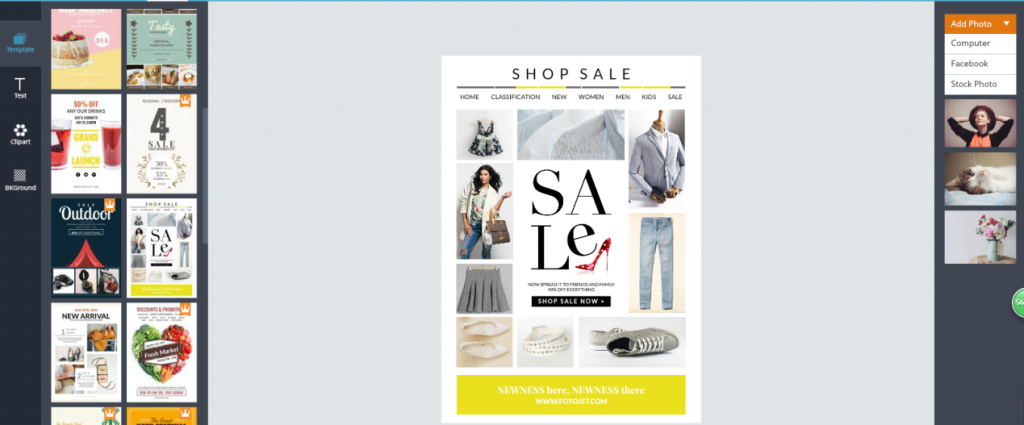 You can add some text and clipart as you need. Move your mouse text and clipart one by one. You are allowed to adjust the size, color and position of the text and clipart. And you can adjust their opacity so as to make them into watermark of your poster. As for the text, you can also add outline and glow to make it more beautiful and suitable to your poster.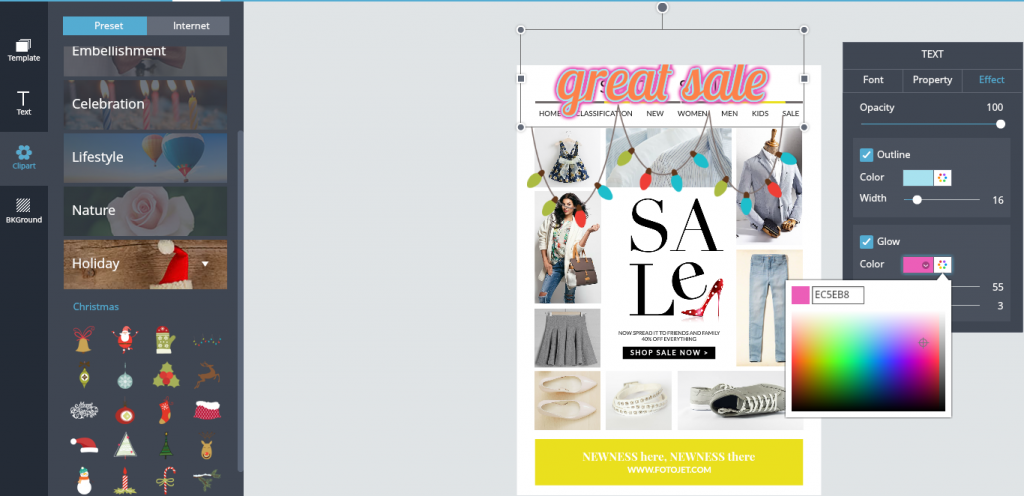 What's more, you can also change the background if you do not like the one of the sample poster. You can replace it by the simple background on the BKGround list or upload an image from your computer. You can finish this just by clicking the background on the list you like.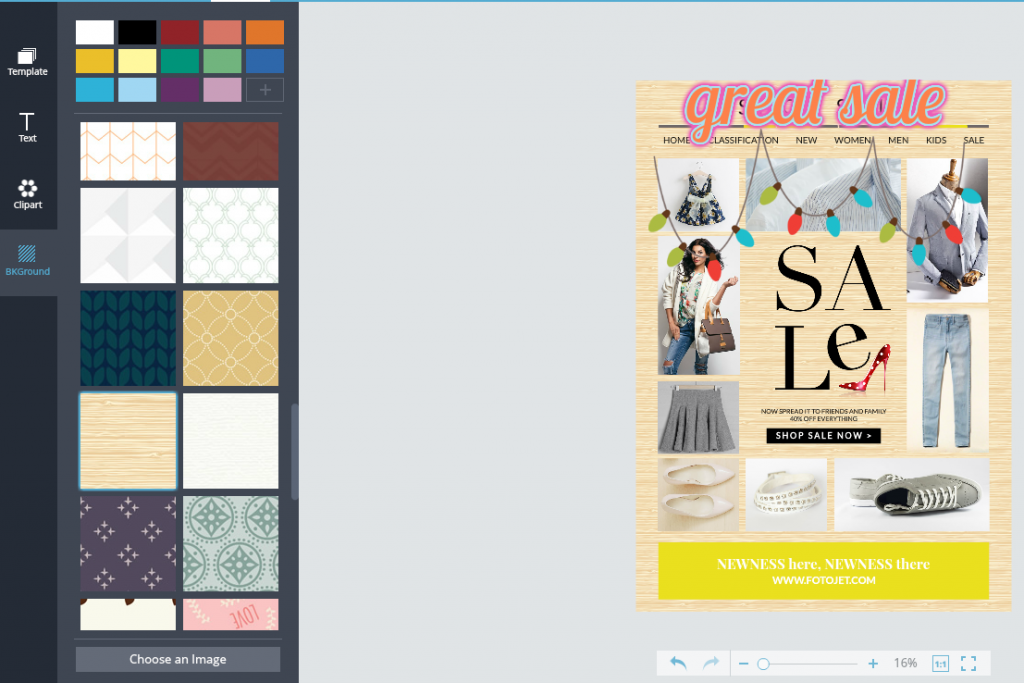 You can use designer do many things, like design Facebook cover, Google+ cover, twitter header, Instagram post, Flyer and so on. If you want make your own banners and post, do not hesitate to have a try of FotoJet, it can help you look professional even you are not a graphic artist.
You can also make beautiful photo collage with FotoJet. There are classic collage templates, creative collage templates, Misc and all kinds of photo cards. Click any kind you want to make, and then upload to your photos and drag them to the right boxes on the templates. Use text and clipart to pretty your collage, adjust them just like in design mode. You can still change its background.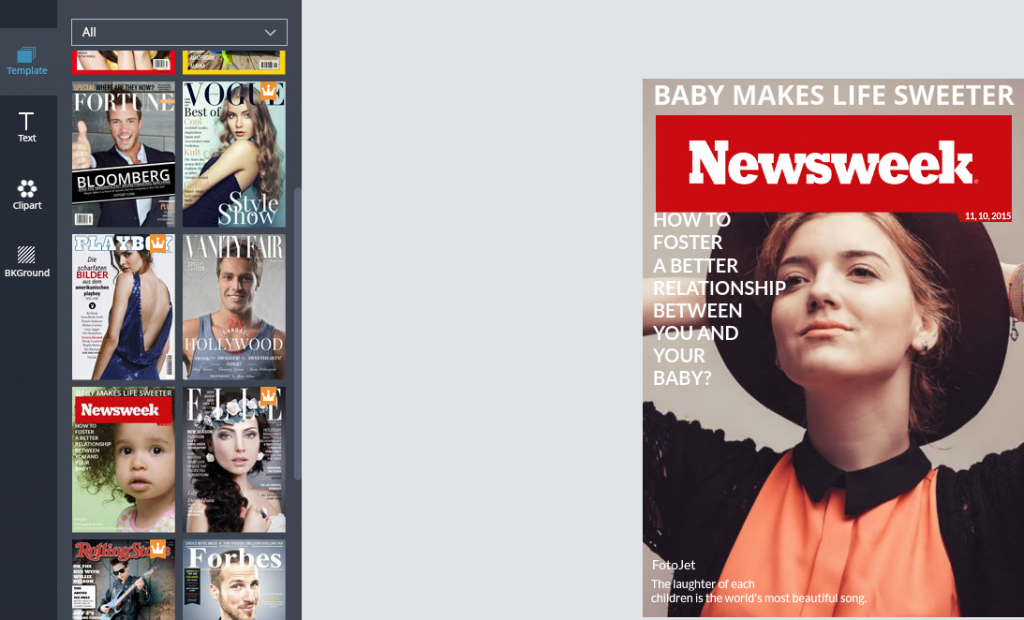 What's more, FotoJet editor is a more powerful option. You can turn your common photo into art work in few minutes. So do not hesitate any more, just try www.fotojet.com and enjoy it.