There are many Android apps for business-minded people including those that are meant to facilitate investing. There are even apps for relatively uncommon investing activities like binary options trading. One good example of these apps is copyop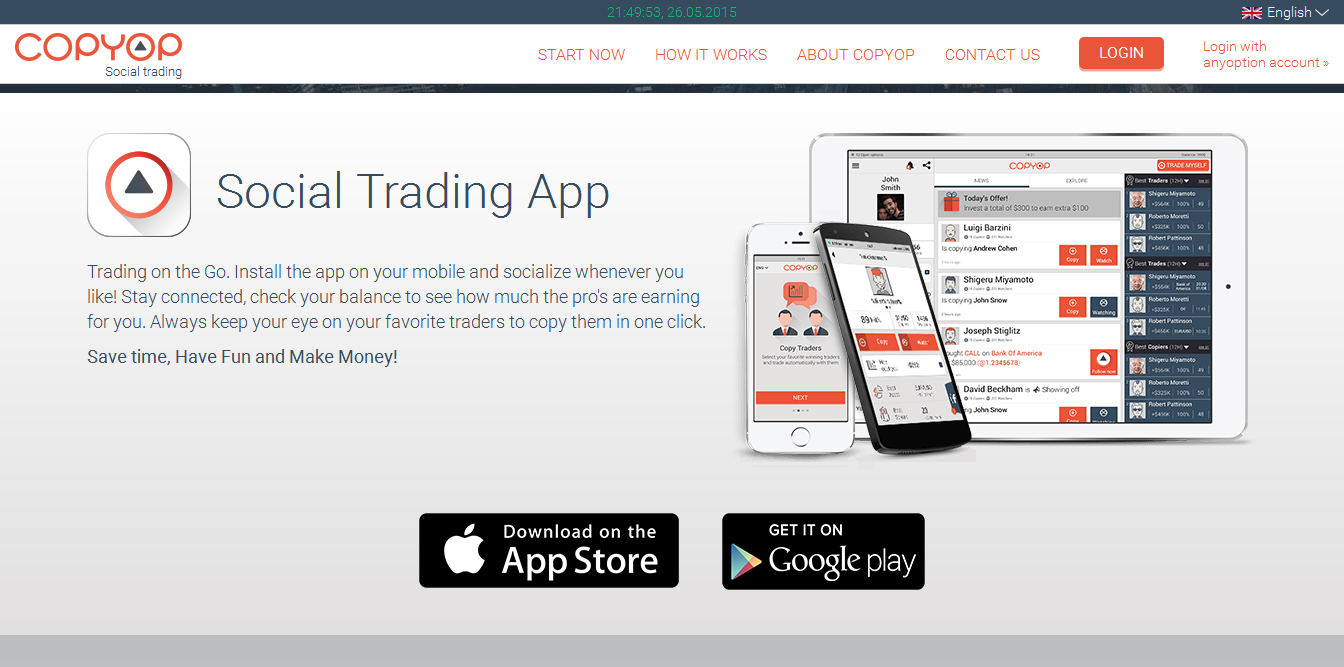 Copyop
Dubbed as a social trading app and platform, Copyop is designed to make binary options trading easier, faster, and more accessible for everyone. The highlight is that you can easily get involved in the trading of binary options by simply copying what successful traders are doing. Just install the app and try what Copyop's "Watch Copy Trade" means.
So what's the copying all about with Copyop? The platform, as mentioned, is meant to facilitate binary options trading. The highlight here is the ability to simply copy what others are doing. This means that you don't really have to have a good amount of experience in options trading to be able to use it. It can allow you to find success in binary options trading by relying on the judgment of other traders.
Before going further into this review, it would help getting acquainted with the commonly used terms in the app first. Users of Copyop are called a copyopers. Hits, on the other hand, is the number of successful trades of a particular trader. The word "trader" may be used interchangeably with "copyoper" since every Copyop user is expected to be using the app to do binary options trading. Other important terms to be familiar with are "copier" and "watcher." The former refers to the copyoper who copies a successful copyoper while the latter is a copyoper who decides to monitor a prospective copyoper to copy first before deciding to copy.
Copyop primarily targets those who want to earn something from binary options but are not professional traders. Nevertheless, it also offers tools that can be useful for experienced and savvy binary options traders. Professional traders may get some excitement from the idea of copying others to succeed with binary options.
Interface
The intuitively designed Copyop interface should allow most users to figure out how the different buttons and tables work within 10 to 20 minutes. To ride along the standard Copyop plan, the idea is to simply look for the best performing traders and follow them. Hence, the most important aspects of the app's interface to be acquainted with are the tables that list the best traders, best trades, and live news feeds. You can also view a list of best copiers if you want to know who are the other copyopers who found success in their trades by copying others.
Every trader listed on the app shows some useful information about their trading performance. They also come with the "Watch" and "Copy" buttons for quick watching or copying on the list and within their respective trader profile pages. There are also trader photos visible (when the trader decides to add a photo) similar to the setup used in messaging systems.
Overall, it's a neat looking interface that suits mobile devices. Watching or copying traders would be like placing a call to the trader. There's a messenger feel to it, although there's no function to make a call or send text messages. The tablet interface takes into account the wider screen so more information can be viewed simultaneous.
Making It Work
Following the standard Copyop plan, it should be easy trading options with the app. You just need to look for the best performing traders so you can copy their activity. You can also look for the best copiers and copy who they copy. There are other useful traders' data available, including historical charts and lists of best performing assets, so you can do your own evaluation and decide to just partially copy a trader and incorporate your own judgment.
It's important to emphasize, though, that you still need to know something about binary options trading if you intend to use Copyop. It is not some guide app that will help you with every step as you undertake the options trading process. Simply copying others is not advisable although it's not impossible to become successful by just copying others through and through. You also have to consider learning from the experience of trading by copying. Using Copyop could be a valuable learning opportunity to become more adept with binary options trading. Moreover, Copyop can minimize the risks of binary options trading since you will be treading the paths deemed safe, as these paths have already been explored by other successful traders.
Reliability and Rewards
Copyop is a great tool for those who are banking on the success of the likes of eToro in using the "social" concept in the financial markets. It relies on the technology created by Anyoption, one of the biggest platforms for binary options trading. As such, the system should not raise issues pertaining to reliability and accuracy. Copyop guarantees real and accurate trade data and trader information. Proprietary technology has been employed to ensure the correct execution of trades and copies.
Again, there's no guarantee of trading success here. Copyop can only help reduce the risks as you copy and learn to trade binary options from others. Still, as a copyoper you may want to aim to accumulate copiers, to have other Copyop users copying you. Being one of those copied by other users certainly amounts to bragging rights but you can also earn real money when you help others succeed. Copyop awards Copyop coins to those who are being followed. These coins can be converted to real money.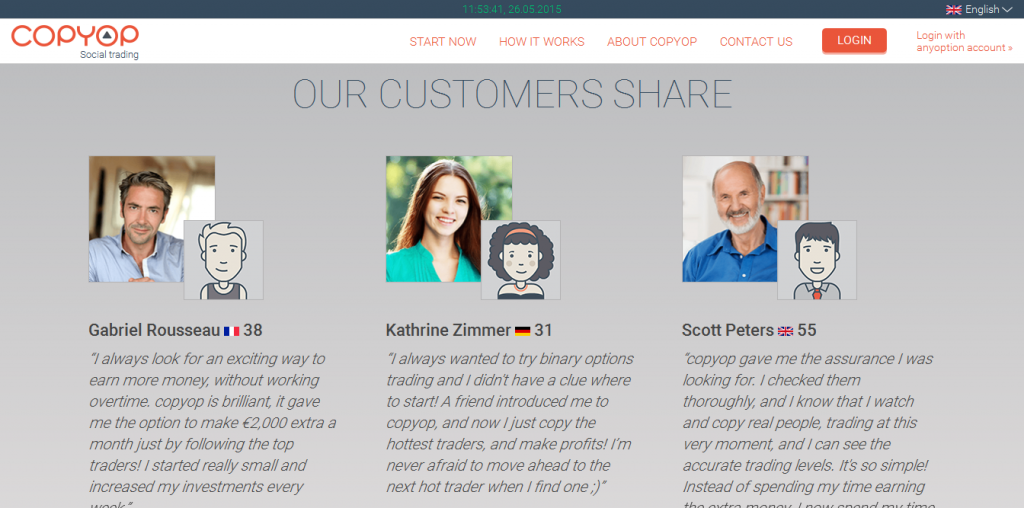 Will It Really Help You Succeed in Binary Options Trading?
Copyop does not promise instant success or guaranteed gains. It will not make your binary options trade foolproof. You will succeed if the traders you copy succeed and lose when they lose. What Copyop does is to minimize the risks of binary options trading while creating valuable learning opportunities. Copyop provides a safe, accurate, and reliable way to test the waters of binary options trading.