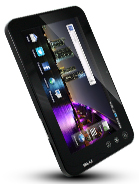 I can't say I've actually heard that much about this BLU provider of tablets, but then again, who am I to just assume things. It may be a good one, and then , it may be a bad one too. However, judging by the system specifications of this tablet, I'd say it's quite a weak one. It may be a low-price tab, but if it's worth as much as all the other highly-powerful tablets, it's probably not worth the price.
Processor : 800 MHz, Qualcomm MSM7227-T
RAM : 512 MB
Android OS : 2.2 Eclair
Camera : 3.15 MP
Display : 480 x 800 pixels, 7.0 inches (~133 ppi pixel density)
On the display side, this tab has a TFT capacitive touchscreen with who knows how many colors since there wasn't any information about this thing. The resolution of this tablet reaches somewhere around 480 x 800 pixels and the screen itself is 7.0 inches big. The pixel density of the said screen reaches 133 ppi.
On the memory side, this tab has 512 MB of ROM memory and 512 MB of RAM. If you're worried about internal storage issues, don't be. It has a MicroSD card slot that can use any MicroSD card of up to 32 GB. The part about the RAM is pretty disappointing since this Android Tab was announced in August and expected in Q4. The 512 MB of RAM it owns make it twice as weak as any of the regular high-powered tablets.
As far as cameras go, this one is a  3.15 MP camera that can photograph at resolutions as high as 2048 x 1536 pixels. There are no other known or noticeable features of the camera. It also has a video recorder ( but no info about how strong it is – probably quite weak ). It also has a secondary QVGA camera.
It's also pretty weak on the hardware side as well. It barely has an 800 MHz processor with a Qualcomm MSM7227-T chipset. The fact that it doesn't have a GPU, even a really weak one, make it inferior to most medium-to-powerful Android Phones.
On the software side, it's really a piece of garbage. You'd hope that with those weak features it may have SOME good ones. I'll let you know, it doesn't. It barely has Android OS v2.2. I once had a phone that was 2 years old and it had 2.2. This tablet has no excuse to come out "in the near future" and not even have 4.0. NO EXCUSE WHATSOEVER.
Buy this thing if you really want it, but my professional advice would be for you to steer clear of it.
You can get this tablet from Amazon.