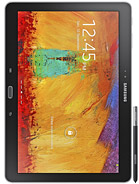 Today we'll be taking a look at the Samsung Galaxy Note 10.1, the most recent tablet announced by Samsung. Now usually I try to take no sides in anything, but this is one tablet that I would LOVE to own. It has a ton of cool and awesome features and can do a lot of tasks from many different fields of activity. To generalize, this tablet is a form of Galaxy Note 3 but in a larger size. Some might have disagreed with the idea and principle of "phablet" or "phoneblet" or hybrid between a phone and a tablet, but this product should be to the exact liking of those people ( or so I think ).
This device is, as I've said ( yet I still feel the need to clarify ) a TABLET, therefore, people should not expect it to have any support for GSM voice communication, SMS or MMS. If you require one of those, I feel deeply proud to disappoint you ( I honestly can't understand how some people can use 7 inch tablets for voice communication as if it were a phone – gluing it to their head and using it to talk about different subjects on the street ).
SUMMARY
As I've said, the lack of voice comm, SMS or MMS may come as a disadvantage for some people, but I for one am glad that there is none. Still, even with that, this tablet comes in many varied forms. The Samsung Galaxy Note 10.1 comes in 3 main versions: a 3G one, a LTE one and a Wi-Fi Only one. Personally, I'd choose the Wi-Fi only because I think it would be more advantageous price-wise and also, all the places I frequent usually have free Wi-Fi you could use. However, if you find yourself in the position of requiring one with constant internet access, do feel free to consider the other versions. Be warned now, though, that you will undoubtedly dish out the most amount of cash for the LTE one, as it has some hardware differences as well ( which you will see later ). Aside from those few differences, there isn't much variety between versions. You will notice that, in opposition to the Samsung Galaxy Note 3, the Samsung Galaxy Note 10.1 does have a few features EXTRA that the other one didn't have. If you keep on reading, you will see which they are eventually. Suffice it to say, this tablet is somewhat better, if a little harder to transport, than the phoneblet / phablet or whatever you like to call it.
GENERAL
The networks supported by this device are many, and some of them are pretty logical if you stop and think about it. For instance, all versions of the Samsung Galaxy Note 10.1 support the standard 2G and 3G networks, but only the LTE version will be able to use 4G LTE networks. By now I've already written too many times what those networks are ( just search for an older review of a phone / tablet on this website if you're interested in seeing ). The SIM card used by the tablets that can equip one is in Micro-SIM format. Unfortunately, it isn't yet out worldwide. It was announced a few days ago and is scheduled to release somewhere soon around this month or next.
BODY
Aside from  the specifics in size and weight, there is something very interesting to notice about this device. The Samsung Galaxy Note 10.1 shares that same specific grade-A looking design for the back piece that the Note 3 had- it is bound in leather. Also, being a device in the Note series, naturally it is equipped with an S Pen stylus in the back. Now the exact specifics of this tablet are as following: 243.1 x 171.4 x 7.9 mm ( or 9.57 x 6.75 x 0.31 in ) in size and 535 g ( or 1.18 lb ) in weight. It's pretty standard stuff for a tablet this size, but then again, some people may prefer a more compact device.
DISPLAY
The screen of this device is a very interesting approach. While in most cases Samsung chooses to add Super AMOLED to their devices, they seem to have had a change of heart and add a Super-Clear LCD capacitive touchscreen to this one ( again with 16 million colors ). The exact size of the screen is, as the name suggest, 10.1 inches and it can fit a resolution of around 2560 x 1600 pixels. The pixel density is almost perfect ( and it would take a very well-trained eye to spot the imperfections ) and it resides at approximately 299 pixels per inch. About the multitouch of the Samsung Galaxy Note 10.1, we're looking at a pretty advanced one which can sustain up to 10 simultaneous fingers. Again, as is the case with the Note 3, we see no apparent screen protection method, so it would be wise not to drop this tablet or put your keys on it "just for the lulz".
SOUND
Apart from the regular things that all devices capable of replaying sound have, the Samsung Galaxy Note 10.1 does seem to have a hardware-based audio enhancement. To be precise, we're talking about a pair of Stereo Speakers instead of the regular one large loudspeaker somewhere towards the bottom.
MEMORY
Memory-wise, the Samsung Galaxy Note 10.1 shares the strength with the Note 3. This tablet, while available in 3 networking versions, is available in 3 memory versions as well: a 16 GB, a 32 GB and a 64 GB one. All three of those versions have full support for a Micro-SD card which can go up to 64 GB in size. Also, all of those three afore-mentioned versions are equipped with 3 GB of RAM ( which seem to be a thing introduced by this new Note 3 and all of its relatives ). With this much memory, provided you take good care of how to manage it, you should have no problems with slow-downs whatsoever ( which also seems to be a thing with devices that aren't properly maintained software-wise ).
DATA CONNECTION
As far as connectivity goes, the Samsung Galaxy Note 10.1 has both GPRS and EDGE and its exact speed is as following: HSDPA of 42 MB/s ( in the LTE model ) and of 21 MB/s ( in the others ) and HSUPA of 5.76 MB/s ( in all versions ), and LTE Cat 4 of 50 MB/s UL and 150 MB/s DL ( naturally, in the LTE-enabled model ). The Bluetooth of this tablet is v4.0 and has A2DP. What the Note 3 had and this one hasn't is the USB port: the Samsung Galaxy Note 10.1 has a Micro-USB v2.0 port with USB host, where as the other one had one v3.0.
CAMERA
The main camera of the Samsung Galaxy Note 10.1 is a 8 MP one that can record in 1080p at 60 frames per second ( allegedely only on the LTE model ). This tab also has a secondary frontal 2 MP camera that can also record 1080p but only at 30 frames per second. The features of this camera are: Autofocus, LED flash, Geo-Tagging and Face & Smile Detection.
BATTERY LIFE
Little is known about the battery of this tablet. All that can be said for sure is that it has a non-removable Li-Ion 8220 mAh battery installed on it.
HARDWARE
This tablet is equipped with some damn strong hardware, yet as I said in the beginning, it differs for the LTE model. While both models have a Qualcomm Snapdragon 800 chipset and an Adreno 330 GPU ( which are EXTREMELY strong ), the difference can be seen at the processor: the LTE model has a Quad-Core 2.3 GHz Krait 400 CPU, where as the other versions have two processors – a Quad-Core 1.9 GHz Cortex-A15 and a Quad-Core 1.3 GHz Cortex-A7 ( cycling between them as the need arises ).
SOFTWARE
The Samsung Galaxy Note 10.1 has the latest version of Android on it – Android OS v4.3 JellyBean. In other words, there's nothing to be said about the software.
FEATURES
The Samsung Galaxy Note 10.1 is full with all sorts of features and unique items. The sensors of this device are: Accelerometer, Proximity and Compass. The messaging on this phone is done via: SMS ( Threaded View ), MMS, E-Mail, Push Mail, IM and RSS. The browser of this tablet uses HTML5 instead of Flash. The GPS on this tablet has full support for A-GPS and GLONASS alike and the tablet has Java as well through Java MIDP emulation. This tablet is available in two colors ( for the leather on the back ): White and Black, but I honestly like the Black one better.
Here is a brief list of what the Samsung Galaxy Note 10.1 is capable of:
Air gestures
SNS integration
Active noise cancellation with dedicated mic
MP4/DivX/XviD/WMV/H.264/H.263 player
MP3/WAV/eAAC+/AC3/FLAC player
Organizer
Image/video editor
Document viewer
Google Search, Maps, Gmail, YouTube, Calendar, Google Talk, Picasa
Voice memo/dial
Predictive text input (Swype)
This concludes our tiny review of the Samsung Galaxy Note 10.1. I hope it has at least answered some of the questions you may have had about the device or offered some useful bits of information.