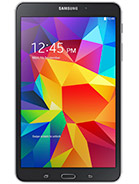 Today we'll be taking a somewhat brief look at the Samsung Galaxy Tab 4 8.0. This tablet is part of the newest series of tablets released by Samsung – they've been announced for a while now but only just recently were they made available world-wide. Off-the-bat, I need to mention one thing – there are 3 different versions of this tablet – all of them pretty much identical aside from the connectivity. The one we've chosen to primarily focus is the normal one ( with no GSM support ), yet there are two alternatives to this device on the market – one with 3G support ( called the SM-T331 ) and the other with LTE support ( called the SM-T235 ). This one is known as the SM-T330, as its series goes.
The Samsung Galaxy Tab 4 8.0 is, as I've already said, part of the newest line-up of tablets from Samsung – the Tab 4 series. Although, and this needs to be said ahead of time as to not get your hopes up – if you already have a Tab 3, there's really not much of a point to upgrade to the next one ( very few improvements ). I understand the tablet business isn't as fruitful as some would have wished, but would still appreciate some stronger devices to be considered the "LATEST tablets of 2014". This tablet is part of a series of 3 tablets: there's the 8.0 inches one ( this one ), there's a 7.0 inch one
SUMMARY
Frankly, I acknowledged the state the tablet market is in and didn't really have much hope for it to begin with. Unfortunately, the Samsung Galaxy Tab 4 8.0 didn't really change my opinion, either. This tablet is fairly decent in itself, but altogether it falls quite short of what the new generations of smartphones can do. Thankfully, though, it costs about a quarter of the price of new flagships, so at least it's priced pretty well. Nowadays, it would seem to me that the definition of a "tablet" is getting more and more blurry. You see, with phone drastically increasing in size over and over again, it would seem now that 7.0 inches of screen size is getting to be on the upper border of phone territory. Now people are claiming that it's the size that makes a tablet what it is, not the screen ( since some have taken it upon themselves to make the screens extremely thin around the edges, thus allowing less space to be wasted around it ). With all things considered, I wouldn't really like to get the other counterparts for this device – mostly because they're IDENTICAL – everything in them aside from the screen size. Thus, with the limited hardware strength and the same screen resolution, I'd opt for the 8.0 inch one simply because it's a bit larger than the 7.0 one but not as large as the 10.1 one – a fair middle-ground, as it were. There is a slight pricing difference between the three tablets ( naturally the 7.0 inch one being the cheapest and the 10.1 inch one being the most expensive ). Their prices revolve around 200 dollars for the smallest, 270 for the middle one and 350 for the largest. You may be lucky enough to find certain deals for them each.
GENERAL
The Samsung Galaxy Tab 4 8.0 is currently available, as are its 7.0 and 10.1 inch brothers ( all three of them in Wi-Fi, 3G or LTE versions ). The one we're looking at now is the Wi-Fi version and this one doesn't have any GSM connectivity whatsoever. It was announced quite some time ago – in April, actually – but was only released world-wide in June. Same thing can be said about all the other tablets in this Tab 4 series.
BODY
The size of the Samsung Galaxy Tab 4 8.0 is pretty decent, in my opinion. It's not the smallest of devices, but if you wanted something smaller and faster you should probably consider something from this newest generation of smartphones. Anyway, the design of these tablets at least is pretty interesting. They seem to have that Faux-Leather back going on for them that's very popular on Samsung devices. As far as size and weight go, these are the specifics: 210 x 124 x 8 mm ( or approximately 8.27 x 4.88 x 0.31 in ) and circa 320 g ( or around 11.29 oz ). All and all has a good feel and balance to it, I'd say.
DISPLAY
There's something extremely disappointing about the screens of all these tablets, and that is that all of them have the same resolution. The same resolution for different sizes means that the pixel density will have to suffer, thus the smaller the screen the better the image will be. By that logic, if you want image quality you'd be better off getting the 7.0 inch one. Worse quality by far is for the 10.1 one, but if you need a larger tablet than this, it'd be your best choice. The difference isn't too major ( like they differ by around 40 pixels per inch between one another ), so the people that aren't really that versed with many device won't really feel the difference until they hold the devices next to one another. The resolution present on all of these tablets is 800 x 1280 pixels ( or 1280 x 800 on the 10.1 inch one – which is the pretty much the same thing ). The pixel density for this one is approximately 189 pixels per inch ( you either add 40 or so more to the 7.0 one and take around 40 from them for the 10.1 one ).
SOUND
Unfortunately, on the audio side, none of these tablets are altogether too impressive. They all lack any decent audio enhancements to further increasing the quality.
MEMORY
On the memory side, all of the Tab 4 devices are the same ( just like in every other aspect, aside from the size ). They all have an internal storage space of 16 GB which can be further expanded upon via the MicroSD card slot ( which can take any card of up to 64 GB ) and they all have 1.5 GB of RAM ( which, to be frank, isn't that much but it'll have to do ). What we need to keep on the level here is the fact that this is, before anything, a lower budget device ( even the most expensive of them is still easily put into the low-budget area ).
DATA CONNECTION
As far as data connection goes, I might as well put it simply – the fastest one is the LTE one ( as if you weren't expecting that ). The LTE one has Cat 4 LTE on it ( which means 150 MB/s Down Speed and 50 MB/s Up Speed ). The WLAN of this tablet is Wi-Fi 802.11 a/b/g/n with Dual-Band and Wi-Fi Direct. The Bluetooth version found on this tablet is v4.0 with A2DP. The USB port of this device is of Micro-USB v2.0 format.
CAMERA
The camera on these tablets is pretty weak – all of them have the same 3.15 MP camera on the back and a 1.3 MP front-facing shooter on the front. The only feature visible on this camera is Geo-Tagging and the fact that it can record video in 720p HD at 30 frames per second. To be honest, even if the camera is a bit weak, I wouldn't really NEED a strong camera on a tablet as I don't think snapping pictures with something the size of a notebook is ETHICAL, but it's good that the camera's there ( sort-of ).
BATTERY LIFE
Few details aside from the type of battery has been released about the Samsung Galaxy Tab 4 8.0, or about any of the other tablets from this series, come to think of it. What we can tell you for sure is that they all have a Non-Removable Li-Po battery with a different voltage: this one ( the 8.0 inch one ) has 4450 mAh and the largest one ( the 10.1 inch one ) has a battery of 6800 mAh. The battery life on all of these devices should prove sufficient, provided you don't overload them with useless apps or games that run on the background and devour resources.
HARDWARE
Again, a great lack of information on the hardware side ( either that, or there isn't that much to tell ). Either way, the only notable component here ( for any of the devices ) is the processor – it has a Quad-Core 1.2 GHz processor ( so do the rest of the devices ).
SOFTWARE
There's no need to fret over the software of these devices – all of them have the latest version of Android installed on them: Android OS v4.4.2 KitKat. At least until the next version comes out, you should be pretty set with this tablet ( or any of its counterparts ).
FEATURES
None of these devices have an overly impressive number of features on them. They all just have Accelerometer, HTML5 for the browser, no radio, GPS with GLONASS support and Java through MIDP emulation. The only two colors available for any of these tablets is Black and White.
Here's a brief list of what the Samsung Galaxy Tab 4 8.0 can do:
SNS integration
MP4/H.264/H.263 player
MP3/WAV/eAAC+/Flac player
Organizer
Image/video editor
Document viewer
Google Search, Maps, Gmail, YouTube, Calendar, Google Talk, Picasa
Voice memo/dial
Predictive text input
This has been it for the Samsung Galaxy Tab 4 8.0. If you'd like to give this tablet ( or any of its brothers ) a try, I'd be glad to point a few links out for you: go HERE if you want the 7.0 inch version, go HERE if you want the 8.0 inch version and last, but not least, go HERE if you want the 10.1 inch version. Overall, the Tab 4 series is pretty decent, especially considering its pricing, but not way better than the previous series. While it may be unwise to give up the Tab 3 and "upgrade" to this one ( if you already have the Tab 3, it's not much weaker than the new series ), it is a pretty good purchase if you want to get your first tablet – odds are you won't go wrong with a Samsung device, as I've learned from personal experience.