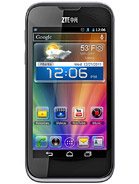 Today we'll be reviewing the ZTE Grand X LTE T82. This is a relatively powerful phone, however, I guess you can already tell from its name that this is a 4G phone. 4G phones are usually not so powerful as far as hardware goes, but then again, it's 4G, do what else do you want from it. Wishing for a phone to have both 4G and a powerful hardware is too much to ask for. It's like asking for something two have two different things that can only exist separately at once. If you have powerful hardware, you need space for it. Same goes for the 4G adapter or whatever that little component is called.
While the hardware isn't as powerful as a device with Tegra 3, know that it's strong enough to handle just about anything. Also, keep in mind that a Tegra 3 would be a tad unpractical on a phone. I get it, you want to use the device for gaming and thus need a Tegra 3 or something similar. However, I ask you this : how are you going to get into "proper" gaming if you're going to be using a device with a 4.3 inch screen.
Also, another thing that need to be pointed out here is the fact that the ZTE Grand X LTE T82's information you can find here are, as far as my sources say, the "Official Preliminary Specifications". However, whenever my sources say that those are the Preliminary Official Specifications, little to nothing ends up changing whenever the device actually does come out. So, without further ado, let us commence this little review.
SUMMARY
As I stated a while back I would start my reviews with a brief summary of the good and the bad of the device to be reviewed. The only bad things I have to say about this phone is that ZTE, as always, has chosen to withdraw information as if they were somehow profiting from the disinformation of the users. When will they learn, huh? That being as it is, it is the user that suffers from this despotic desire to not leak something as basic as details about the size of the device and the battery capacity.
Well, that was the bad, anyway. Still, apart from a few inconclusive facts here and there, I haven't anything left to complain about. The screen is good, the memory is the same, connectivity is nice, the sound is pretty clear, the hardware and OS are pretty good and the camera is more than powerful enough. Also, keep in mind that if you think the hardware is pretty weak, I do advise you to take a look at the other 4G phones to see that none of them have a very powerful hardware. Still, even the worst of them is still better than any Apple product.
I hope this has been enough to spike your interest in the ZTE Grand X LTE T82 since I won't post any more information about this phone for this part. If you truly want to know more, I advise you to keep on reading.
GENERAL
The ZTE Grand X LTE T82, as its name suggests, is a 4G phone, so logically, aside from the 2G and 3G ones which all smartphones have, this phone has 4G networks as well. Those networks are as following : 2G ( GSM 850, GSM 900, GSM 1800 and GSM 1900 ), 3G ( HSDPA 900 and HSDPA 2100 ) and 4G ( LTE – while the producer of the phone should have specified what type of LTE it is, I forgive them considering they are incompetent with providing useful information to anyone ).
The ZTE Grand X LTE T82 was announced in July 2012 and we don't know yet when it will come out. All we know for sure is that it is set to come out somewhere in Q3 of 2012. Q3 covers around 3 months, so that's a pretty vague thing to say. Still, I guess it's better than nothing. Although, as I know ZTE, they will not release it on time so get ready to see it around November in stores.
BODY
Normally I'd talk about the size and weight of the device, but this is not a normal circumstance. As I already mentioned, I can't provide any information whatsoever about the size and the weight. Of course, we only have ZTE and their secrecy to blame for that. The only thing I can say about the aspect of the ZTE Grand X LTE T82 is that it's extremely beautiful and slick and that it has Touch-Sensitive Controls instead of frontal buttons.
DISPLAY
The type of screen of this device is also a mystery. Again, the only person to blame for this mishap is ZTE and their god-awful secrecy. A company has no benefits to gain from refusing with so much drive to not release information about a product which will appear anyway a few months from now and everyone will be able to buy it. Still, if that's their logic, that's their logic. No matter how retarded it sound to us, it may sound like "good marketing" to them.
All that can be said about the screen type is that it will be a capacitive touchscreen with 16 million colors. What they stand to gain from not saying whether it's a TFT, AMOLED, LCD or whatever screen is beyond me. This screen is around 4.3 inches big, as I already said a few minutes ago. The ZTE Grand X LTE T82's screen can house a resolution of approximately 540 x 960 pixels. The pixel density of this phone is around 256 ppi, so no matter the type of screen, it should be pretty decent enough as far as quality goes.
While some experts will argue and say that screen isn't clear as long as it doesn't have more than 300 ppi ( considering that's the maximum amount the human eye can perceive ), I beg to differ and say that anything that exceeds 250 is clear enough. The display of this phone also has Multitouch on it, however, it isn't the advanced sorts that can support more than 2 simultaneous fingers ( I never understood why you'd need more than two ). Also, the ZTE Grand X LTE T82's screen has no protection on it, so you'll have to be extra careful with its handling. The again, you aren't buying a phone to play football with it, aren't you?
SOUND
The audio output of the device is pretty good, especially that the ZTE Grand X LTE T82 has sound enhancements on it as well. The Alert Types, Loudspeaker and 3.5 mm jack aren't to be discussed, as they are all basic or default, if you prefer that term – hence, we can rule out any hardware-based sound enhancement. The interesting thing about this device's audio is the fact that it has Dolby Mobile Sound Enhancement on it. Of course, nowadays there are people to say that Beats is the best enhancement there is. Those kinds of people usually also use terms such as "YOLO" and "SWAG" and they end up selling at McDonald's.
MEMORY
I can't say too much about the internal storage space since I have no info about it. Either the ZTE Grand X LTE T82 has no internal storage space, which is hard to believe, or ZTE is being overly protective of its information AGAIN. Well, no matter the internal storage space, this device also has a Micro SD card slot which can support any card of up to 32 GB. The RAM of this phone is inexcusable, however.
While for the rest of the device I had the excuse that 2 GB of RAM was unobtainable physically back when they were announced, they are very easy to put in NOW. This phone has no excuse whatsoever for not having 2 GB instead of 1, especially since we don't even know the release date. Maybe it will change, but ZTE won't really do that as it seems like "bad business" in their sick, little, twisted heads.
DATA CONNECTION
The ZTE Grand X LTE T82 has both GPRS and EDGE on it, however, we don't know what class they both are or what speed they can each reach, all of this courtesy of ZTE. The Speed is just as mysterious as the rest : we only know that it is HSDPA, HSUPA and LTE but we know what speed per say in MB/s each one of those three has. The WLAN of this device is a very complex one, however : Wi-Fi 802.11 a/b/g/n with a ton of features such as : Wi-Fi Direct, DLNA and Wi-Fi hotspot. The Bluetooth of this phone is a v4.0 one with A2DP. This phone also has a Micro USB v2.0 USB port on it. All and all, the connectivity is good, granted, it is a bit mysterious at certain parts and at the current time.
CAMERA
The main camera, as I already mentioned, is extremely powerful. We're talking here about an 8 MP camera that can photograph at resolutions of around 3264 x 2448 pixels and can record video in 1080p full HD at around 30 frames per second. The only features, however, of this camera are : autofocus, LED flash and geo-tagging. The ZTE Grand X LTE T82 also has a secondary camera. While we don't know how many MP that secondary camera has, we do know it can record in 720p. Knowing that the biggest frontal camera possible is 2 MP, being able to go into 720p HD is quite a big deal.
BATTERY LIFE
The battery, another part which ZTE chose not to disclose to us, the people. All that can be said about the battery is that it is a Standard Li-Ion 1900 mAh battery. Why choose to withdraw information away from the public eye is beyond me, but then again, I think logically, fact which may prove my undoing someday. Someday, yet that day may never come. I deeply regret that I can't tell you how long this battery is good for in terms of hours, both in stand-by and talk-time.
HARDWARE
The hardware of this phone is fairly powerful one, however, it has a long way to go to equal the devices with Tegras on them or whatnot. Still, if you plan to use this phone for business purposes or for things other than games, it's more than adequate. The processor of the ZTE Grand X LTE T82 is a Dual-Core 1.5 GHz Krait. This device also has both motherboard and graphics card, and those two are as following : Qualcomm MSM8960 Snapdragon and Adreno 225. All and all, the hardware of this phone is pretty good and should run most things out there pretty easily.
SOFTWARE
The OS of the ZTE Grand X LTE T82 is a pretty good one. Since it has Android OS v4.0 Ice Cream Sandwich on it, there's not much point in discussing upgrade-ability. Sure, there will be a time when Android OS v4.1 Jelly Bean will come out, but it will be months until we know even the eligible candidates to receive the update and even more time shall pass until we see which one will be the first.
FEATURES
The features of the ZTE Grand X LTE T82 are pretty numerous. The sensors of this device are as following : Accelerometer, Gyroscope, Proximity and Compass. The messaging on this device can be done via : SMS ( with threaded view ), MMS, E-Mail and Push Mail. The browser of this phone uses HTML5 and has integrated support for Adobe Flash. As of yet, it is unknown whether or not this phone will have a radio or not. However, even if it lacks one, you can always go get an app for it on the internet. The GPS of this device has included support for A-GPS. This phone also has Java via Java MIDP emulation. The only available color for the ZTE Grand X LTE T82 is : White, but it does look awesome in that color ( although, it would look more awesome in Black ).
Here is a brief list of what the ZTE Grand X LTE T82 can do :
SNS integration
Active noise cancellation with dedicated mic
MP4/H.263/H.264/WMV player
MP3/eAAC+/WMA/WAV player
Google Search, Maps, Gmail, YouTube, Calendar, Google Talk
Document viewer
Photo viewer/editor
Voice memo/dial
Predictive text input
This concludes our little review of the ZTE Grand X LTE T82. If you feel that anything is lacking from this review feel free to leave your suggestions in the comment section below for things which should be added and I will be sure to take them into consideration when writing my future projects. In the meantime, I sincerely hope you had as much fun reading my little review as I had writing it.