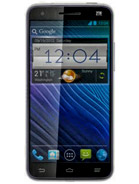 Today I'll be showing you a pretty interesting smartphone known as the ZTE Grand S. This smartphone is a pretty strong one to look at with some really decent features for a fairly average-to-high price. This phone is one that really grants you a ton of power for the value you pay for it. However, there are minor let-downs here and there.
The ZTE Grand S is a fairly good phone, but it's not without its minor drawbacks. You could easily put this phone in the top-grade smartphones category were it not for these minor limitations. Thanks to those limitations, the phone's price is somewhat lower than the price demanded for the top-grade smartphones on the market, but it's still high compared to the average phones ( however, this phone is anything but average ).
Regarding the ZTE Grand S, there is also something known as the ZTE Grand S Flex available, which is a newer version of this phone but with much less power and fewer features ( it's probably cheaper, for that matter, so if you're on a budget you might want to look that up ).
SUMMARY
As I said, the phone is good, but it is slightly more expensive than many people can afford and will take some consideration to get it. The phone has a few disadvantages, but overall its advantages overpower those. The real question to be asking yourself here is: can I really make the most out of a 575 dollar smartphone? Because, being completely honest here, if you don't require a strong smartphone and aren't planning of using it for extreme amounts of multitasking, this phone seems like a waste. Of course, saying something like that automatically indicates that the phone is a pretty good one for those tasks mentioned before.
GENERAL
As far as connectivity goes, the ZTE Grand S is pretty covered on all ends. This phone has regular GSM networking for both 2G and 3G, but it also supports 4G LTE connections. The phone has been out for quite some time, but I feel it's one of those devices that deserved more attention than it recieved, having been out since March.
BODY
The ZTE Grand S is a pretty thin phone, which frankly, while in itself is a neat feature to have, my inner engineer is really questioning its sturdiness. You see, the phone is pretty large too, as it's equipped with a 5.0 inch screen. Well, I'll tell you the specifications and you can be the judge of it yourself: 143 x 70 x 6.9 mm ( or 5.63 x 2.76 x 0.27 in) and it weighs around 130 g ( or 4.59 oz, if you like this measuring system more ).
DISPLAY
The screen of the ZTE Grand S is a really strong one. This is one of those special screens that support 1080 x 1920 pixels resolutions and has a pixel density of circa 441 pixels per inch ( which is great, by whatever you standard you look at it ). That's pretty much all there is to be known about this 5.0 inch screen – you'll find no problems in the display department thanks to this quality screen. Well, maybe the fact that it doesn't seem to have any note-able means of screen protection, but as long as you don't drop the phone, you should be all set.
SOUND
The audio output of this device is pretty much stock, not having any sound enhancements whatsoever to help differentiate the ZTE Grand S from other smartphones out there.
MEMORY
The memory of the ZTE Grand S is something to behold. The phone has a storage space of 16 GB, which can also be expanded upon via the MicroSD card slot that can use any card of up to 32 GB. The RAM of the ZTE Grand S is quite a lot and should offer you a pretty large bit of multitasking – after all, 2 GB of RAM can offer a great amount of speed to a mobile phone.
DATA CONNECTION
The ZTE Grand S is great as far as connectivity is concerned. It has NFC, it has GPRS and EDGE and its internet speed is great ( and you already know it's capable of LTE speeds as well ). The Wi-Fi of this device is also special – 802.11 a/b/g/n with support for Dual-Band, DLNA and Wi-Fi hotspot. The Bluetooth connection of this phone is v4.0 and it also has A2DP. The USB port of this device is in MicroUSB v2.0 format.
CAMERA
Both the cameras of the ZTE Grand S are great. This phone has a secondary frontal camera with 2 MP of power and a main 13 MP camera. What's interesting to note here is that both cameras, the main and secondary ones, can record video in 1080p HD format at 30 frames per second. Some of the features of this main camera include: autofocus, LED flash, geo-tagging, touch focus and face detection.
BATTERY LIFE
I rather dislike the battery of this phone. The ZTE Grand S has the kind of battery that I hate – the non-remove-able kind. Otherwise, the battery of this phone is pretty okay, it being a Li-Ion 1780 mAh battery. Nobody has yet to provide results about this battery and how long it can keep the phone powered. Personally I'd wager that it's a bit small for a phone this big and with these features, but I've been proven wrong once or twice in my life so I'll just stop talking about this matter.
HARDWARE
I'll be honest with you here: I don't know what to make of the hardware of this phone. The only seemingly note-able component from the ZTE Grand S is the processor – a Quad-Core 1.7 GHz one. However, without giving me any names of either the Chipset or GPU, there's no real way I can tell you how strong the ZTE Grand S really is. The processor could be strong enough to compensate for a weaker GPU or Chipset, but over-stressing a certain component is never a healthy thing to do.
SOFTWARE
This phone is really problematic as far as software is concerned. It's not like Android OS v4.1 Jelly Bean is a bad version, because it really isn't. It's just disheartening to see that such a long time has passed since this phone was released until today, and still nobody has bothered to release an official OS update for this phone ( and no matter what anyone may say, this phone CAN take the update ). It's also worrisome to see that the new version – the ZTE Grand S Flex – doesn't have a newer version either. You can always turn to the unofficial versions, but unless you have the know-how I'd suggest steering clear of that route.
FEATURES
The ZTE Grand S has quite a bunch of features on it. This phone has a bunch of sensors ( Accelerometer, Gyro, Proximity and Compass ), HTML5 for the browser, GPS with A-GPS support and Java with Java MIDP Emulation. The messaging on this phone is done via: SMS ( with Threaded View ), MMS, E-Mail, Push Mail and IM. This phone is availble in two colors: Black and Silver ( both of which look really great ).
Here's a brief list of what the ZTE Grand S is capable of doing:
SNS integration
Active noise cancellation with dedicated mic
MP4/H.263/H.264/WMV player
MP3/eAAC+/WMA/WAV player
Google Search, Maps, Gmail, YouTube, Calendar, Google Talk
Document viewer
Photo viewer/editor
Voice memo/dial
Predictive text input
This concludes our little review of the ZTE Grand S. I tried touching most important parts here and talking about everything as briefly as I could, without going into too many technical or boring details. I do hope it has proven somewhat enlightening to you all and that at the very least it offered you a bit of extra info about the device.