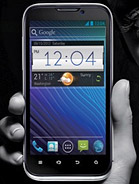 Today we're going to be reviewing the ZTE Era. Now ZTE doesn't usually have the habbit of releasing high quality phones or tablets. Their reputation, as far as I can see it, me being an impartial reviewer, is that they tend to copy the design of other high-ranking or best-selling phones and then rename them. They had a habit of copying mostly HTC phones around half of an year ago. This one, well, let's give it the benefit of the doubt and say it isn't copying any phone and it's completely original.
Still, even that considered, I still have some complaints to that need to be said. The information I have been able to gather about this phone is somewhat inconclusive. Few images are available about this device, to be honest. You'll notice for yourself that the picture itself differs from the picture of other devices in both quality and relevance. Still, one must work with what one has.
Also, another point that needs to be addressed is the fact that all that I was able to gather are the "Official Preliminary Specifications". However, if my sources claim that, the info rarely changes. Even if it were to change, the changes would be so minor they wouldn't even be noticeable. Since nobody likes wasting time with long intros, let us commence this little review.
SUMMARY
As I promised a long time ago in a galaxy far, far away, I would start all my reviews off with a brief review of the good and the bad of the device. The ZTE Era is a very distinct phone from ZTE. This is probably the strongest phone they've announced yet. The hardware, camera and operating system are wonderful for this phone. And to top it all off, or, to add a cherry on top if you prefer this, this phone also has a ton of features.
However, with all its good points, one can't help but not notice the bad ones as well. For example, my sources tend to not have any information whatsoever on the size and the weight of the phone. Sure, there are things which may indicate its size, but nothing compares to the good old fashioned written things. However, know that this is not only the case of the ZTE Era, but all devices from ZTE. They may just get their kicks from being cryptic like that.
Same kind of misinformation can be said for the battery of this device, as I can't for the love of god figure out anything about it. Also, another thing I must point out is the fact that the screen isn't a very great one. I mean sure, it's good and it does have a lot of stuff to improve it, but the tech used could have been upgraded a bit better in order to fit in with the actual standards. Even so, you'll be able to judge for yourself in just about a minute or so. Let us begin.
GENERAL
This isn't a 4G phone, but then again, that's probably for the better. 4G ones tend to cost a whole lot more and are more limited to certain areas than normal phones. Then again, if you truly want to be unrestricted by nature, buy a satellite phone and you will only be out of reach when you're underground. Still, the cost will be felt. Back to the matter at hand however, this phone uses both 2G and 3G networks. To be more precise, those networks are : 2G ( GSM 850, GSM 900, GSM 1800 and GSM 1900 ) and 3G ( HSDPA 900 and HSDPA 2100 ).
Leaving the networks aside, the ZTE Era is a truly late phone. This phone was announced in February 2012 and it still hasn't been released. Worse yet, we don't even know anything about a clear release date. All that is known is that this phone will hit the market somewhere around Q3 of 2012. Other than the fact that we don't know when this phone will come out, its networking is more than adequate.
BODY
This is a problematic part, as I've already mentioned. The thing that makes this part problematic is the fact that I don't know what to tell you about the size and weight of this phone. All I know for sure is that it is around 7.8 mm thick. The weight is unknown to me, or to anyone. The size of this phone is just as unknown. The only thing that may give you the slightest bit of suggestion about the size is the fact that the ZTE Era has a 4.3 inch screen. Other than that, the only thing left to discuss on this part is the particularities, and even those are limited to just one item : this phone has Touch-Sensitive Controls instead of frontal buttons. Let us hope that this phone will have a decent size, however.
DISPLAY
The display of this phone is a TFT capacitive touchscreen with approximately 16 million colors. Now normally I have no problems with screens, but there is something to be said here. As far as the clarity and luminescence of the colors go, a TFT screen is visibly inferior to an AMOLED one. If you're going to go invest a ton of money into the hardware of the device, why not do so with the screen as well. After all, the screen of a smartphone forms more than 40% of the phone.
Leaving the type of screen aside, the screen size and resolution are pretty decent. The screen is around 4.3 inches big and it can house a resolution of approximately 540 x 960 pixels. The pixel density of this phone is also quite a fine one. The ppi is around 256, which is more than good enough for me. While some experts may claim that 300+ is good ( considering the human eye can only perceive up to 300 ), I say that you need a very well trainer eye to spot the differences between 250 and 300.
This phone also has Multitouch on it, however, it isn't the advanced kind that can support more than two fingers at a time. Unfortunately, the ZTE Era has a drawback s far as the display is concerned – it lacks screen protection, so you'll have to be extra careful with its handling. That may not be such a problem however, since you're not really purchasing a device this powerful to play football with it.
SOUND
What makes the audio output capabilities of this phone special is the fact that the ZTE Era has a very efficient sound enhancement mode on it. The sound enhancement of this phone is software based only, it being a Dolby Mobile sound enhancement. I am going to end this part short since there's no point in talking about Alert Types, Loudspeakers and 3.5 mm jacks on phones, considering that Android Phones can use anything as their alert types and all of them have a normal Loudspeaker and a 3.5 mm jack. Still, that sound enhancement should make your musical experience quite better.
MEMORY
The internal storage space of this device isn't a very good one. I mean, for me it is more than enough, for others may complain. Those of you who are used to device with 32 or 16 GB of storage space will be very disappointed in the ZTE Era. The internal space of this device is only 8 GB. Still, if you truly require more, know that this phone also has a Micro SD card slow which can use any card of up to 32 GB.
The RAM of this phone is really good, but it can't really be classified as GREAT. This phone has around 1 GB of RAM. And while the current maximum of RAM is 2 GB, know that when this phone was announced that was little more than theoretically possible. In the end, the ZTE Era has enough storage for any activity and enough RAM for a bit of multitasking.
DATA CONNECTION
This phone has both GPRS and EDGE on it, however, the publisher chose not to say what Class they both are, or even what Speed they can both Reach. Luckily, the producer of this phone was more benevolent with the Speed of the device and chose to reveal all : HSDPA at 21 MB/s and HSUPA at 5.76 MB/s. The WLAN of this device is one with Wi-Fi 802.11 b/g/n and with a lot of features such as DLNA, UMA and Wi-Fi hotspot. This phone also has Bluetooth v3.0 on it with both A2DP and EDR. Also, this device has a Micro USB ( MHL ) v2.0 port on it. The connectivity per total is a really great one and the ZTE Era should open any website almost instantly.
CAMERA
The main camera of this phone is an amazing 8 MP one. Not only can this camera photograph at resolutions of around 3264 x 2448 pixels, but it can also record in full HD 1080p format at around 30 frames per second. The Sad part about this camera is that it doesn't have a whole lot of features, but I guess that if you want features, you buy a professional camera. Still, the features of the ZTE Era's camera are as following : autofocus, LED flash and geo-tagging. This phone also has a Secondary VGA frontal camera, however, that one has no features of its own which are worth discussing.
Still, even with so little features as far as the camera is concerned, the camera of the ZTE Era remains a good one. As far as I view things from my twisted, psychotic little point of view, I say that phones have no real necessity for cameras. Why add so much power into a really small little camera for a phone when if you truly want to be a photographer you'll purchase a professional camera and be done with it. This way, any moron with a phone that can use Instagram believes themselves "artists". This planet is going to hell and there isn't much we can do to halt that fall.
BATTERY LIFE
Leaving that bleak little truth behind we encounter another problem. As I already said, the producer of this phone chose to not release any information whatsoever about the camera of the ZTE Era. All that I can say here is that it's going to be a Standard Li-Ion battery. There's nothing to be said about how good that battery is going to be, what voltage it will have or how long it can keep your phone running and under what circumstances. Regretfully, I apologize for not being able to provide you with info as far as the battery is concerned.
HARDWARE
Finally we reach the highest point of this device. Its hardware is truly a sight to behold. This hardware is capable of running some games even my PC cannot run ( however, in my defense, my PC can barely hold up at the moment ). The ZTE Era, to be more exact, is a phone equipped with Tegra 3. Of course, when you mention Tegra 3, you know that the GPU will be an ULP GeForce one and that the processor will be a Quad-Core one. Question remains, how many GHz does the processor have? Well, the processor of this device is a Quad-Core 1.3 GHz one. As I said, a regular powerhouse that can run pretty much anything available at the current time.
SOFTWARE
The software of this device is also pretty good. The ZTE Era has Android OS v4.0 Ice Cream Sandwich on it. There isn't much point in discussing the upgrade-ability of this device as we don't even know when the new OS, v4.1 Jelly Bean, will come out and whether or not it will be only for phones or only for tablets. Even so, whenever a new Android OS comes out there is a waiting time of a few months until they release the list of compatible candidates for the OS and even more waiting time until the people can see which one will get it first. Up until now we only know about the Asus Nexus 7 to have the new OS, but we don't know when that tablet will come out.
FEATURES
The sensors of this phone are as following : Accelerometer, Gyroscope, Proximity and Compass. The messaging on the ZTE Era can be done via : SMS ( with Threaded View ), MMS, E-Mail and Push Mail. The browser of this phone uses HTML5 and has built-in support for Adobe Flash. This phone also has a Stereo FM radio with RDS. The GPS of this device has built-in A-GPS support. This phone also has Java via Java MIDP emulation. The ZTE Era is available in only one color : BLack.
Here is a brief list of what the ZTE Era can do :
Active noise cancellation with dedicated mic
SNS integration
TV-out (via MHL A/V link)
MP4/H.263/H.264/WMV player
MP3/eAAC+/WMA/WAV player
Google Search, Maps, Gmail, YouTube, Calendar, Google Talk
Document viewer/editor
Voice memo/dial/commands
Predictive text input
This concludes our little review of the ZTE Era. If you feel that anything is lacking from this review feel free to leave your suggestions in the comment section below for things which should be added and I will be sure to take them into consideration when writing my future projects. In the meantime, I sincerely hope you had as much fun reading my little review as I had writing it.