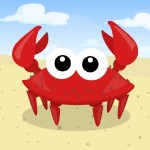 Today we'll be reviewing this tiny Android game with a really funny name. Contrary to its deceiving name, the game can prove to be a bit harder a challenge than you were expecting. It provides you with a ton of levels and puzzles for you to prove your might with. It may be a bit easy at first, but be sure, as the game progresses, you will come to question your image of yourself.
Think yourself of a bit of a genius? Try this game out and see for yourself whether you are one or not. Chances are you won't finish this game in your first go, but I bid you the best of luck with it. Also, if you find it too difficult, you can always look at the name again. Only the group of people referred to in the name will fail this quaint little game.
Already finished it? Pass it around to your friends and coworkers. See if they can solve it as fast as you.
FEATURES :
You will be spending hours working your way up from Moron to Genius
You will only advance by being attentive and with a great possession of logical reasoning
The great cast of characters is pretty funny and the soundtrack is enjoyable to say the least
Share your experience with this game on Feint, the social network for Android games
Watch your friends / coworkers struggle with this test once you've mastered it
DESCRIPTION :
You keep thinking to yourself "Gee, I'm no moron, so this test will be no problem for me". Think again my friend, the name of this game is quite deceiving. It may prove more of a challenge than it looks, and that's what's so maddening about it. Also, that is one of the reasons why this maddening and addictive game is one of the most popular apps in the mobile universe. This game challenges anyone with a shred of self-respect.
The questions are relatively simple, deceptively so actually. They're actually so simple you may even ignore the most important part of them, and that is where you will get in trouble. The key to acing The Moron Test is to read the questions carefully, twice even, and follow the directions precisely. If you will not do that, expect to hear the buzzer of shame and be thrown back to the beginning or to a checkpoint.
This game has 4 sections at the moment : Old School, Late Registration, Winter Break and Food Fight. There are more than 100 puzzles in each section. Players that actually manage to successfully answer the questions and follow the directions by touching, twisting and shaking their phone will be working their way up through 7 levels of intelligence, ranging from Moron to Genius.
The characters and sound are pretty memorable. As the player advances in this game he / she will get to meet a wide array of friendly and entertaining character with amusing personalities such as : ducks, giraffes, monkeys, penguins, turtles and much more. They are fun to watch and fun to listen to. But, of course, you will see this all for yourself later.
Playing in the background as the test goes on and on is a whimsical little tune, the kind of tune you can't get out of your head once you hear it. Generally speaking, you will want to pay attention to the soundtrack. The devs of this game have made a point of inserting secret sounds to enhance your playing experience, or maybe to simply distract you from those instructions you're supposed to follow closely.
Tired of finishing this game by yourself? Create your own entertainment by passing it around. The Moron Test comes with a quick connection to Facebook and an easy link to enable connections to Feint. With a free Feint account, your scores will be posted and you can compare notes with other players, earn rewards and even discover other awesome games. And once you're through with that, start making people want to tear their hair out by passing it around and letting people lose for your amusement.
This game can be purchased from Amazon for less than a dollar. Just click here.