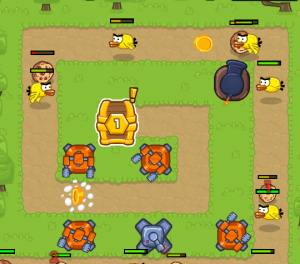 Idle TD has a unique concept, a combination between clicker game and tower defense. You can kill enemies by clicking on them but you also need to buy and arrange towers on the map to help you.
The game allows you to upgrade the damage you do by clicking, or to choose between dozens of towers available.
When I first saw this game I had doubts that it could make me play it, but once I started I almost forgot to keep track of time. I wasn't able to stop playing, but finally I did it because I had to write this article to share my findings with you.
The gameplay is well balanced and enemies are stronger and stronger so you need to keep up with clicking and adding towers.
You can download Idle TD from Google play store.