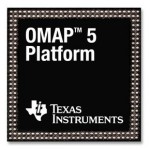 This is some sad news indeed, especially for those individuals that were excited about the announcement of the TI OMAP 5 platform. The fate of the TI OMAP 5 chipset will remain unknown to us as Texas Instruments has only said one thing: they will be withdrawing from the Smartphone market.
Texas Instruments is dropping out of the race of system-on-chip products for Smartphones and Tablet manufacturing. With this decision, they will also be giving up on the OMAP lineup.
The popularity of the OMAP chipsets has been experiencing a steady downfall for quite some time, their popularity dwindling among most mobile manufacturers. The most common choice of Smartphone manufacturers has been Qualcomm, while both Samsung and Apple are developing their own products ( Exynos and respectively A6 ). The major disadvantage the pushed Texas Instruments over the line is the fact that OMAP chipsets lack the on-board 3G and respectively 4G modem.
The fact that they lack said modem is forcing manufacturers who rely on OMAP chipsets to use additional radio chips, fact which increases battery consumption and overall production costs. Thus, both the user and the manufacturer have something to lose. That is why most manufacturers now prefer the quicker and cheaper approach that Qualcomm's complete solution is offering.I can understand that, especially if price is considered, which is after all the most important factor in the manufacturing process.
Texas Instruments is claiming that they will shift their focus "to a broader market including industrial clients like carmakers". No announcement has yet to specify which vehicle manufacturer will benefit from their service. Therefore, without specifying anything, the investors were left puzzled and wondering whether or not they made the right choice.
Texas Instruments will continue to support their current clients, but drastic cuts will be made from the development of the OMAP series. This news may be shocking for some people as the TI OMAP 5 was expected to be the first chipset with a dual Cortex-A15 CPU, and now its fate hangs in uncertainty.
Sadly, with such a small presence in the market, the complete absence of further TI OMAP products will hardly be felt by the market.