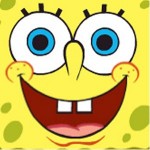 Today we're going to be reviewing a funny little app because it has been some time from the last time we did one of these. And why not? After all, the first thing somebody does when they get their hands on their first Android phone is load it with apps and games and show them off to their friends. And what better app to show off than this one?
Who can honestly say they've never heard of the popular cartoon Sponge Bob? It's an adorable cartoon that has proven to be funny for all ages, as most of the cartoons published / created by Nickelodeon tend to be. This little app takes the main character of that series and lets you do as you will with him. If you're a fan of Sponge Bob and of that very popular app Talking Tom or however they've named it now ( Talking Something or things like that ) you're going to love this little mix-up between the two.
Features
You can interact with Sponge Bob Square Pants, the main character of the series ( as the name suggests, no doubt )
You can shake him, poke him or stretch him as you please ( he's a sponge, after all )
You can change the background to different key locations from Bikini Bottom, the fictional location in which the series takes place
Description
Given the possibility, whether to own Sponge Bob, or leave him be, what is someone to do? Well, this app allows you to enjoy your favorite Nickelodeon character and all of his quaint antics and quirky underwater dwelling from your own Android device. Whether you just love goofy, animated sea sponges that work as fry chefs or are just purchasing this for the amusement of your favorite little child, you won't regret paying less than a dollar for it. After all, a child's laugh is priceless and this app offers you just that. This app creates and amusing and interactive experience for everyone of ALL ages.
Now you may be asking yourself, are Sponges ticklish? Well, my curious friend, there's only one way to find out – tickle one of them. This app provides you with your virtual underwater buddy that lives in your pocket in the form of a sponge named Sponge Bob Square Pants. You can stretch him, poke him, shake him and tickle him, all will work considering sponges are very malleable.
Also, this little sponge is generous enough to share with you each and every location of his home-town, Bikini Bottom, as you can change the background as you please to any location whatsoever of that little underwater town.
While many people complain that this app is way too expensive for one dollar, think a bit for yourself. What motivation does the creator of the app have when he is spending hours on end to make it. The least bit of thanks you can offer is the price you pay for the application. Keep in mind that life isn't that easy and you will almost never receive something  for nothing.
You can get this app from Amazon.