Sony has officially ended its fiscal 2012 year on a high note and it is starting off 2013 in the black as well. The fiscal Q1 ( of April – June ) saw an increase in sales and operating revenue by 13% year after year and had a net profit of around 35 million dollars ( while it may not sound like much, in Q1 2012 the company posted a net loss of 248 million dollars ). Said increase in revenues increased due to favorable currency exchange and strong performance of the Mobile Products and Communications divisions responsible for the company's Android phones.

On a constant currency bases, the revenues actually decreased by 3%. Sony points to the lack of sales of its chemical division and weak performance of compact and video cameras. Operating profit is up thanks to strong sales of Android phones and higher operating income from Sony's Financial services. The MP&C division which I previously mentioned managed to sell 9.6 million smartphones, which compares favorably to the 8.1 million shipped over the previous quarter and the 7.4 million for the same period of the last year. Revenues increased by 36.2% year on year ( 14% up on a constant currency basis ) up to 3.92 billion dollars due to the significant increase in smartphone sales ad a higher average selling price. The division also scored 71 million dollars in patent royalties. Operating income was 60 million dollars compared to an operating loss of 285.8 million dollars in the same quarter of last year.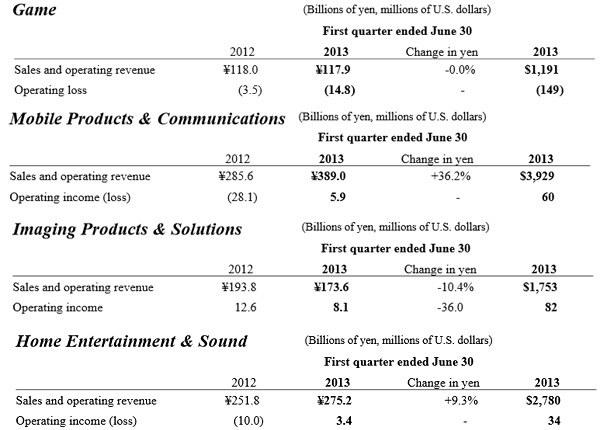 The sales of 1.19 billion dollars for the Game division were flat with positive currency exchange rates offsetting lower PS3, PS2 and PSP sales. The division recorded an operating loss of 149 million due to higher R&D costs associated with the next PS4.
Imaging Products & Solutions saw a 10.4% increase in sales to 1.75 billion dollars and saw an operating profit of 82 million. The shrinking digital and video camera market resulted in significant decrease of sales of Sony's products in this category. The Home Entertainment & Sound scored higher sales and an operating profit of 34 million thanks to an 18.2% increase in sales of Sony TVs. Last
Sony Pictures and Music scored around 38 million dollars and 109 million dollars operating income respectively. Operating income includes a sale of Sony Pictures Entertainment's music publishing catalog for 106 million dollars. After Earth underperformed and hurt Sony Pictures' sales quite a bit.
If you're interested in reading more about this, I suggest searching for a bit as I am sure you can find the full report on all of the divisions. This has just been a short coverage of some of the more prominent of divisions, but we both know that Sony has so many more than these. Here's hoping that Sony continues to grow, especially in the Smartphone part, as they seem to have lost the most ground in that division.