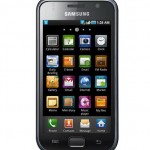 I have written about every strong phone there is out there, yet have somehow forgotten to write about this one. The one, the only, the basis for them all. The first spearhead of Samsung's success, the Galaxy S.
This phone was the basis on which every other Android Phone was built ( or perhaps it was the iPhone, as some retards claim, but I prefer not to say the "i" words ).
Even now, with a bit of modding/tweaking/tuning <which I don't recommend since it voids all warranty> it can do almost as much as the S II.
Processor : 1 GHz ARM Cortex-A8 processor, PowerVR SGX540 GPU, Hummingbird chipset
RAM : 512 MB
Android OS : 2.1 Eclair
Camera : 5 MP
Display : 480 x 800 pixels, 4.0 inches (~233 ppi pixel density)
On the display side, this phone has a Super AMOLED capacitive touchscreen with 16 million colors. The screen is 4.0 inches big and has a resolution of 480 x 800 pixels. It also reaches a pixel density of approximately 233 ppi. The screen has a Gorilla Glass Display too, which make it quite resilient – be it to time, or external factors.
Moving on to the memory side, this phone has 2 GB of ROM memory ( dedicated to the use of the system ) and 8 or 16 GB of internal storage, depending on the version that you have
purchased. The phone also has 512 MB of ram. It's not that much NOW, but back then it was aces.
Skipping to the camera side, it has a 5 MP camera that can photograph at resolutions as high as 2592 x 1944 pixels. Some of the many features of the camera include : autofocus, geo-tagging, touch focus and face and smile detection. The video recorder can record at 720p with a steady 30 fps. That's good, since I know of certain phones that are on the UP and COMING faze and aren't equipped with 5 MP cameras that can record HD videos. This phone also has a secondary VGA camera.
On the hardware side, this phone has a 1 GHz ARM Cortex-A8 processor that comes hand-in-hand with a PowerVR SGX540 GPU and a Hummingbird chipset. That configuration is pretty
powerful, and I happen to know first hand that the processor can be overclocked quite a bit.
On the OS side, it comes equipped with 2.1 Eclair but it can be upgraded to 2.3 Gingerbread. See, as I said, still an awesome phone despite the fact that it's a bit old.
This concludes our small review of this phone and I would like to apologize for not doing it earlier.
You can get this phone from Amazon.