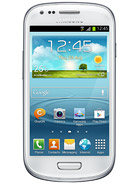 Today we'll be reviewing the Samsung I8190 Galaxy S III Mini. As is tradition with the Samsung phones, whenever they have something of great success, they create a Mini of it. That isn't necessarily a bad thing, especially since that mini usually ends up being pretty darn good. What could have been the motive for them to create a Mini after the Galaxy SIII, I do not know. However, I do believe that this is a pretty good idea. Through this phone you can experience half of the Galaxy S III's power at half the price.
I myself used to own such a Mini phone, not the Galaxy S III one as it has yet to come out, but the first generation of Galaxy Mini. I can honestly say it has proven more reliable than most of my other phones put together. I was driven to believe in this Mini series and have found that the phones in the said series are more reliable than the price indicates. I do believe that with this phone you will most certainly not be disappointed at all.
SUMMARY
This phone, same as any other device released EVER has its ups and downs. The Samsung I8190 Galaxy S III Mini has a lot of good features and rarely can you truly say about one particular feature that it is bad. The phone is sized pretty well. You would expect a Galaxy Mini, no matter the model, to be quite small. Truth be told, the difference in size isn't that huge. While the regular Galaxy S3 has a 4.7 inch screen, this device has a screen of 4.0 inches. Therefore, if by some reasons the size of the S3 bothered you, you can always try this as a consolation prize. Of course, it won't compare to the S3 in hardware strength, but it seems more practical in certain situations.
As opposed to the standard S3, this phone doesn't use a Micro-SIM card. This one has a regular Mini-SIM card with which we are all used to and know all too well. For me the whole Micro-SIM is an inconvenience as I would have to go to my nearest network provider and ask for them to exchange my standard SIM to a micro one, fact which takes a bit of precious time out of my schedule, not to mention a bit of precious cash out of my wallet.
As for the hardware of this device and its many features, good or bad, you will come to know them in just a second. You will recognize them when we reach them and when their turn comes to be reviewed more detailed. Until then, I do hope that this has wet your pants enough to make you keep reading. Rest assured, this is a phone that you will not regret acquiring. It can easily be compared to some of the top dogs around and it's even more cost efficient. Rarely can you find a good Android phone like this one for less than 400 dollars.
GENERAL
This is not a 4G device, as that would have most certainly increase the price quite a bit. Instead, it uses the normal kinds of networks we are all used to, and the same thing can be said about the SIM card. Those networks are as follows: 2G ones ( GSM 850, GSM 900, GSM 1800 and GSM 1900 ) and 3G ones ( HSDPA 900, HSDPA 1900 and HSDPA 2100 ). This phone was announced somewhere around October 2012 and it has yet to come out. It is said to come out somewhere around Q4 of 2012. Since "Q4" covers a period of 3 months, I am sorry to say that I cannot provide a more exact release date.
BODY
The size of the device is pretty comfortable. For those that have a problem with the large phones, fear not as the Samsung I8190 Galaxy S III Mini is just about the size of the iPhone 5. It's just big enough as to house a 4.0 inch screen. The size per say is: 121.6 x 63 x 9.9 mm in size and 111.5 grams in weight. The Samsung I8190 Galaxy S III Mini also has Touch-Sensitive Controls instead of buttons, just as the Galaxy S3.
DISPLAY
The type of screen of the Samsung I8190 Galaxy S III Mini is quite exquisite. While it may seem regular in name, as Samsung has chosen to only name their screens Super AMOLED, no two screens between two different phones are alike. Well, they may have similarities, but they are different nonetheless. For instance, some may show brighter white and darker black for the ease if reading, while some may offer a better color clarity. What they have in common is a beautiful effect of over-saturation of colors, which by some critics is a bad thing as it doesn't show the 100% true color, but as the customers would tell you, it's actually a plus. Also, needless to say that the Super AMOLED screen on the Samsung I8190 Galaxy S III Mini is a capacitive touchscreen with 16 million colors.
The screen of the Samsung I8190 Galaxy S III Mini, as I've already mentioned, is a 4.0 inch screen, just like the iPhone 5's screen. This screen can house a resolution of approximately 480 x 800 pixels. The pixel density of this device revolves around 233 pixels per inch. All and all, that's a pretty good pixel density for such a screen, but it honestly could have been better. Considering that the maximum pixel density of this device is 300 ppi ( the maximum visible by the human eye, of course – all that exceeds just looks the same; kind of like with the framerate in games: anything above 65 looks the same to the human eye ), I'd say that 233 ppi is more than sufficient for such a screen. Should it exceed 250, then the price would increase as well to a level far beyond 400 dollars.
This Mini phone ( which is as big as a regular phone ) also has Multitouch on it, however, it isn't the advanced sorts of Multitouch that can support more than two simultaneous fingers. Frankly, I believe I've only seen that feature on Xperia phones as they seem to specialize in that sort of domain. Heck, some of them even had support for up to 10 simultaneous fingers on it. What is a bit worrisome is that this device has absolutely no screen protection whatsoever, so you'll have to be extra careful with its handling.
SOUND
The audio of this device is pretty basic as the Samsung I8190 Galaxy S III Mini seems to lack any and all sound enhancements, be them software-based or hardware-based. The Alert types of this device are the default ones that any Android phone has. Same thing can be said about the Loudspeaker and the 3.5 mm audio jack. There are also a few features related to the audio part, but you will come to see them when it is their turn.
MEMORY
The internal storage space of the Samsung I8190 Galaxy S III Mini is variable, as the phone is available in two different versions: an 8 GB one and a 16 GB one. Should neither of those two versions be sufficient to satisfy your demands for space, know that the Samsung I8190 Galaxy S III Mini also has a Micro SD card slot that can use any card of up to 32 GB. The RAM of this device is pretty good as this phone has around 1 GB of RAM. While it cannot compare to the maximum amount of 2 GB of RAM, who says that you have to compare this medium range phone to the top dogs around.
DATA CONNECTION
The Samsung I8190 Galaxy S III Mini has both GPRS and EDGE, however, the manufacturers have failed to mention what Class they each are or what speed they can both reach. Still, it's good that it has them. The Speed of this device is measured as so: HSDPA at 14.4 MB/s and HSUPA at 5.76 MB/s. The WLAN of the Samsung I8190 Galaxy S III Mini is a Wi-Fi 802.11 a/b/g/n with DLNA, Wi-Fi Direct and Wi-Fi hotspot. The Bluetooth of this device is a v4.0 one with A2DP, LE and EDR. I can personally vouch for how fast the USB v4.0 actually runs since I own devices equipped with said version. It can send files of 1 GB or so in a matter of a few minutes. The USB port of this device is a Micro USB v2.0 one, however, it doesn't have MHL. Also, since the phone has no HDMI port, you can pretty much wave goodbye to placing movies or such on the screen of a TV.
Also, this is an NFC equipped device. That's a pretty important fact to mention as few devices seem to have that feature installed on them. Even though this is a feature that is relatively new to the phone market, one would expect to see more devices in this day and age adopt it. Perhaps it is because of the cost of installing it that so few devices actually have it. If you're wondering what NFC actually is, it stands for Near-Field Communication and it acts as an incredibly fast Infrared connection. However, the distance between the two devices must be minimal. I believe that the maximum permitted distance is 5 cm or something like that. Here's the official description of what NFC was usually used in.
Near field communication (NFC) is a set of standards for smartphones and similar devices to establish radio communication with each other by touching them together or bringing them into close proximity, usually no more than a few centimetres. Present and anticipated applications include contactless transactions, data exchange, and simplified setup of more complex communications such as Wi-Fi. Communication is also possible between an NFC device and an unpowered NFC chip, called a "tag".

NFC standards cover communications protocols and data exchange formats, and are based on existing radio-frequency identification (RFID) standards including ISO/IEC 14443 and FeliCa. The standards include ISO/IEC 18092 and those defined by the NFC Forum, which was founded in 2004 by Nokia, Philips and Sony, and now has more than 160 members. The Forum also promotes NFC and certifies device compliance.
CAMERA
The camera of this device is nowhere near the camera of the normal S3, but it's still good enough. The main camera is a 5 MP snapper that can photograph at resolutions of around 2592 x 1944 pixels and record video in 720p HD format at around 30 frames per second. The features of this camera are: autofocus, LED flash, geo-tagging, touch focus and face detection. The Samsung I8190 Galaxy S III Mini also has a secondary VGA frontal camera, however, it has no features of its own for me to comment upon.
BATTERY LIFE
Unfortunately not much can be said about the battery of this device. It is clearly weaker than the normal S3's battery, but it doesn't need to be that powerful. This phone has a Standard Li-Ion 1500 mAh battery. Unfortunately, it is yet unknown how long it can sustain the life of the phone in both Stand-By and Talk-Time.
HARDWARE
I cannot truly say I've seen this motherboard on too many phones up until now. The hardware of this device is comprised of a NovaThor U8420 chipset accompanied by a Dual-Core 1 GHz processor. All things considered, a more than decent enough hardware configuration with more than enough strength to handle any task, program or app. It would be foolish to claim it could handle ANY Android game, but it can play the large majority of them.
SOFTWARE
The Android OS of this device couldn't be better. Just as the regular S3, the Samsung I8190 Galaxy S III Mini has Android OS v4.1 Jelly Bean. With those things considered, what else can one ask for? There's no point in talking about upgrade-ability as it will most probably be a whole year until the next version of Android OS comes out.
FEATURES
This mini phone is packed with all sorts of features. The Sensors of the phone are: Accelerometer, Gyro, Proximity and Compass. The messaging on this device can be done via: SMS ( with Threaded View ), MMS, E-Mail, Push Mail, IM and RSS. The browser of the phone uses HTML5 and has no apparent support for Adobe Flash, fact which could prove troublesome. The Radio of this phone is a Stereo FM one with RDS. The Samsung I8190 Galaxy S III Mini also has a GPS with A-GPS support and GLONASS and Java through a Java MIDP emulator. The only available color for this phone is White, but it does look wonderful in that color.
Here is a brief list of what the Samsung I8190 Galaxy S III Mini can do:
SNS integration
Active noise cancellation with dedicated mic
MP4/DivX/XviD/WMV/H.264/H.263 player
MP3/WAV/eAAC+/AC3/FLAC player
Organizer
Image/video editor
Document viewer
Google Search, Maps, Gmail, YouTube, Calendar, Google Talk, Picasa
Voice memo/dial/commands
Predictive text input (Swype)
This concludes our brief review of the Samsung I8190 Galaxy S III Mini. Thank you for reading this review. I hope it has been as helpful as possible. If you feel that anything is lacking from this review feel free to leave your suggestions in the comment section below for things which should be added and I will be sure to take them into consideration when writing my future projects. In the meantime, I sincerely hope you had as much fun reading my little review as I had writing it.