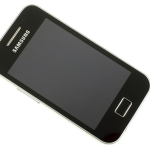 The Galaxy series hasn't failed to impress any of us up to now. The Galaxy series is also what set Samsung above all the other smartphone producers.
This time, we're taking a gander at the Samsung Galaxy Ace S5830. Quite a pleasant looking phone with a mediocre-to-good configuration. Definitely a good buy, if you're looking for a good phone.
Enough making small talk, let us take a look at the more advanced stuff.
Processor : 800 MHz ARM 11 processor, Adreno 200 GPU, Qualcomm MSM7227 chipset
RAM : Nope
Android OS : 2.2 Froyo upgrade-able to 2.3 Gingerbread
Camera : 5 mp
Display : 320 x 480 pixels, 3.5 inches (~165 ppi pixel density)
The display of the phone is a TFT capacitive touchscreen with 16 million colors that can reach a resolution of 320 x 480 pixels. The screen is 3.5 inches big. That implies that the pixel density is somewhere around 165 ppi. The screen also has Gorilla Glass Display, which means it is quite durable and scratch resistant.
On the memory side, the phone has no RAM. Neither does the iPhone 4S, but people are still killing to get it (not literally… or, so I hope). Back on topic, no RAM means not too many great expectations on high-speed running of the phone. The internal phone memory is comprised of 158 MB, but that in itself isn't actually that much of a problem since the memory can always be upgraded via the memory card, since this phone can use any microSD card of up to 32 GB.
The camera isn't the best camera around. Despite being a 5 MP camera, it can't even record video in 720p. Actually it barely records at QVGA quality at a steady 15fps. On the photographing part, the pictures can go to resolutions as high as 2592 x 1944 pixels. Some of the many features of the camera are as following : autofocus, LED flash, geo-tagging and face and smile detection.
On the hardware part, we have an 800 MHz ARM 11 processor. I'm not sure what to say about this processor since all the high-end phones I know have ARM 9 as a processor. The problem is that I have heard from reliable sources that some ARM 11 processors are much weaker than the ARM 9 series. Though, just by looking at the power of that processors, what I heard is confirmed. Moving on to the video card, this Android Phone has an Adreno 200 GPU. A pretty good one, but far from the best ones. The chipset of this phone is a Qualcomm MSM7227 chipset. Qualcomm chipsets are good and reliable, but this one isn't that strong.
The Android OS version is 2.2 Froyo and it can be upgraded to 2.3 Gingerbread. That's good, considering the age of the phone. Also, I applaud the initiative of the good people that designed upgradeable OSes. That was probably a really good idea.
So, in conclusion, quite a good and nice phone.