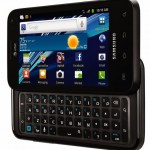 Samsung has released tons of good phones ever since they went into business. The phone we're looking at today is no exception from what I said before.
This phone is an Android Phone with lots of cool and great features and has a QWERTY keyboard as well.
The phone also has a Gorilla Glass display which makes it extra-hardy for any needs you might have.
This phone is actually really strong. I am actually surprised it isn't part of the Galaxy series.
Processor : 1GHz Nvidia Tegra 2 AP20H dual core processor
RAM : 1 GB
Android OS : 2.3 Gingerbread
Camera : 8 MP
Display : 480 x 800 pixels, 4.0 inches (~233 ppi pixel density)
The display is a pretty damn good one. We're looking at a Super AMOLED capacitive touchscreen with 16 million colors. The screen is 4.0 inches big and has a resolution of 480 x 800 pixels. That means that the screen pixel density is somewhere around 233 ppi. The screen has a Gorilla Glass Display and is also a Super AMOLED, that means that it is positively, undeniably the best display out there ( or among them anyway ).
On the memory side, this phone has an internal storage space of 8 GB, 1 separate GB of ROM and 1 GB of RAM. In case you're wondering what the ROM memory is, let me clarify : it's the memory used by the system itself. If 8 GB of internal storage space isn't enough to satisfy your greed needs, fear not, this phone also has a microSD card slot capable of using any microSD card of up to 32 GB. With 1 GB of RAM and ROM, one can expect this phone to run incredibly fast.
The camera of this phone is a monster of a camera, as are most cameras of the new Samsung phones. We're looking at an 8 mp camera that can photograph at resolutions as high as 3264 x 2448 pixels. This camera has plenty of features, some of which include : autofocus, LED flash, geo-tagging, touch focus and let's not forget face&smile detection. The video recorder is really strong too. This smartphone has a video recorder that can film at 1080p full HD at a steady 30fps. The phone also has a secondary 1.3 MP camera.
On the hardware side, this smartphone is built like a brick-house. It has a 1 GHz Nvidia Tegra 2 AP20H dual core processor. That configuration right there makes little children cry just by saying its name ( metaphorically speaking of course ). In other words, this phone is REALLY strong.
The Android OS version is 2.3 Gingerbread. That's probably the biggest disadvantage of this phone. It will probably be coming out sometime this month, but by now there are already phones out there with 2.3.4 and 2.3.5. It's just a little disappointing, that's all…
All and all, this phone is a wonder of technology and I for one can't wait until it comes out. It will be awesome, and most definitely well worth its price.
You can get this phone from Amazon.