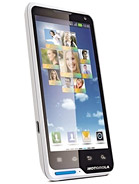 We've pretty much gotten used to Motorola releasing powerful devices. It's nice to see they've improved over the years since in the past their merchendise was sadly not that powerful. What actually sent Motorola rocketing through the roof was ( in my opinion ) their work on the Xoom. Until that came out, few phones were actually noticeable.
Processor : 800 MHz processor, Qualcomm MSM7227A-0 chipset
RAM : 512 MB
Android OS : 2.3.7 Gingerbread
Camera : 8 MP
Display : 480 x 854 pixels, 4.0 inches (~245 ppi pixel density)
This phone being as new as it is, there isn't so much solid data about it around.  What you can obviously tell for yourself by judging the specs of the phone is the fact that this phone isn't a major power-house but it is probably more wallet-friendly than most of the other Smartphones out there.
On the display side, this phone has a TFT capacitive touchscreen but we don't know exactly how many colors it has. May be 16 million or 256K, nothing is sure. Only time will tell. The screen resolution is 480 x 854 pixels and the screen itself is 4.0 inches big. That allows for a pixel density of approximately 245 ppi.
On the memory side, this phone has 1 GB of ROM and 512 MB of RAM.  That doesn't allow for any internal storage space, but that isn't exactly a problem since this phone has a MicroSD card slot as well that can use any memory card of up to 32 GB.
On the camera side, it has an 8 MP camera that can photograph at resolutions as high as 3264×2448 pixels and has autofocus and an LED flash. It's also capable of recording video and has a secondary VGA camera as well. No further information about the camera, since, as I said before, it's a relatively new phone.
On the hardware side, this phone has an 800 MHz processor and a Qualcomm MSM7227A-0 chipset. That isn't a very powerful configuration and the sheer fact that it's lacking a GPU means that this phone is quite incapable of running good 3D apps/games or similar things.
On the software note, this phone has Android OS v2.3.7 Gingerbread. Pretty disappointing, to say the least. Since Android OS v4.0 exists, why not build your future products to use that said OS.  It's a really great disappointment to see new phones that don't already have the final version of the Android OS.
You can get this phone from Amazon.