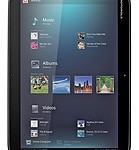 I've said some time ago that I will review the Motorola XOOM 2 as soon as I get the chance. Well, here it is. The Motorola XOOM 2.
This is quite a powerful tablet, but it isn't nearly as powerful as some other tabs I have had the pleasure of working with.
Here goes, anyway.
Processor : Dual-core 1.2GHz ARM Cortex-A9 processor, ULP GeForce GPU, Tegra 2 T20 chipset
RAM : 1 GB
Android OS : 3.2 Honeycomb
Camera : 5 MP
Display : 800 x 1280 pixels, 10.1 inches (~149 ppi pixel density)
On the display side, this tablet has a TFT capacitive touchscreen with 16 million colors. The screen resolution is 800 x 1280 pixels and the screen itself is 10.1 inches big. That allows for a pixel density of approximately 149 ppi. The screen also has a Gorilla Glass Display, which make it particularly resilient.
On the memory side, this Tab has 16 GB of internal storage space and a microSD slot that can take any microSD card of up to 32 GB. It also has 1 GB of RAM, so it allows for quite a bit of multitasking.
This Tab has a 5 MP camera that can photograph at resolutions as high as 2592 х 1944 pixels. Some of the features of this camera include : autofocus, LED flash and geo-tagging. The video recorder works at 720p fine, with a steady 30 fps. This device also has a secondary camera, the secondary one being a 1.3 MP camera.
On the hardware side, it has a Dual-core 1.2GHz ARM Cortex-A9 processor. Since it is a Tab with self-respect, it can't lack a good GPU, thus, we have the ULP GeForce GPU. If there is a CPU and a GPU, there must also be a chipset. And boy, what a chipset it is : Tegra 2 T20 chipset. That being said, it's a pretty powerful Tab.
On the software side, it has Android OS v3.2 Honeycomb.
All and all, this tab is pretty awesome and is well worth its buck. If you're more interested in this tab, do feel free to click HERE.