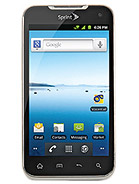 Today we shall be taking a look at the LG Viper 4G LTE. This is a pretty decent Android Phone with a sufficiently powerful hardware configuration. What's quite interesting about it is the fact that it's a 4G phone from top to bottom. However, there aren't that many pieces of information floating around the internet about certain features of this phone for some reason, so in some parts, this phone will seem as if it is lacking something. I guess only time will tell. LG has had a habit of releasing really powerful phones lately. Let us keep our fingers crossed so that this one will be such a success as the phones of the Optimus series. But even if it isn't up to par with the rest, that's the fun with Android phones : you always have the advantage of having a large variety of phones from which to choose.
Well, without further ado, let us begin this little review / preview of the LG Viper 4G LTE.
GENERAL
The networks that this phone can operate under are as following : CDMA 800 / 1900 ( 2G Network ), CDMA 2000 1xEV-DO ( 3G Network ) and LTE 700 ( 4G Network ). The LG Viper 4G LTE was announced in January 2012 and was expected to hit the market somewhere around Q1 of 2012. However, since Q1 is almost over and we're nearly in Q2 right now, one can only assume that perhaps this device will come out later than expected.
BODY
Unfortunately this is one of the previously mentioned parts which is lacking information in certain departments. This means that I cannot say anything about how big the phone is or how much it weighs. What I can say for sure is that it has Touch-Sensitive Controls, to the delight of all the button haters out there.
DISPLAY
The type of screen that this device has is not mentioned. What we do know for sure is that it has a Capacitive Touchscreen with around 16 Million colors. The resolution of this device is around 480 x 800 pixels and the screen itself is 4.0 inches big. The pixel density of the display of this device is around 233 ppi. The LG Viper 4G LTE has Multitouch as well, but there isn't enough information about how many fingers can run simultaneously on it.
SOUND
The sound part of the LG Viper 4G LTE is pretty basic or default, depending on how you choose to view it. It has no advanced sound enhancing methods whatsoever. It only has a loudspeaker and a 3.5 mm jack. The alert types are the basic we've all grown attached and used to : vibration and MP3 ringtones.
MEMORY
Again, we have not enough data on this part either. We only know for sure that it can have a MicroSD card of up to 32 GB but we know nothing about the internal storage space or how much RAM memory it has.
DATA CONNECTION
The LG Viper 4G LTE has no GPRS or EDGE. The speed of the LG Viper 4G LTE is Rev. A up to 3.1 MB/s and LTE. The WLAN of this phone is a Wi-Fi 802.11 b/g/n with Wi-Fi hotspot. The LG Viper 4G LTE also has Bluetooth with A2DP and NFC. The USB connection between this device and the PC can be done through the MicroUSB v2.0 port of this device.
CAMERA
Moving on to the camera of this phone. The LG Viper 4G LTE has a 5 MP camera capable of photographing at resolutions as big as 2592 x 1944 pixels. The only features of this camera are : autofocus and geo-tagging. This phone is also capable of video recording, although it doesn't say at what quality or how many frames per second. Another thing to take into consideration is the fact that the LG Viper 4G LTE has a Secondary VGA camera.
HARDWARE
The only notable piece of hardware on this device is the processor, it being a 1.2 GHz Dual-Core processor. This can only mean one of two things : either there isn't enough information available about this phone, or it's too weak and doesn't have a notable chipset or GPU, although if it's strong enough to handle a Dual-Core processor it's bound to have those two components as well.
SOFTWARE
The Android OS version that this phone comes equipped with is Android OS v2.3 Gingerbread. I'm pretty disappointed to see that a phone as fresh as this one won't come out with the latest version of the Android OS, but perhaps it's lacking the info about whether or not there will be a future update to v4.0 Ice Cream Sandwich, although I highly doubt it.
BATTERY LIFE
Again, this part has fewer solid pieces of data than the bible has true stories. The only detail we know about the battery life of the LG Viper 4G LTE is the fact that the battery of this phone will be a Standard Li-Ion Battery of apparently unknown power.
FEATURES
Moving on to the features of this Android device. The sensors of the LG Viper 4G LTE are as follows : accelerometer, proximity sensors and compass. THe messaging of this phone is done via : SMS ( with threaded view ), MMS, E-Mail and Push Mail, and even IM. The browser of the LG Viper 4G LTE supports HTML and Adobe Flash and the GPS of the LG Viper 4G LTE supports A-GPS usage. This device also has Java via Java MIDP emulation. The only color available for this somewhat anonymous phone is Black.
Here is a brief list of the things that the LG Viper 4G LTE can do :
SNS integration
Google Search, Maps, Gmail
YouTube, Google Talk
MP4/H.264/H.263/WMV player
MP3/WAV/WMA/eAAC+ player
Document viewer
Organizer
Voice memo/dial
Predictive text input
This concludes our little review / preview of the LG Viper 4G LTE. I am truly sorry that there isn't any more information available about it so that I can say more about this phone, but that's just how unfair life is. If you feel that anything important has been left out of this little review / preview feel free to leave your suggestion for things which should be added or even other devices which I should review in the comment section below and I shall be sure to take them into consideration when writing my future projects. Until next time, I hope you had as much fun reading this as I had writing it.