All of the Optimus products that LG is coming up with seem to be better than any of their counterparts. This Optimus has a sliding QWERTY keypad as its main feature, among other things. It's especially good for texting or on-the-go writers that can't seem to get away from their work even for a second.
Quite a good phone if you think about it, the only downfall would be the sliding part. Usually the phones with slider parts have the same malfunction. That area tends to break down quite quickly and the phone just falls apart. It's quite normal really, I mean, it's like a drawer you keep using for long periods of time. It's bound to break down eventually. The unfortunate part is it sometimes breaks down sooner than expected.
Processor : 1.2 GHz NVIDIA Tegra 2 Dual Core processor
RAM : 1 GB RAM
Android OS : 2.3.4 Gingerbread
Camera : 5 mp
Display : 480 x 800 pixels, 4.0 inches (~233 ppi pixel density)
All we know for sure is that it has been announced in September but other than that no solid info was given about its release date. No use in going down to read the EXPECTED dates because usually those just make you get your hopes up only to crush them since the phone won't come out on that date.
The display is a good one, just like all the LG displays. We're talking about an IPS LCD capacitive touchscreen with 16 million colors. The screen is 4.0 inches big. The screen resolution is 480 x 800 pixels. That resolution and the screen size allow for a pixel density of approximately 233 ppi.
It has a whole lot of memory too. We're talking about 8 GB of storage space. 8 GB + the memory from the memory card ( microSD of up to 32 GB )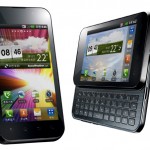 = a lot of memory. It also has 1 GB of RAM. This phone was built for multi-tasking.
The camera is a 5 mp camera with autofocus, LED flash and geo-tagging. The maximum picture resolution is 2592 x 1944 pixels. It can also record video but I'm not sure whether or not the phone can do it in HD or not. There is a secondary camera around there somewhere too, but no point in discussing it.
The phone's hardware sounds like it was built to be a miniature gaming PC. It has a 1.2 GHz Dual Core processor, an NVidia GPU and a Tegra 2 chipset. That configuration right there is a real powerhouse.
The Android OS version is 2.3.4 Gingerbread. That's good because not many phones come equipped with that version of Android. There are other LGs out there that were announced even later than this one and they are supposed to come out with 2.3. The world works in mysterious ways.
I'd highly recommend this phone as it seems like quite a good one to me. But don't take my word for granted, go buy for yourself and try it out.