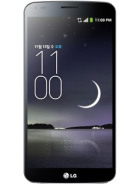 Today we'll be taking a brief look at the LG G Flex, a very "interesting" smartphone. Looking at it, you'd never guess what the deal with the phone is, especially from this picture on the left ( yet it's clearly visible why from the featured image ). Don't click BACK just yet to see, for I shall tell you what the big surprise is: this phone is curved – curved as in the style of the older phones. Heck if I didn't know any better, I'd say their commercials revolve around something as corny as "When you put your hand to your ear, the position is curved, therefore THIS PHONE".
All jokes aside, this device is rather interesting. It is one of the first ( I couldn't really say which was the real first one to implement Flexed Screens – LG or Samsung or maybe others – but it doesn't really matter now, does it? ) to actually implement this type of screen, but being one of the first it will undoubtedly be met with major resistance, as are most new things that tend to offer a change o pace. In this review I'll try to leave the curvature of the screen aside for as much as I can, although it does bother me to some degree, especially counting the size of the device.
SUMMARY
Treating it as a regular phone, this device is a pretty damn good one. I'm not sure, however, whether it should be called a phone or tablet or phablet or however you like it, as it is just one inch away from being a full-fledged 7.0 inch tablet. The LG G Flex is a phone riddled with advantages, but with some drawbacks as well. However, it's important to realize first of all that the screen of this device is meant to prove a point here: it's not that they're trying to make a boomerang-phone or make it fit better in your hand ( although the latter may be a pretty good reason too ). Actually, what LG is doing by implement flexible screens is proving that they CAN use last-year's new discovery – a screen that can be bent. While the body of the phone is still solid and rigid ( and it will be for years to come, probably, since not all components can be moved like that ), they went ahead and added a little bit of extra strength to the screen and assured you a little bit that it won't shatter the first time you accidentally drop it.
GENERAL
As far as general aspects go, the LG G Flex is a phone that uses the standard types of networks for 2G, 3G and even 4G. Officially, it's not out just YET, although it may very well be in certain countries. The worldwide date would be somewhere around November 2013, so there's not much waiting to be done here.
BODY
The exact size of this device is pretty large, at around: 160.5 x 81.6 x 8.7 mm ( or 6.32 x 3.21 x 0.34 in ) and it weighs approximately 177g ( or 6.24 oz ). Also, while I don't think this is necessary to mention, the body and display are both curved ( you already knew that, anyway ). What's interesting to note about the body is the coating on the back: Self-Healing Coating. If this starts being a thing and more more and more manufacturers implement it, you can pretty much say goodbye to covers for the back of the phone as scratches will be a thing of the past.
DISPLAY
The display of this device is a Curved P-OLED one with 16 million colors. Its size rests at 6.0 inches and it can take a resolution of 720 x 1280 pixels ( you'd expect 1080p for such a large screen, but in my humble opinion, certain budget cuts MUST be made somewhere, lest the phone will end up taking you to nearly 1000 bucks, like that Samsung flexed phone ). The pixel density for this screen isn't perfect, but it's still good: the phone has around 245 pixels per inch, which will end up making things look almost as good as they get.
SOUND
As far as sound is concerned, the LG G Flex doesn't have any hardware-based audi enhancements, but it does have a software-based Dolby Mobile enhancement present, which will make a world of difference for all you people that occasionally like to listen to some music from your phone.
MEMORY
As far as memory goes, this phone will only be available in one version: a 32 GB one. Sources were mixed about the card-slot, some claiming that the phone has none, but the official LG announcement say that the phone should be equipped with a card-slot. RAM-wise, the LG G Flex is doing well: it has 2 GB of them. While some may argue that it's nowhere near good enough compared to the 3 GB found on some devices, I'd say it's plenty good enough considering you'll be able to run pretty much anything out there.
DATA CONNECTION
The LG G Flex has quite a lot in this department: GPRS, EDGE, Great Internet Speeds, NFC, Bluetooth v4.0 ( with A2DP and LE ) and even something quite rare: MicroUSB v3.0 with USB On-the-Go and USB Host. The Wi-Fi of this phone is also quite strong: 802.11 a/b/g/n/ac with Dual-Band, Wi-Fi Direct, DLNA and Wi-Fi hotspot.
CAMERA
The cameras on the LG G Flex are quite something: the phone has a main 13 MP camera and a secondary 2.1 MP camera on the front. Both of thse can record in full HD at 60 frames per second and 30 frames per second, respectively. Some of the features of the main camera include: autofocus, LED flash, simultaneous video and image recording, geo-tagging, face detection, image HDR, video HDR, stereo sound recording and video stabilization.
BATTERY LIFE
The kind of battery found on this device is, unfortunately, is the kind that I hate – the non-remove-able kind. Still, the battery of the LG G Flex is a pretty strong one nonetheless: Li-Po 3500 mAh battery.
HARDWARE
The hardware of the LG G Flex is great. This phone is capable of running just about anything on the market right now and anything that will come out in the next couple of years. Ah, but you want specifics. Well, specifics I got: we have a Quad-Core 2.26 GHz Krait 400 CPU, a Qualcomm SMS8974 Snapdragon 800 chipset and an Adreno 330 GPU as well.
SOFTWARE
As far as software goes, you can find almost the newest version of Android on this device ( I say this because I also take into consideration the existence of 4.3, which will probably be out when this phone comes out ). The LG G Flex has 4.2.2 Jelly Bean on it, which is a great version of Android to have, but I tend to believe that 4.3 is better as it implements some pretty interesting new features. But you know how it is, everyone has their preferences.
FEATURES
The LG G Flex is packed to the brim with features. It has quite a few sensors ( Accelerometer, Gyro, Proximity and Compass ), it has HTML5 for the browser, Stereo FM radio with RDS support, Java via MIDP emulation, GPS with full support for A-GPS and GLONASS and it can handle messaging through a variety of means ( I won't bother re-typing them AGAIN, just search an older article and see for yourself which those means are ). The only color that this device is available in, however, is Titan Silver, which isn't a bad color in itself, but it feels somewhat restrictive.
Here's a brief list of what the LG G Flex can do:
DMB TV tuner (Korean model only)
Active noise cancellation with dedicated mic
SNS applications
MP4/DviX/XviD/H.264/H.263/WMV player
MP3/WAV/FLAC/eAAC+/AC3/WMA player
Photo viewer/editor
Document viewer
Organizer
Voice memo/dial/commands
Predictive text input
This concludes our little review or preview of the LG G Flex ( depending on what you want to call it ). I sincerly hope it has helped shed some light on the enigma that is this device and has, at the very least, offered you a tiny bit of extra information about the phone.