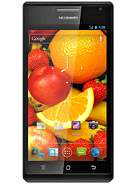 Normally I do not really like the Huawei series of phones and up to now I have seen them as weak compared to some of the more popular ruling giants around. While looking as some of their latest products, or, to come phones, I feel that I should rethink my opinion of their merchandise. It's clear to me that their phones are rapidly getting with the times and advancing to levels previously thought unreachable by their products. Furthermore, I shall be seeing many more of these Huawei phones if I remain this country since the old Nokia factory we had here was sold to Huawei and we'll see quite a lot of them soon.
Moving on to the actual review / preview of this particular phone.
Processor : Dual-core 1.5 GHz Cortex-A9, PowerVR SGX540, TI OMAP 4460
RAM : 1 GB
AndrodOS : 4.0 Ice Cream Sandwich
Camera : 8 MP
Display : 540 x 960 pixels, 4.3 inches (~256 ppi pixel density)
See, as I've said before, a pretty strong phone indeed.
Let's get this show on the road with the preview of the display of this phone. We're looking at a Super AMOLED capacitive touchscreen with 16 million colors. The screen is 4.3 inches big and has a screen resolution of approximately 540 x 960 pixels and the pixel density of this particular phone revolves around 256 ppi. The screen of this phone also has multitouch, but no other details than that ( details such as how many fingers can simultaneously touch it or stuff like that ). The screen itself also has a really good protection method – the Corning Gorilla Glass display, which is an extremely powerful method of protection in my opinion ( and in other people's opinions as well ).
On the memory side, the Huawei Ascend P1 has 1 GB of RAM and an internal storage space of approximately 4 GB. If for who knows what ungodly purpose you require more space than 4 GB, I suggest you purchase a MicroSD card for the MicroSD card slot takes anything up to 32 GB. Not much more to say about this …
The camera is pretty impressive too. We're looking at an 8 MP camera capable of photographing at resolutions as big as 3264 x 2448 and has a bunch of features as well. Some of those features include autofocul, dual-LED flash, geo-taggging and HDR. The video recorder is quite a potent one too, being able of recording at 1080 full HD at a steady 30 fps. The Huawei Ascend P1 also has a secondary frontal camera of 1.3 MP. No more info about the camera apparently, so let us move on.
As far as hardware is concerned, the specs of this phone are quite promising. It's quite powerful, I can say that much. The processor is a Dual-Core 1.5 GHz Cortex-A9 processor and is accompanied by a TI OMAP 4460 chipset and a PowerVR SGX540 GPU. As I've said before, quite powerful indeed. This hardware configuration can allow the Huawei Ascend P1 to be able to run a whole lot of applications and games and not crash while doing so.
Moving on to the final part, the Operating System. This phone surprisingly comes out with pre-installed Ice Cream Sandwich ( or Android OS v4.0 if you prefer it that way ). Either way, quite an impressive feat considering that the Huawei series used to be pretty weak.
In conclusion this phone may be worth all of its hype and even more perhaps. It's definitely quite strong and well-worth its price. No idea about any release date, however. You can expect to see it out somewhere in 2012, either in Q1 or Q2. Nobody can tell for sure. On a side note, however : when I say release date, I mean the release date on which the phone will come out officially and everywhere without any contractual restrictions. I'm saying this because there are cases in which a phone comes out earlier but it can only be purchased at the time via a very expensive contract between you and the service providers.