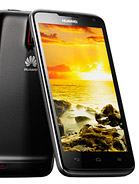 This Huawei phone is in many ways similar to the last one. It's actually almost the same phone, but this one doesn't have a quad core processor. Still, even without a quad core, it's a really awesome phone.
This phone is one of the many phones that give Huawei a good name. It actually didn't have that good of name about an year ago. Actually, they've taken some extreme actions in ensuring that their products are up to par with the rest. Up to around an year ago, they were among the worst phone producers ( and that's the sad truth ). But just look at them now. They've made it big and are releasing some of the most powerful phones around. Still, it will take a while of lingering at the top until they will be truly accepted into the ranks of great phone producers. Also, I should really start being kinder to Huawei phones since I will be seeing a lot of them soon since the old Nokia factory that I had in my country got closed down and bought by Huawei.
Processor : Dual-Core 1.5 GHz
RAM : 1 GB
AndrodOS : 4.0 Ice Cream Sandwich
Camera : 8 MP
Display : 720 x 1280 pixels, 4.5 inches (~326 ppi pixel density)
As I said before, not that much of a difference between the Huawei Ascend D1 and the Huawei Ascend D Quad. Still, let us take a look and see what this phone can do.
On the sound part, this phone has Vibration and MP3 Ringtones as Alert Types. It has a loudspeaker and a 3.5 mm jack. Just like the Huawei Ascend D Quad, the Huawei Ascend D1 also has Dolby Mobile 3.0 Plus sound enhancement. Used to be that Dolby was one of the most popular and powerful sound system. Thing is, it still is.
On the display part, the Huawei Ascend D1 has an IPS+ LCD capacitive touchscreen with around 16 million colors. The resolution that the display runs with is around 720 x 1280 pixels and the screen itself is around 4.5 inches big. The pixel density of this phone's screen is 326 ppi ( and after reading some of the many opinions of some many professionals in the field, that's classified as over-kill ). It also has multitouch but nothing too great to mention ( like how many fingers work simultaneously or anything like that ).
The internal storage space of the phone is comprised of 8 GB of ROM memory ( I'm still struggling to realize whether or not the ROM memory is the memory only usable by the system or the mixed memory which the system and the user are allowed to use ) and if that isn't enough for your ungodly space needs, you can always use the MicroSD ( you know the routine, the card slot can take any card of up to 32 GB ). This phone also has 1 GB of RAM ( currently the largest amount of RAM, but I suspect that not for long since every piece of tech keeps getting smaller and smaller, and so there will soon be more room for other components as well : who's to say that in an year or so mobile phones or tablets won't have more than 2 GB of RAM — That's the fun part of progress, you never know what to expect ).
As far as data connectivity goes, this phone has GRPS and EDGE. The speed of the data connecion is HSDPA of 21 MB/s and HSUPA of 5.76 MB/s. The WLAN of this phone is a Wi-Fi 802.11 b/g/n with Wi-Fi hotspot and DLNA. The Bluetooth is a v3.0 with A2DP and HS. The USB of this phone is a microUSB ( MHL ) v2.0. That's about it for the data connection part.
Moving on to the camera of the Huawei Ascend D1. This Android phone has an 8 MP camera which can take snaps at a resolution of approximately 3264 x 2448 pixels. The features of this phone's camera are as follows : autofocus and Dual-LED flash, as well as geo-tagging. A bit low on the features this phone is, but no problem, since this phone is still pretty good no matter how you put it or through how many pixels you look at it. The video recorder is capable of recording at 1080p full HD at a fluidity of approximately 30 fps ( for movies, that's quite a lot – it seems small if you know how many fps you need to have for a game, but trust me : it's more than enough ). This phone also has a secondary 1.3 MP camera which can work at 720p HD. How it can do that is beyond me, but I'm not one for searching things I can live my life without knowing. Troublesome thing this fps for the cameras. They fare weird in games and in movies, the two not being completely different, but not being the same either. I'm not making much sense here, but let me explain. If you've ever seen a Blu-Ray HD movie you'd notice that they move with extreme fluidity and it may even remind you of real life. Although the fps is no bigger than 30, you see it as you would if you looked out a window. You see it's a bit different for video games. The fps there mean how well the game will run, without too many incidents of screen freezes or slow-motion or lag or anything. You know the fps is below 30 when it starts acting all weird ( as I've just mentioned ) but if the fps is above 65 ( which is usually recommended for optimal performance ), you notice no difference whatsoever. That is because the human eye can't comprehend any movement above 65 fps ( I've said that before, but some people may not have read it back then ). It's just how we are, yet we strive for more.
Moving on to the hardware side of the Huawei Ascend D1. The Huawei Ascend D1 is quite powerful as far as hardware goes. The processor of the Huawei Ascend D1 is a Dual-Core 1.5 GHz processor and the chipset is a TI OMAP 4460. As opposed to the Huawei Ascend D Quad
On the software side, this phone comes equipped with Android OS v4.0 Ice Cream Sandwich. I find that pretty impressive since there are many phones that don't actually come out with the latest version of software. And frankly, being the year that it is and having so much impressive tech around, it's pretty disgraceful to see new phones coming out with older software. Especially since there are rumors of Android 5.0 coming out sometime this year.
Finally, we shall take a look at the more general features of the Huawei Ascend D1 . The Sensors this phone comes with are : accelerometer, gyroscope, proximity sensors and compass ( the gyro part is something less common, but the others can be found in mostly any phone ). The messaging on this phone can be done through SMS ( threaded view ), MMS, E-Mail, Push Mail and IM. The browser of the Huawei Ascend D1 runs in HTML and the GPS of this phone has A-GPS Support. The Huawei Ascend D1 also has Java via a Java MIDP emulator. The colors it comes out in are Metallic Black and Ceramic White. All and all, this phone will look and function awesomely.
And here you have a short list of features :
Active noise cancellation with dedicated mic
SNS integration
TV-out (via MHL A/V link)
MP3/WAV/eAAC+ player
MP4/H.263/H.264 player
Organizer
Document editor
Photo viewer/editor
Voice memo/dial/commands
Predictive text input
This concludes our little review / preview of the Huawei Ascend D1. If you feel that something is lacking from this review feel free to leave your suggestions in the comments below and I shall be sure to take them into consideration when I will be writing my future project. I hope you enjoyed reading this as much as I enjoyed writing it.