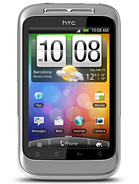 This phone is actually a newer version of the HTC WildFire. If you're in a situation in which you have to choose between the HTC WildFire and the WildFire S, I have only one thing to say : the choice will be a difficult one.
Processor : 600 MHz ARM 11, Qulacomm MSM7227, Adreno 200
RAM : 512 MB
Android OS : 2.3 Gingerbread
Camera : 5 MP
Display : 320 x 480 pixels, 3.2 inches (~180 ppi pixel density)
On the display side, this phone has a TFT capacitive touchscreen with 256K colors. The resolution of this phone reaches 320 x 480 pixels and the screen itself is 3.2 inches big. The screen's pixel density is around 180 ppi.
On the memory side, this phone has 512 MB RAM ( out of which only 418 MB are user-available ) and 512 MB ROM. That doesn't really leave much room for internal storage, but the MicroSD card can help with that particular problem. It can use any MicroSD card of up to 32 GB. The phone also has an included 2 GB memory card.
The camera is a 5 MP camera that can photograph at resolutions as high as 2592 x 1944 pixels pixels. Some of the features of the camera include : autofocus, LED flash, geo-tagging and face detection. It can also record video, but at a VGA quality with a steady 24 fps. This phone also doesn't include a secondary camera.
On the hardware side, this phone has a 600 MHz ARM 11 processor and a Qulacomm MSM7227 chipset. As opposed to the HTC WildFire, this phone has a GPU. More exactly, an Adreno 200 GPU. It's a bit more hardware capable than its counterpart.
Last but not least, on the software side this Android device is running Android OS v2.3 Gingerbread. Since this phone was released in 2011, I don't really know if it will ever get an upgrade to 4.0 but judging by the age of the phone, I'd say it's forgivable.
All and all, it is better than the WildFire as far as performance goes, but it has a weaker display. So, weigh the options carefully if given a choice between these two phones.
You can get this phone from Amazon.