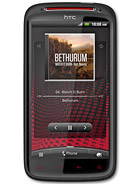 I've reviewed the Sensation XL in the past. So right now, I shall review this version of the Sensation androidphone from the H.T.C. It's name says exactly what it is, a sensational device. If you look below you will see how strong thisdevice actually is.
Processor : Dual-core 1.5 GHz Scorpion, Adreno 220, Qualcomm MSM8260 Snapdragon
RAM : 768 MB
AndrodOS : 2.3 Gingerbread
Camera : 8 MP
Display : 540 x 960 pixels, 4.3 inches (~256 ppi pixel density)
It's a pretty awesome device. Some would could also say it may be too much f or their pocket. However, if you have a problem with the price though, I can suggest getting this device with a HTC Sensation XE contract deal.
As far as memory is concerned, this device has an internal storage space of 4 GB out of which only 1 GB is user-available. On the interesting memory side-the RAM, this device has 768 MB of RAM and is capable of quite a bit of multi-tasking. Actually, it's almost one of the fastest androidphones out there considering that the current maximum for RAM is 1 GB. If the internal storage is a problem for you, you can use the MicroSD card slot with any of the MicroSD card of up to 32 GB.
As far as the hardware goes, this device is pretty powerful – especially the processor. It has a Dual-core 1.5 GHz Scorpion processor, an Adreno 220 GPU and a Qualcomm MSM8260 Snapdragon chipset. That's a regular powerhouse if I've ever seen one.
The software on this device is one of the latest versions of  AndroidOS v2.3.4 Gingerbread pre-installed on it. Hopefully it will be upgrade-able to 4.0 soon enough, but till that day comes, we'll have to manage.
You can get this phone from Amazon.