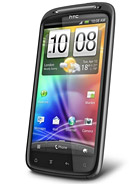 Today we'll be taking a look at the HTC Sensation 4G. This phone is a really good one. It is so good actually that it should come as no wonder to anyone that HTC made a 4G version as well. This phone is not only really powerful for the time it came out in, but it is also extremely packed with features and it doesn't cost all that much either. Valued at barely 310 euros ( start price, you may find it at more than this when going into a store since sellers often add to the price in order to cut a profit, but nearly doubling the price is somewhat outrageous ), I'd say that this phone is pretty darn affordable. Sure, you may not be able to purchase it with a week's pay, but that only makes it that much better ( since you'll appreciate it more ).
The HTC Sensation 4G is a bit region specific, I'm afraid, so I'm not so sure whether or not you'll be able to buy it in any other places. This phone is, as my sources tell me, only for T-Mobile USA. I do believe that with some pull it can be purchased in other places as well. An some places have already put it in their stock, but you shall see in just a minute. Now remember, if you're going to purchase this phone, be sure to get something as close in price as possible to 310 euros. Otherwise, you're going to get ripped off. Odds are you'll be ripped off anyway, but this way you'll lose much less.
SUMMARY
As I promised I'd do a long time ago in a galaxy far, far away, in a timezone much like ours, on a world much like ours, but most likely on ours, I'll start my reviews off with a brief examination of the good points and the bad ones of the device. I won't be posting any concrete information here, but if you truly want to know more I advise  you to keep on reading and judge for yourself the stuff that matters.
The HTC Sensation 4G has a ton of good aspects about it. While it may not be the BEST phone out there, it is one of them nonetheless. Also, while it may lack in a few departments, keep in mind that rarely are 4G phones good in every domain. Usually there is one thing or another that ends up lacking or being weaker than most phones. Also, before becoming too critic with this phone, keep in mind that it came out at the half of 2011, so it is an year old by now. An year is a really long time for phones, mind you, considering that today's technology is moving at an alarming rate.
The bad parts are there, but they are only bad if you choose to compare them with today's standards. Consider them as they were when this phone came out and you'll have a totally different conclusion. You'll see in just a moment what I'm talking about.
GENERAL
As I already mentioned, this is a 4G phone. Also, something to keep in mind, this phone is different from the today's known 4G phones. Today's 4G phones use CDMA networks and LTE ones. This one uses neither. Instead it uses regular networks that we are all used to, but at an incredible speed. Those networks are as following : 2G ( GSM 850, GSM 900, GSM 1800 and GSM 1900 ) and 3G ( HSDPA 900, HSDPA 1700 and HSDPA  2100 ). Also, while we're on the topic of networks, I mentioned earlier that some providers have gotten their hands on it, despite it being "only for T-Mobile USA". Take for example Bell from Canada : the Bell version of this phone has different 3G networks. Its networks are HSDPA 850 and HSDPA 1900 instead of the ones I mentioned above. Now to talk about the dates of this phone. The HTC Sensation 4G was announced in April 2012 and it came out officially on June 8th 2011.
BODY
The size of this phone is just the optimal one. The phone isn't too big but it isn't too small either. For a fellow like me that has relatively big hands, that's quite a plus. I for one would go for a Note or something with 5 inches but then I wouldn't have the pocket space for it. This phone, and any other 4.3 inch phone, is okay in my books. The HTC Sensation 4G is around 126.1 x 65.4 x 11.3 mm big and it weighs somewhere around 148 grams. As you can see for yourself, as I already said countless times, the size of this device is the optimal one.
DISPLAY
The type of screen of the HTC Sensation 4G is an S-LCD capacitive touchscreen with 16 million colors. You may ask yourself right now: What is this S-LCD? Basically it's the same thing as a normal TFT LCD but it was created as a conjoined project between Samsung and Sony. Not much can be said for performance improvement other that it is said to boost image quality and the reaction speed a bit, but there's a funny little story about how it came to be. You see when it came out, the shareholders were Samsung and Sony, Samsung having 50% plus 1 and Sony having 50% minus 1. In the winter of 2011 Samsung decided to buy the shares from Sony, and so they did in 2012, but they paid around 930 million dollars for them. I guess now you can say this is a full Samsung project.
The screen size of the HTC Sensation 4G is, as I'm sure I've already mentioned a while back, 4.3 inches. This screen can house a resolution of approximately 540 x 960 pixels and it has a pixel density of around 256 ppi. Now while some people claim that 300 ppi is the optimal amount, I say that you don't really need that much. While there is a very thin line between 250 and 300 ppi, one can barely notice it even on 10.1 inch screens. That being said, you can expect the highest possible quality from this screen.
This phone's display also has Multitouch on it, however, it isn't the advanced sorts of multitouch that can support more than 2 simultaneous fingers on it ( I never really understood why you'd need so many for normal purposes, but it may have some logic else it would not exist ). Also, this being a HTC phone, it has the HTC Sense 3.0 UI installed on it. The only disappointment here is that the screen has no protection whatsoever on it, so you'll have to be extra careful with not to dropping it or anything.
SOUND
The sound of this device is pretty basic, the HTC Sensation 4G finding itself in the position of lacking any and all sound enhancements, be them software-based or hardware based. The Alert Types are default ones, as it has all of them. Same can be said for the Loudspeaker and 3.5 mm jack – they both have no enhancements whatsoever.
MEMORY
There is a certain deal with this phone, however, I'm not sure whether or not it applies for all the sellers of the HTC Sensation 4G. Since the internal storage space of this device is only 1 GB, upon purchasing it you have an 8 GB Micro SD card included in the price. In the eventuality that that card isn't sufficient for your needs, know that this phone can support any card of up to 32 GB. The RAM of this device isn't that great for nowadays, but it was something for when this phone came out. This device has a total amount of 768 MB of RAM, which, for the time it came out in, was as 1 GB is for the current time – just a level below the maximum.
DATA CONNECTION
The connectivity of the HTC Sensation 4G is pretty good. While it may not specify what Class the GPRS and EDGE both are, we do know the exact speed that they can each reach, however, which frankly is much, much better. The GPRS can go up to 114 KB/s and the EDGE up to 560 KB/s. The Speed of this device is both HSDPA at 14.4 MB/s and HSUPA at 5.76 MB/s. The WLAN of this phone is a Wi-Fi 802.11 b/g/n with DLNA and Wi-Fi hotspot. The Bluetooth of this device is v3.0 and it also has A2DP on it. Also, the HTC Sensation 4G has a Micro USB v2.0 ( MHL ) port on it.
CAMERA
The camera of this device is a really powerful one. The HTC Sensation 4G's main camera is an 8 MP one that can photograph at resolutions of around 3264 x 2448 pixels and record in full HD 1080p at around 30 frames per second. The features of this main camera are : autofocus, dual-LED flash, geo-tagging, touch focus, image stabilization, face detection and instant capture. The video recorder also has a feature of its own – stereo sound recording. It may not be much and you'd think it wouldn't be worth mentioning, but most phone recorders lack that features. The HTC Sensation 4G also has a secondary VGA frontal camera on it, but sadly, this one has no features of its own to mention.
BATTERY LIFE
The battery of this phone is a pretty good one. Not only is it powerful enough for it to sustain the phone's hardware and many features but it also has a really long life span. The HTC Sensation 4G has a Standard Li-Ion 1520 mAh battery. This battery can survive for up to 400 hours of stand-by in 2G and up to 350 hours of stand-by in 3G and for up to 6 hours and 40 minutes of talk-time in 2G and 8 hours and 20 minutes in 3G.
HARDWARE
The hardware of this device is pretty awesome as well. Sure, it's not the best if you are to compare by today's standards, but when this phone came out it was really something. The CPU of this device is a Dual-Core 1.2 GHz Scorpion. Also, the HTC Sensation 4G has a Qualcomm MSM8260 Snapdragon chipset and a an Adreno 220 GPU. It can pretty much run any app out there, just beware all of the games with a "HD" in the title. There may be some of them that won't run on this phone.
SOFTWARE
At first sight, the software of the HTC Sensation 4G seems problematic, but trust me when I say it isn't that big of a problem. This phone has Android OS v2.3 Gingerbread on it, which for some people may prove to be less than ideal. However, the HTC Sensation 4G is easily upgrade-able to v4.x, as my sources claim. That meaning that not only can it support v4.0 Ice Cream Sandwich, but it probably supports v4.1 Jelly Bean as well. Since I don't own one I can't really say, but it can probably handle all versions of Android v4.
FEATURES
The HTC Sensation 4G is packed with a ton of features and capabilities, despite it being a tad older. The sensors of this phone are : Accelerometer, Gyroscope, Proximity and Compass. Also, the messaging on this device is done via : SMS ( with Threaded View ), MMS, E-Mail, Push E-Mail and IM. The browser of this phone uses HTML and has built-in support for Adobe Flash. Also, the HTC Sensation 4G has a Stereo FM radio with RDS. This device's GPS has built in support for A-GPS and the phone also has Java through a Java MIDP emulator. The only available color for this phone is Black, but it does look awesome in that color.
Here is a brief list of what the HTC Sensation 4G can do :
TV-out (via MHL A/V link)
SNS integration
Google Search, Maps, Gmail
YouTube, Google Talk, Picasa integration
MP3/AAC+/WAV/WMA player
XviD/MP4/H.263/H.264/WMV player
Organizer
Document viewer
Voice memo/dial/commands
Predictive text input (T9 Trace)
This concludes our little review of the HTC Sensation 4G. If you feel that anything is lacking from this review feel free to leave your suggestions in the comment section below for things which should be added and I will be sure to take them into consideration when writing my future projects. In the meantime, I sincerely hope you had as much fun reading my little review as I had writing it.