HTC is well known for its high advances in the Smartphone industry. In a short time, they have risen to the tops quite quickly. And with good reasons too. I mean all of these phones have so far shown great potential.
Although it was announced in September 2011, nobody truly knows for sure when this Smartphone is going to come out. There have been speculations that it will be in Q3 or Q4 but no solid info to back those speculations up.
Processor : 600MHz Scorpion CPU, Adreno 200 GPU, Qulacomm MSM7227 chipset
RAM : 387 MB RAM
Android OS : 2.3 Gingerbread
Camera : 3.15 mp
Display : 320 x 480 pixels, 3.2 inches (~180 ppi pixel density)
Down to the technical bits we go …
The phone is a pretty small one. The dimensions at which it is measured are as following : 102.8 x 57.2 x 12.9 mm and it weighs about 108 g.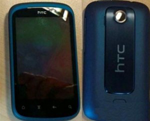 The display is a TFT capacitive touchscreen with 256K colors. The screen is 3.2 inches big and has a resolution of 320 x 480 pixels. The pixel density is about 180 ppi.
The memory of this phone is structured as follows : 387 MB of RAM, 90 MB ofstorage space, 512 MB of ROM memory. It also has a card slot that can hold any MicroSD memory card of up to 32 GB.
The main camera is a 3.15 mp camera that can capture images at 2048 x 1536 resolutions. No frontal camera. It has autofocus as its main feature, accompanied from the background chorus by geo-tagging and face detection.
The processor of this phone is a 600 mhz Scorpion. Other hardware pieces consist of an Adreno 200 GPU, all wrapped together tightly into a Qulacomm MSM7227 chipset. Not the best configuration, but I've seen worse.
T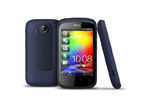 he Android OS version is just the old regular 2.3 version. Makes you wonder how many more phones will come out with this version since there are so many others out there that are coming out with 2.3.4 and 2.3.5.
All and all, not the most powerful Smartphone out there, but a good one none the less.
You can get this phone from Amazon.