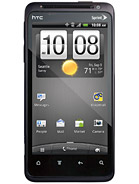 You can expect great things from this device since it is one of the EVO series after all. Think back and you will remember when the first iPhone4  came out, this particular HTC Phone managed to single-handedly place that iPhone4 were it belongs – under its boot.
Processor : 1.2 GHz, Qualcomm MSM8655
RAM : 768 MB
AndroidOS : 2.3 Gingerbread
Camera : 5 MP
Display : 540 x 960 pixels, 4.0 inches (~275 ppi pixel density)
So let's get on to the technicalities, shall we? On the display side, this Device happens to have an LCD capacitive touchscreen with 16 million colors and a 4.0 inches size. It has a resolution of around 540 x 960 pixels and a pixel density of approximately 275 ppi.
On the memory side, this particular HTCPhone has 4 GB of internal ROM memory and 768 MB of RAM. That hefty RAM size allows for quite a bit of multi-tasking. It's almost the best out there, considering that the current maximum is around 1 GB (and rumors have it that the Galaxy SIII will have around 2 GB – but that's a tale for another time). If 4 GB of storage space aren't enough to suit your needs, it also has a MicroSD card slot that can use any MicroSD card of up to 32 GB.
As far as the camera goes, this device has a 5 MP camera that can photograph at resolutions as high as 2592 х 1944 pixels. It also has a few of the following features : autofocus, LED flash and geo-tagging. The video recorder is also a pretty awesome one, being capable of recording at 720p HD. If this camera wasn't enough for you, this AndroidOS device also has a secondary 1.3 MP camera.
As far as hardware goes, this device has a 1.2 GHz processor that comes hand in hand with a Qualcomm MSM8655 chipset. That's a pretty strong configuration. Far from the best, but it gets the job done.
As far as software goes, this device has AndroidOS v2.3.4 Gingerbread. It's a pretty good version of AndroidOS, but not the best. However, that isn't actually a problem since there is talk underway of a future upgrade to 4.0 Ice Cream Sandwich.
All and all, this is a pretty good device, as all of the HTCPhones from the EVO series.
You can get this phone from Amazon.