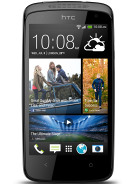 Today I'll be showing you a thing or two about the HTC Desire 500. This phone is a pretty damn good one for a really great price. Also, to top it off, if you need it, this device is also available in Dual-SIM versions. However, don't go thinking that the HTC Desire 500 is not without drawbacks, but we'll get to them when their time comes.
Firstly, the HTC Desire 500 uses a lot of nice features on it. I'd actually go so far as to say that this device should actually be worth a bit more thanks to the many features you can find on it. But seriously, now, this phone really is good. It does have a ton of neat things, but it has a few serious drawbacks as well. Overall, it's a fairly average kind of device with medium features in almost ALL domains ( which is frankly a good thing, considering that many other phones, in their try to reduce costs, simply add a strong component to draw attention but cut all the others in quality – fact which I think is a very bad idea.).
SUMMARY
This phone is overall more than worth its value, especially since it costs less than 300 dollars. Heck, since I'm feeling good day, I'll even give you a link to where you can find it for less than the previously mentioned price. Now I mentioned before that the HTC Desire 500 has its fair share of drawbacks. The good news is that they don't do much for hindering the phone and they are easily outmatched by the advantages of the phone.
GENERAL
As far as networking goes, the HTC Desire 500 is pretty much default. It uses the standard GSM networks for both 2G and 3G, and regretfully, it doesn't have any 4G on it. This phone CAN be a Dual-SIM one if you opt for that kind of thing. The type of SIM card found on the HTC Desire 500 is of Micro-SIM format. It's been a bit of time since this phone has been available, as it has been for sale worldwide ever since September.
BODY
The HTC Desire 500 is a particularly average phone, especially compared to the larger devices that seem to have flooded the market. It's sporting a 4.3 inch screen and has the following specifications: a size of 131.8 x 66.9 x 9.9 mm ( or 5.19 x 2.63 x 0.39 in ) and a weight of around 123 g ( or around 4.34 oz ).
DISPLAY
The screen of the HTC Desire 500 is not the finest out there, but it gets the job done. The type of this display is TFT with 16 million colors. This 4.3 inch screen can support a resolution of around 480 x 800 pixels and has a pixel density of around 217 pixels per inch ( which by most people's standards is a pretty decent amount ). Also, while on the side of the Display, I assume it's worth mentioning that this phone comes with the HTC Sense UI 5.0 installed on it.
SOUND
As far as audio goes, this phone is doing pretty well. The HTC Desire 500, similar to many other HTC devices, is seemingly equipped with a Beats Audio sound enhancement ( which is widely accepted as one of the best enhancements out there – for music, at least ). Aside from that, all things are pretty much stock as far as audio goes.
MEMORY
The memory of this device is pretty weird – weird as in I don't really know how to feel about it. On one side, I'm somewhat disappointed that it only has 4 GB of storage and just 1 GB of RAM. On the other side, it's great to see that it has a card slot capable of using any card of up to 64 GB.
DATA CONNECTION
The HTC Desire 500 is pretty good as far as data connection goes. It's equipped with both GPRS and EDGE, it has Bluetooth v4.0 with A2DP on it as well and it has a pretty decent internet speed as well. The Wi-Fi of this device is also pretty good, with 802.11 b/g/n with Wi-Fi Hotspot support and DLNA. The USB port of this phone is quite interesting: Micro-USB v2.0 with USB On-the-Go support and USB Host support as well.
CAMERA
The camera of this smartphone is quite something to behold. Firstly, the HTC Desire 500 has two cameras: a main 8 MP camera ( sadly it doesn't record video in 1080p HD, but some would think that 720p HD is enough as well ) and a secondary 1.6 MP camera. This main camera has the following features: autofocus, LED flash, a 1/3.2" sensor size, a 1.4µm pixel size, geo-tagging and face and smile detection.
BATTERY LIFE
The battery of the HTC Desire 500 is a fairly strong one. This phone's equipped with a Li-Ion 1800 mAh battery. Allegedly, this battery can provide a pretty good lifespan, but as to who much it can REALLY give, nobody has yet to test. Still, if it brings you any warmth, here are the official things. Still, if it gives you any warmth, here are the official times promised: 435 hours of stand-by and 12 hours and 6 minutes of talk-time, both of those considered in 3G conditions.
HARDWARE
Hardware-wise, the HTC Desire 500 is somewhat impressive, although not necessarily all that much, considering some of its components aren't necessarily that new and fail to deliver on so many ends compared to their newer counterparts. Read these specifications and you'll see what I mean: Qualcomm MSM8225Q Snapdragon 200 chipset, Quad-Core 1.2 GHz Cortex-A5 processor and Adreno 203 GPU.
SOFTWARE
The software found on this phone is decent enough, but it's far from great and barely in the Good definition. What you can find on the HTC Desire 500 is Android OS v4.1.2 Jelly Bean. Frankly, it's disappointing to see a phone come out with this version nowadays, especially since most people are struggling to get the newest version. Even more disappointing is that this phone is lacking any updates to a newer version, and nobody has yet to say when this phone will receive an update ( if it will ever get one ).
FEATURES
The HTC Desire 500 has a decent amount of features installed on it. Some of these features include: a couple of sensors ( accelerometer, proximity and compass ), HTML5 for the browser, stereo FM radio with RDS and a GPS with full support for A-GPS. I find it a bit irrelevant to keep mentioning the Messaging and the Java ( as all phones have this, so I'll just skip these from here on ). The colors in which this device is available are: Black and Silver.
Here's a brief list of the things the HTC Desire 500 can do:
SNS integration
Dropbox (25 GB storage)
Active noise cancellation with dedicated mic
DivX/XviD/MP4/H.263/H.264/WMV player
MP3/eAAC+/WMA/WAV/FLAC player
Google Search, Maps, Gmail, YouTube, Calendar, Google Talk
Organizer
Document viewer
Photo viewer/editor
Voice memo/dial/commands
Predictive text input
This concludes our little review of the HTC Desire 500. I tried touching the most important parts here and talking about everything as briefly as I could, without going into too many technical or boring details. I do hope it has proven somewhat enlightening to you all and that at the very least it offered you a bit of extra info about the device. If you liked this phone and would like to get one for yourself, I'll actually provide you with a link to a great-priced listing of the phone – simply click HERE
.