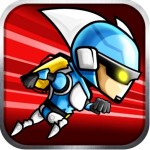 Today we'll be reviewing a short little Android game. This is a fairly interesting puzzle game in which your goal is to guide a little lemming from point A to point B while using the abilities at your disposal. What is quite interesting about this game is the response it has triggered in the player world. Almost all reviews I've read from the users are bad ones.
The part that mainly disappoints people is that this game does things it does not say it will do and promises things that it will never do. Also, it has DLCs as well, so upon purchasing it with less than a dollar you will still have a lot of content cut off from your access. Not only that, but even with the game fully purchased, DLCs and all, you will still have those pesky and annoying ads.  Also, the game accesses OpenFeint without even asking for permission. Start the game with your internet on and this will surely be the death of your limited internet traffic.
FEATURES :
This game is said to have amazing HD graphics. I can't say as I haven't played it yet, but let's give it the benefit of the doubt
The game has a Local Multiplayer mode of up to 4 players
Three game modes, this game has : Story, Practice and Endless ( upon reading the player response, the Practice mode is a myth )
It has a local high-score list
This game also has an interactive tutorial to help you in learning how to play
DESCRIPTION :
In the world of this game, gravity laws have long since been broken. One individual is being held captive for defying those rules. Since he isn't satisfied with his position in society, he decides to escape, thus becoming the first of the runners. Being able to flip gravity at will, that person became known as the Gravity Guy.
Since you're being chased by Gravity troops, you as Gravity Guy cannot stop and smell the roses, not even for a minute. He has to keep on running and it's up to you to decide how to guide him through an impossible world of mazes, all this while flipping gravity at your will. This is a fast paced adventure which features 30 challenging levels, three different worlds and guarantees a few hours of entertainment. You can choose one of the previously specified game modes above or choose to face off against up to 4 players.
Also, as I already mentioned in the beginning, this app lets your purchase digital content using real money. If you plan on giving it to a child it may be wiser to configure parental controls for in-app purchases. This will require your Amazon account password or a 4 digit PIN. You can do so by taping the Menu icon and the going into the Settings part.
As you have already guessed, you can get this nifty little game from Amazon.