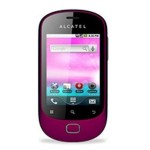 Alcatel has been a phone that's been around since the dawn of the mobile phones. This brand is the best example of perseverance and die-hard willpower.
But, if memory serves, back then Alcatel wasn't releasing the best of products and frankly, upon looking at this phone, I kind of realized that the time we live in today is not that different from back then.
Processor : 600 MHz processor
RAM : Nope
Android OS : 2.2 Froyo
Camera : 2 mp
Display : 240 x 320 pixels, 2.8 inches (~143 ppi pixel density)
It was announced in February but no idea if it's out already or if it'll be out soon. We know so far that it will be about this big 110 x 57.4 x 12.4 mm but we have no solid data on the weight, so better skip that one.
The display is a TFT capacitive touchscreen with 256K colors. The screen resolution is 240 x 320 pixels and the screen itself is 2.8 inches big. Those two allows for a pixel density of approximately 143 ppi. On some of my other articles where I've dealt with 256K colors screens I've stated my opinion on these screens all too clearly, but if you're too lazy to go back to those : it may not be as colorful as the 16 million color phones, but it gets the job done just as well.
The storage space available is 150 MB. No solid data on whether or not it has or hasn't got any RAM. Usually the other inside parts take over if one of the parts is lacking. Since there aren't any other inside parts except the processor, and that's quite weak as well, I can imagine this phone freezes a lot and may crash from time to time. The storage space can be upgraded via the microSD card that can be up to 32 GB.
The camera is a 2 mp camera. The picture resolution can go as high as 1600 x 1200 pixels and the only feature the camera has is geo-tagging. You can also record videos with it, but you can imagine the quality …
The Android OS is 2.2 Froyo and it isn't even upgrade-able to 2.3 Gingerbread. That's not good at all.
Upon looking at the phone with more detail, it isn't that good. It has nothing to offer but the aspect, and even that looks a bit squeemish.