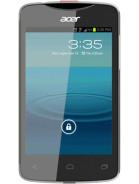 Today we'll be taking a quick gander at the Acer Liquid Z3. This phone is also available in the Acer Liquid Z3 Duo format, which as the name suggests, has a Dual-SIM card slot. Both of them have the same features, except for the obvious thing of one of them having support for two SIM cards. Personally, I'm the kind of guy for whom one SIM is enough, so I chose to tell you a thing or two about this one.
The Acer Liquid Z3 is one of the cheapest Dual-SIM phones out there. I've done some digging for it myself and found that the highest price (most of them were lower than this ) was fixed at approximately 140 dollars. Therefore, I'd assume that it's pretty affordable for most peple in the world ( not necessarily ULTRA-Cheap, but it's lower than average, that's for sure ).
SUMMARY
The Acer Liquid Z3 is an exquisite phone for a very enticing price. It's the kind of phone that won't really disappoint, and that shouldn't necessarily be underestimated ( or should, in case you want to be pleasently surprised ). This type of phone can do just about anything and, in my opinion, is well worth the demanded price. While some people may be disappointed by the hardware, I can tell you that I've played with weaker phones and managed to make them do nearly the same things as the best of them ( more or less, and perhaps not with the same fluidity or speed, but it gets you there ). Sure, this phone's not perfect and it's not the strongest out there, but it can be aquired with little money and has a potential for greatness.
GENERAL
The networking for this device is the standard GSM and HSDPA networks for 2G and 3G respectively. As for the SIM, you already know that the Acer Liquid Z3 has Optional Dual-SIM, so if you have need of it, do feel free to get the Dual-SIM one. Currently, the phone is available having been announced in August and released a bit later in September.
BODY
The Acer Liquid Z3 is a fairly small phone, having a 3.5 inch screen and not much wasted space as far as the body is concerned. The exact size of this device is as following: 109 x 60 x 10.4 mm ( or 4.29 x 2.36 x 0.41 in ) and it weighs circa 120 g ( or around 4.23 oz ).
DISPLAY
As far as the display of the Acer Liquid Z3 is concerned, you already know that it's a 3.5 inch one. The type of screen is TFT with 16 million colors. The display of the Acer Liquid Z3 can hold resolutions of up to 320 x 480 pixels and has a relatively decent pixel density of approximately 165 pixels per inch. While it may not be smooth as silk, it will get the job done. Certain differences will be notice-able, even with the naked eye, but nothing TOO extreme. Unfortunately, this device has no means of screen protection, so your best protection would be not dropping it.
SOUND
As far as sound is concerned, the only thing that sets the Acer Liquid Z3 apart from the rest of the devices is the fact that it has a pair of Stereo Speakers instead of a single loudspeaker. As for the others, the phone is pretty much basic or default regarding any other audio enhancements.
MEMORY
There are those who might have a problem with the memory of this device. You see, the Acer Liquid Z3 has a mere 4 GB of storage space ( which can be expanded upon with the MicroSD card of up to 32 GB ) and only 512 MB of RAM. While the small number of RAM will be felt, the impact won't necessarily be catastrophic. You can pretty much use this phone as you like, so long as you don't overload the memory with useless apps.
DATA CONNECTION
The Acer Liquid Z3 has both GPRS and EDGE, both of them at the standard Speed. The WLAN is somewhat out of the ordinary, being a Wi-Fi 802.11 a/b/g/n with Wi-Fi hotspot. The Bluetooth version of this phone is v3.0 and it also has A2DP and EDR. The Micro-USB port of the Acer Liquid Z3 is a v2.0 one with no support for MHL, so say goodbye to using it as an HDMI port.
CAMERA
The camera of the Acer Liquid Z3 is nothing special. From another point of view, you could say it's quite weak. The main camera of this phone is a 3.15 MP snapper for which the only note-able feature would be Geo-Tagging. There's not much else to say here.
BATTERY LIFE
The battery of this device is my kind of battery: the remove-able kind. As for the strength, let's just say that this little Li-Ion 1500 mAh battery is packing enough power to sustain the Acer Liquid Z3 for quite a few hours of heavy-usage.
HARDWARE
The only note-able component from the hardware specs of this device is the processor, the phone having a Dual-Core 1 GHz processor installed on it. Without having much to go on, it would be easy to assume that this phone ends up lacking on the hardware-side of things, yet it's sufficiently strong enough to run pretty much the majority of apps and quite a bunch of games out there.
SOFTWARE
The OS version of this device is a pretty good one – not the newest or greatest, but good nonetheless. The Acer Liquid Z3 is packing Android OS v4.2 Jelly Bean and there's no solid data to sustain the idea that it might support other official versions ( because, unofficially speaking, you can pretty much install any version you like, at your own risk of course ).
FEATURES
Some of the main features of the Acer Liquid Z3 include: Stereo FM radio, Java through MIDP Emulation, GPS with A-GPS support and HTML for the browser. The sensors of this device are limited to just one Accelerometer and a Proximity. Messaging on this device can be done via: SMS ( with Threaded View ), MMS, E-Mail and Push Mail. The Acer Liquid Z3 is available in two main colors: Rock Black and Classic White, but you can also buy separate back covers in Sakura Pink, Pop Yellow and Lagoon Turquoise ( if you're into those colors, personally I prefer plain black for devices ).
Below I'll give you a brief list of what this phone is capable of:
SNS integration
MP3/WAV/WMA/AAC player
MP4/H.264/H.263 player
Organizer
Document viewer
Photo viewer/editor
Voice memo/dial
Predictive text input
This concludes our little review of the Acer Liquid Z3. Hope that it, at the very least, offered you a tiny bit of extra info about the device and that it helped you form a better impression about the phone.