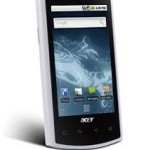 This phone is far from the power-houses I usually review, but on the other hand, it is more accessible to the general public.
Acer has a good name to it when you refer to the Tablets they make, not so bright with Smartphones though.
Well, that is just my opinion, after my time spent with a few of their products.
Processor : 800MHz processor
RAM : Nope
Android OS : 2.3 Gingerbread
Camera : 5 MP
Display : 320 x 480 pixels, 3.5 inches (~210 ppi pixel density)
As you can probably tell just by looking at the specs, a pretty weak phone. Should be worth quite little, or not many people will buy it.
On the display side, this phone has a TFT capacitive touchscreen with 256K colors. The screen itself is 3.5 inches big and the resolution of the screen reaches 320 x 480 pixels. That allows for a pixel density of 210 ppi.
On the memory part, this phone has none. No RAM or internal storage space. The storage space can be forgettable since you can use the microSD card slot that accepts cards of up to 32 GB. But the lack of RAM raises serious performance questions.
The camera of this phone is a 5 MP camera. The resolution at which it can photograph is 2592 х 1944 pixels. The camera's features are : autofocus, LED flash and geo-tagging. It also has a video recorder, but it is incapable of 720p. No secondary camera either.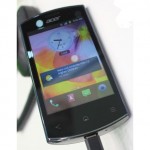 On the hardware side, it only has an 800 MHz processor. Nothing more to say about it.
On the software side, it has Android OS v2.3 Gingerbread. I'm surprised a phone that weak can run Android at all …
All and all, this phone does nothing but disappoint in everything it has.