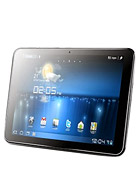 Today we'll be reviewing the ZTE T98. This is a really powerful tablet. Keep in touch with this website as these days I will only review powerful devices, Tegra equipped devices, to be more precise. Such devices are capable of running stuff so complex that it may not even work on the PC you're reading this review from. Even so, one mustn't forget that nowadays we have taken our tech to such a level that we actually buy phones / tablets which are smarter than the average user.
Before going on to the more advanced stuff, you should know this little bit of info, as many users tend to ask for this little bit in many discussions. This tablet, the ZTE T98, is one of those few tablets that has support for GSM voice communication, SMS and MMS. Also, another thing which I feel I should point out here is the fact that the info I've made my review from are the "Preliminary Official Specifications". However, know that when my sources say that, little to nothing end up changing when the device usually comes out.
Oh, one last thing I need to point out here, before I forget. This being a ZTE device, they kept with the tradition of being cryptic as always. This way, I cannot provide any information about certain things of this tablet. Those things may have been important, but in the end, few people cared about those little things anyway. You will see what I mean in just about a minute or so.
SUMMARY
As I promised a while back, I would start all my reviews off with a brief review of the good and the bad of the device. Most things about this tablet are good. The hardware of this device is probably the best thing about it, as I mentioned it can run anything on the actual market, and will probably still be able to run anything an year from now as well. The rest are pretty good too. The connectivity of this tablet is okay, the camera as well, and even the memory and sound are both decent.
However, nothing good comes without a price. The price to pay for this tablet is the display, body and battery. For the display, you'll see why in just a minute. The body and battery are easier to describe. The only problem with them is that I can't write anything about them since ZTE has chosen to be as cryptic as always and not leak any info at all. Also, some people may find a problem with the screen size of this device, but I think 7 inches is the optimal size for a tablet. But without wasting any more time, let us commence this little review of the ZTE T98.
GENERAL
As I already mentioned before, this tablet is one of those rare ones that can actually support GSM voice communication, SMS and MMS. To be able to support those you require networks and this tablet has network support for both 2G and 3G. However, I must say I don't see that kind of 3G networks often. Here's what I'm talking about : 2G networks ( GSM 900 and GSM 1800 ) and 3G networks ( TD-SCDMA 1880, TD-SCDMA 1920, TD-SCDMA 2010 and TD-SCDMA 2035 ). While those networks may seem strange to me, I can only imagine that not many people care about the name as long as the SIM card fits.
It is a bit disappointing to see that this tablet is not yet available. Worse, even, we don't even have a clear idea of when the tablet is going to come out. All that we know is that it was announced in February 2012 and is set to come out somewhere around Q3 of 2012. Other than that, nobody has thought it important to release any info about the release per say of the device. All we can do is wait while impatience grows.
BODY
This part is problematic to talk about, as I've already mentioned, I lack the necessary information to say anything useful here. Apart from the fact that the tablet is extremely sleek and beautiful, there's nothing else I can say about this device. I have no information about the size or the weight of the ZTE T98 whatsoever. All I can say is that the screen is 7 inches long in diagonal, so if you can make anything from that, good for you. Other than that, I regretfully can't provide any more info for this part.
DISPLAY
This is the thing I warned you about: the screen. While the producer of this device did all things possible to enhance the screen as much as possible, a TFT capacitive touchscreen with 16 million colors still pales in comparison to an AMOLED one. Place the two together one by the other and you'll see for yourself that the TFT one has its colors much darker and more "colorless" to say so. It's like a thick shade of gray is covering them. While some people may not be bothered by this, know that some may not be so tolerant about it. Some people want to get their goods since they're already paying more than enough for them.
Leaving that little bit aside, the screen size, as I've already mentioned, is the optimal size for a tablet, as far as I'm concerned – 7 inches. The resolution housed by this screen is around 768 x 1280 pixels. Something else which is a bit bothersome about the display of the ZTE T98 is the pixel density. It is barely around 213 ppi, and while I personally have no problem with it, especially for a 7 inch screen, some experts may be angered since they claim that the optimal pixel density is over 300, since that's the maximum amount of ppi the human eye can perceive.
This tablet also has Multitouch on it, however, it is only the default kind of Multitouch, not the advanced kind that permits usage of more than two simultaneous fingers ( I never understood what you'd need more than two fingers on the screen for ). Unfortunately, this tablet has no screen protection whatsoever on it, so you will have to be extra careful with its handling. Then again, one doesn't just pay so much for a device to play football with it, does he ?
SOUND
This being a tablet which supports voice communication, SMS and MMS it is only logical that it has Alert Types on it as well. Well, to your delight, it does have those – Vibration and MP3 ringtones, to be more exact. The Loudspeaker and 3.5 mm jack are default ones, so you can kiss the hardware-based sound enhancement goodbye. However, all is not lost because the ZTE T98 has a very efficient software-based sound enhancement mode on it – Dolby Mobile Sound Enhancement, to be more exact. Time was Dolby used to be the best in the biz, but then some people had to endorse other means such as Beats and they lost their prestige. Still, good to see they're still kicking, and kicking with force, no less.
MEMORY
The memory of this tablet may come as a disappointment to all the internal storage freaks that take pleasure in having more than 64 GB space for a mobile device. The internal storage space of this tablet is very low compared to some, but quite okay compared to others. While some tablets are available in different versions of internal storage space which varies from 16 to 64 GB, this one is more simple, the ZTE T98 having only 16 GB of storage.
The fact which is most disappointing is that the ZTE T98 has no Micro SD card slot, or any card slot come to think of it. This may come as a bit of a blow to those people that already had 32 GB cards and were ready to drastically upgrade their new device. The RAM of this device is quite good, there are no problems with that. The amount of RAM of the ZTE T98 is 1 GB. While some may argue and say that the maximum is 2 GB right now, remember than when this tablet was announced, 2 GB of RAM for a mobile device were only in theoretical form. All and all the memory is acceptable for an individual such as myself, but for those who want something with more room, I strongly recommend buying another tablet.
DATA CONNECTION
While the ZTE T98 has both GPRS and EDGE, we don't know what Class neither of them is or what Speed each of them can reach. Same amount of "not knowing" can be said for the Speed of this tablet as well, since the producer chose to release only that its speed can be measured as HSDPA and HSUPA, but not how fast they can both go. The WLAN of the ZTE T98 is a Wi-Fi 802.11 b/g/n with Wi-Fi hotspot on it. This tablet also has Bluetooth on it, however, we don't know what version it is. However, we do know that the Bluetooth has both A2DP and EDR. Also, we know that this tablet has a USB port on it, however, while the sources do not specify what USB it is, I do believe it is a normal v2.0 one. All and all, the connectivity of this device is a pretty good one.
CAMERA
The main camera of this device is a 5 MP one, and one of those unique ones at that. While most 5 MP cameras don't record in HD, even though they should, this one does – in 720p HD at around 30 frames per second, to be more precise. This camera can photograph at resolutions of approximately 2592 x 1944 pixels. Sadly, the only two features of this camera are : autofocus and LED flash. The ZTE T98 also has a frontal 2 MP camera. While the secondary camera has no features of its own, I can appreciate the fact that it is a 2 MP one, considering that 2 MP is the biggest camera so far for a frontal one.
BATTERY LIFE
And here we are again to another part I can't say anything about. All that I can say is : thanks ZTE? Who else is to blame but the producer of this fine device for forgetting to put in information about certain things. Sure, they may seem unimportant to some, but in the review business every little bit of information helps. The battery of this device is a Standard Li-Ion one. What voltage does it have ? How long can it last ? Ask ZTE, who else but them would know, considering that they kept that little bit of info for themselves.
HARDWARE
And here we are, the creme-de-la-creme, the cherry on top, the highlight of this tablet – its hardware. The hardware of the ZTE T98 is an exquisite one. It is capable of running things my old PC can only dream of. One shudders to imagine what technology we will have in the next few years if we already have Quad-Cores of 1.5 GHz so small you can fit them in tablets. The chipset, as I've already mentioned, is a Tegra one – Tegra 3 to be more exact. Of course, this being a Tegra chipset, the GPU can only be ULP GeForce. Words cannot express how powerful this hardware is. Just take a look at the Tegrazone and see that all you can find there can be yours if you use the ZTE T98.
SOFTWARE
Ah yes, while the hardware is necessary, who else can fit the shoes of running it and managing it but the software. The software of the ZTE T98 is a good one too. We're talking about Android OS v4.0 Ice Cream Sandwich, so I don't know if "good" will suffice. Since there's no solid news of when Android OS v4.1 Jelly Bean will come out, there's no point whatsoever in discussing the upgrade-ability of the ZTE T98.
Keep in mind that whenever a new Android OS comes out, months pass until the nice folks at Google finally release the list with candidates that are eligible for the update. Worse, even more months pass until we know which one of those candidates will be the first to receive it. This is partially due to the fact that most phones / tablets have UIs on them, and trying to fit the OS so that it doesn't damage the UI is hard. Usually that's the case in real life too : starting off with a clean slate is easy, but working within already existing parameters ? Totally different story.
FEATURES
The ZTE T98 has a ton of features to its name. While some may not be so great, be thankful that it does have them in the first place. The sensors of this device are as follows : Accelerometer, Gyroscope and Compass. The messaging on the ZTE T98 can be done via : SMS ( with Threaded View ), MMS, E-Mail, Push Mail and IM. The browser of this device uses HTML5 and has integrated support for Adobe Flash. This device has no Radio on it, however, that's not really a problem considering you can always get an app for that. The GPS of this tablet has no integrated A-GPS support, which may prove to be a bit of a problem for those who choose to make it a problem. This device has Java too via Java MIDP emulation. The only available color for this device is Black, but boy how it fits it.
Here is a brief list of what the ZTE T98 can do :
SNS integration
MP3/WAV/WMA/eAAC+ player
MP4/WMV/H.263/H.264 player
Organizer
Document viewer
Photo viewer/editor
Voice memo/dial
Predictive text input
This concludes our little review of the ZTE T98. If you feel that anything is lacking from this review feel free to leave your suggestions in the comment section below for things which should be added and I will be sure to take them into consideration when writing my future projects. In the meantime, I sincerely hope you had as much fun reading my little review as I had writing it.