With the upcoming release of the new Nexus phone in October 2015, I am very intrigued by the fact that all numbers are used up. Since they cannot call it Nexus 7, because there is a tablet with that name, and they probably want to stick with the device number – screen size pair, they will probably call it Nexus 5 ( 2015 or 2nd gen). I am not sure how Nexus 5 users will feel about upgrading to Nexus 5.
Since the next Android version that will come with the new Nexus will be M, there is a chance that it will be named Nexus 5M, and the Huawei version, Nexus 6M. This will make sense because it went well for Apple and Samsung, and a new letter added at the end meant a new and better version that consumers accepted. If they want to avoid being a copycat for Apple, they might go with a made-up name for each device.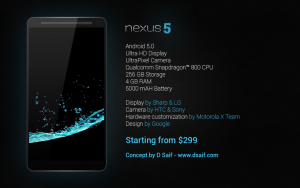 I hope that they will find a good suitable name for it, because I really want to get the next Nexus.