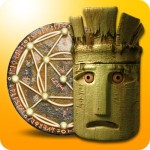 Today we'll be reviewing a nifty little game in which you are to find hidden items. Before we start, let me ask you this : do you like hidden object games but find that the objects are often too easy to find, and you end up regretting the time and money you've spent on that game. Well, have I got a solution for you : The Treasure of Mystery Island isn't just a hidden object game. In this game to find an object you must first find all the pieces of that object. Sounds difficult enough for you?
Judging from the good response this game has generated I'd say it was a pretty big hit. Many claim that the finding multiple pieces of an object instead of the full object at once tends to be more entertaining and provides a better workout for your brain than other games. Remember when I said some games make you waste time and money, well, that's not the case with this one. True enough, you'll find yourself putting hours and hours into it, but your wallet won't be too hurt by it as it costs less than a dollar.
FEATURES :
You have to complete 20 thrilling episodes
You can beat more than a dozen mini-games
Earn a ton of trophies
You can get unlimited hints and tips
You can access a learn-as-you-play tutorial
DESCRIPTION :
Adventure awaits you.
Alex is making a routine run across the Atlantic Ocean in his cargo plane when his girlfriends' lucky talisman begins to glow in an odd manner. Moments later, as his plane dives towards water, Alex finds himself parachuting to the beach of an uncharted island. After a native rescues him, he begins an adventure to find the hidden objects which will take him to the heart of this strange island where he will find treasures and unleash the curse of an angry god.
Play the Mini-Games and earn the Trophies
Your skills of seeking and finding objects will be challenged like never before as you complete more than 20 captivating episodes set in a world forgotten by time. You will need to not only find lost objects but also return them to their rightful belonging place in order to receive help from the natives. You will have to collect the scattered belongings of 24 clients, beat over a dozen mini-games and earn a ton of trophies. You can also unlock achievements and compare them with your friends ( or the rest of the world ) via Open Feint.
Are you up to the task of solving the mystery?
You can get this awesome little game from Amazon.