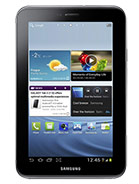 Today we're going to be taking a look at the Samsung Galaxy Tab 2 7.0 P3100. This is one of those few rare tablets that actually has built-in support for GSM voice communication, SMS and MMS. I thought it important to mention since this seems to be such a rare feat among today's tablets. It started to be present more and more for the tablets that have any respect for themselves and that want people to purchase them, but it's still a relatively rare feat. Many manufacturers have gotten with the time and implemented it in their products, but it still hasn't spread that much. It's at least disappointing, in my view, since it is something revolutionary that many are willing to pay the extra buck for.
This tablet, the Samsung Galaxy Tab 2 7.0 P3100, also goes under a few different names. Well, a few may be a strong word. It is known as the Samsung Galaxy Tab 2, and the 7.0 which stands for the screen size, as Samsung has the habit of putting it in their device's name, is somewhat optional.
Also, another important thing I feel I should say about this device and have found no relevant spot to place this little morsel of information is that it is valued at around 350 euros. That price may very well differ from the store price, as stores and sellers often add quite a bit for a profit. Some may even double the price, but at least now you know to get something as close to 400 dollars as possible. Else, you risk paying a tad bit more than it is worth.
SUMMARY
To start us off, I will post a bit of information about the good and bad points of this device. Although, if you truly want to learn more about this device I suggest you skip this part and move on to the next one – GENERAL, as I won't be posting any concrete or useful information here. All that you will find in this part is more of a guideline to keep in mind when reading the rest. I still put in this little summary as there may be some people out there interested in just knowing the general stuff about it.
This is a very good tablet as it has very little "bad points", and even those are only considered bad by some individuals. To cut this part short, absolutely everything about this tablet is good, or at the very least, decent. It is important to keep in mind that a tablet such as this one cannot operate at the same parameters as, let's say, a Tegra 3 equipped device, but it is also important to keep in mind that this device is much cheaper than a Tegra 3 equipped device.
The only thing that can be considered bad about this device is its size, as many people think that a 7.0 inch tablet is too small. I, for one, think that this is the optimal size for a tablet. It's big enough so that it can fit in most larger pockets or inside pockets of jackets, and small enough so that it doesn't require its own suitcase or travelling bag, as a notebook does. Of course, that's just my opinion, and you don't necessarily have to agree with me. But if you give it some thought, it is much more practical to have a 7.0 inch tablet than a 10.1 inch one.
GENERAL
The Samsung Galaxy Tab 2 7.0 P3100, as I already mentioned, is one of those few select tablets ( for the time being, of course ) that have support for GSM voice communication and SMS and MMS communication. In order to have that, the tab needs access to a Network, and so, this tablet comes into possessing access to both 2G and 3G networks. To be more precise, those networks are as following : 2G ones ( GSM 850, GSM 900, GSM 1800 and GSM 1900 ) and 3G ones ( HSDPA 900 and HSDPA 2100 ).This device was announced in February 2012 and was released a bit later in April 2012. It is currently available for purchase worldwide, should you be interested in the Samsung Galaxy Tab 2 7.0 P3100.
BODY
This is the part many people find problematic. The size and weight of the device, as you may have already noticed, are just enough to house a 7.0 inch screen, so the Samsung Galaxy Tab 2 7.0 P3100 is around as big as an E-Book reader. This tablet is around 193.7 x 122.4 x 10.5 mm big in length and is around 344 grams heavy in weight.
DISPLAY
The type of screen of this device is a PLS LCD capacitive touchscreen with approximately 16 million colors. In case you missed my explanation of what a PLS LCD screen is, I will try and give you a short version in this review as well. Samsung Electronics, in their desire to further better themselves and their products, introduced a technology known as Super PLS ( or Plane to Line Switching, if you prefer ) with the sole purpose of supercharging / superseding the conventional IPS. Samsung has also made a few claims as to why this Super PLS ( or just commonly referred to as PLS ) is better than the conventional IPS : an 100% improvement in viewing angle, a 10% improvement in brightness, a 15% improvement in production costs and let us not forget, increases in image quality.
The screen size, as I've already mentioned more than a few times, is 7.0 inches and it can house a resolution of approximately 600 x 1024 pixels. The pixel density of this screen isn't the greatest out there. Now do not misunderstand me, it's more than decent enough, but a few screen stutters may be seen at times considering this device only has 170 ppi. The finest being between 250 and 300, you may see certain signs during your usage of this tablet. Sure, 170 wouldn't be so bad for a small phone screen, but it's noticeable at times for a large tablet.
This screen also has Multitouch on it, however, it isn't the peculiar kind of multitouch that can support more than two simultaneous fingers on it ( frankly, I never understood the need of having so many fingers at once one the screen, apart from certain games ). If it all seemed way too simple for your tastes, know that the Samsung Galaxy Tab 2 7.0 P3100 also has TouchWiz UX UI on it, should you choose to use it. Unfortunately, however, this tablet has no means of screen protection on it, so you will have to be pretty careful with its handling.
SOUND
Normally, I wouldn't discuss sound too much for other devices, but since this is anything but a normal tablet, I do have some things I want to point out here. First off, the Samsung Galaxy Tab 2 7.0 P3100 is one of those tablets which have Alert Types, in no small part due to the fact that it has support for Voice communication. Those Alert Types are : Vibration, MP3 and WAV ringtones. Also, in case you were wondering whether or not this device has any sound enhancement whatsoever on it, be it software-based or hardware-based, threat not for it does indeed have one. While it lacks software-based sound enhancements, it still has one based on the hardware : its Loudspeaker, instead of being a default speaker, is a great pair of stereo speakers. There's not much point in talking about the audio jack as well, as that one is pretty basic.
MEMORY
This tablet is is one which supports variety in the way that the Samsung Galaxy Tab 2 7.0 P3100 is available in 3 different versions : an 8 GB version, a 16 GB version and a 32 GB version. Should none of the three be sufficient to satisfy your needs, know that the Samsung Galaxy Tab 2 7.0 P3100 also has a Micro SD card slot, however, it isn't one of those standard card slots you've grown used to. This card slot is just as the S III's card slot – it can support any card of up to 64 GB, instead of the regular 32 we've all grown tired of. The RAM of this device, by today's standards, isn't all that impressive, it having only 1 GB of RAM. However, I urge you to reconsider and remember that when this tablet came out, the idea of 2 GB of RAM was just that, an idea. It barely had a theoretical basis.
DATA CONNECTION
The connectivity of this device is pretty good, although I may have a few points that I can't say too much about. One of those things is the GPRS. I do know what class it is, but I don't know how good that Class is since it's rarely used – Class 33. Other than that, I'm afraid I can't say its exact speed. Same thing goes for the EDGE, but a tad different. For the EDGE we only know it exists, but we don't know what Class it is or what speed it can reach. The Speed per say of the Samsung Galaxy Tab 2 7.0 P3100 is as following : HSDPA of up to 21 MB/s and HSUPA of up to 5.76 MB/s. The WLAN of this phone is a Wi-Fi 802.11 a/b/g/n with DLNA, Wi-Fi Direct, Dual-Band and Wi-Fi hotspot. The Bluetooth of this device is a v3.0 one with A2DP and HS. Also, something I haven't seen in who knows how long, the Samsung Galaxy Tab 2 7.0 P3100 has an infrared port. Also, the USB port of this device is a Micro USB v2.0 one with USB On-the-Go support.
CAMERA
The camera of this tablet is a very peculiar one. This camera is a 3.15 MP one that can photograph at resolutions of around 2048 x 1536 pixels and surprisingly enough, record video in 720p HD quality at a frequency of around 30 frames per second. Sadly, this camera doesn't have so many features. Its only features are : Geo-Tagging and Smile Detection. Still, even lacking an arsenal of features, it still is a pretty good camera. Let me remind you, however, that I for one am not an adept of cameras on tablets. I'm not really FOR with the idea of cameras on phones either. This way, every teenager that downloads and installs Instagram believes themselves to be "professional photographers", thus soiling the good name of people that actually studied photography and paid 4000 dollars for a professional camera. Leaving that aside, the Samsung Galaxy Tab 2 7.0 P3100 also has a secondary frontal VGA camera, however, that one having no features of its own, I'd say it isn't of too much value to discuss.
BATTERY LIFE
The battery of this device is a Standard Li-Ion 4000 mAh battery. This is an extremely powerful battery and can sustain your tablet's life for a long, actually, very long period of time. With this battery, the Samsung Galaxy Tab 2 7.0 P3100 can survive for up to 1190 hours of stand-by in 2G and 1080 hours of stand-by in 3G and for up to 40 hours of talk-tine in 2G and for 20 hours of talk-time in 3G. While I did say how long it can run ( the official specs ) in Stand-By mode, I don't really believe that since once you install your first application / game on it, you'll start having background stuff that keep running and chewing on the battery.
HARDWARE
The hardware of this tablet is quite powerful, although I wouldn't expect it to be the equal in strength with a Quad-Core equipped device. Still, it can easily run any app on the market and most of the games. To be more precise, the hardware I'm talking about is : a Dual-Core 1 GHz processor, a TI OMAP 4430 motherboard and a PowerVR SGX540 graphics card. As you can obviously see for yourself, the hardware configuration is more than satisfactory enough and should withstand any test you may have for it.
SOFTWARE
The OS version of this device is a pretty good one. Actually, at the current time, it is almost the best one. The Samsung Galaxy Tab 2 7.0 P3100 has Android OS v4.0.3 Ice Cream Sandwich on it. Sadly, I don't know if it will ever receive the update to v4.1 Jelly Bean at all, since there's no news of it being able to support it or it getting an update any time soon. Even so, this version is more than good enough. While you can still install "unofficial" versions of the latest Android OS, I strongly recommend you avoid that since it may cause long-term damage to your Android device.
FEATURES
The Samsung Galaxy Tab 2 7.0 P3100 is packed with all sorts of features and capabilities. The sensors of this device are : Accelerometer, Gyroscope, Proximity and Compass. Also, the messaging on this device is done via : SMS ( with Threaded View ), MMS, E-Mail, Push E-Mail, IM and RSS. The browser of the Samsung Galaxy Tab 2 7.0 P3100 uses HTML5 and has built-in support for Adobe Flash. Sadly, this device has no radio on it, however, you can easily fix that by installing a radio app of sorts. The GPS of this device has built-in support for both A-GPS and GLONASS. This tablet also has Java via Java MIDP emulation. The only colors this tablet is available in are : Black and White.
Here is a brief list of what the Samsung Galaxy Tab 2 7.0 P3100 can do :
TV Out
SNS integration
MP4/DivX/Xvid/H.264/H.263/WMV player
MP3/WAV/eAAC+/WMA/AC3/Flac player
Organizer
Image/video editor
Quickoffice HD editor/viewer
Google Search, Maps, Gmail, YouTube, Calendar, Google Talk, Picasa integration
Voice memo
Predictive text input (Swype)
This concludes our little review of the Samsung Galaxy Tab 2 7.0 P3100. If you feel that anything is lacking from this review feel free to leave your suggestions in the comment section below for things which should be added and I will be sure to take them into consideration when writing my future projects. In the meantime, I sincerely hope you had as much fun reading my little review as I had writing it.