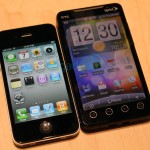 There is a long and intense debate between iPhone and Android fans, both trying to get the best arguments to prove that their phone is better. The fact is that you can't convince an iPhone fan that his phons is not that good. According to the Top Gadgets of 2010 report there is an Android phone placed higher than the well-known iPhone 4.
Whenever a iPhone-Android fight started, the Apple device fans want to think that their phone is a great piece of hardware, having 32GB of memory, a good processor, etc. But this is because they try to compare their 599$ phone with a 199$ cheap Android phone that you can get almost for free with a 2-year data plan.
Recently, Android phone manufacturers made phones with much better hardware than iPhones. They are now all adding a large amount of internal memory to their phones.
There was a long fight between the HTC Evo and iPhone that raised a lot of interest and many funny videos were made to underline it.
Long story short, most people tend to give credit ti the HTC phone instead of Apples, and place the Android phone higher than iPhone, despite the number one gadget of 2010 is considered iPad. Read the full top here.