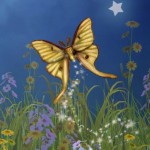 Surprise, surprise. Yet another Hidden Object game. Do not fret for I am trying to avoid them as much as possible. However, as we stand, the Hidden Object games are the most popular ones ( or numerous, I don't know which is more correct ) around whichever market I check out. This is a relatively short game and you shouldn't really expect to get overly too many hours of entertainment out of it. After all, one should never have high expectation of game which costs less than 1 dollar.
This game is still pretty unique compared to the usual Hidden Object games. This game, Hidden Garden, is a game with an extraordinary graphic which is both radiant and gorgeous to the human eye. compared to other games of the genre, this one seems to be more unique. Not because of its premise or game mechanics, but rather, by its lack of story. This game doesn't try to place you into the shoes of an over 9000 year old parkinson victim that can't even find the remote control. Instead, this game is just intended for relaxation with some beautiful sound and scenery.
Also, apparently I am not the only person to consider this about the Hidden Garden game. Every review of it that I've come across tend to praise it to the high spirits and nobody seems to say anything bad about it. Perhaps the most criticizing review I've read yet is one that claims that this game is way too short. Of course, it may be, for those with a trained enough eye as to easily spot the differences, but most people aren't that attentive.
FEATURES :
You are to find the hidden objects in each picture
The game has 4 unique musical compositions for your enjoyment
This game also features, as I've already mentioned, a gorgeous natural scenery
DESCRIPTION :
Take on a journey through the Hidden Gardens. In this beautiful hidden object adventure game your own relaxation and enjoyment is your only goal. Do just that and enjoy the gorgeous scenery as you locate and collect hundreds of butterflies, birds, lady bugs and hearts throughout many breath taking locations. The stunning visuals are accompanied by four equally stunning muscial compositions of your choosing.
You can get this really awesome game form Amazon.