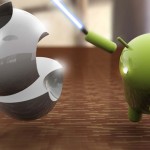 You've probably seen such comparisons before, but I hope to make this one different. The reason why I chose these two particular devices is the fact that they are both the latest devices from the two most powerful titans around. We all know how Apple has been fighting Samsung for a while and how Apple used to be the best and it has quite recently been overtaken by Samsung. The Samsung Galaxy Note and the Apple iPhone 4S are the latest and most powerful flagships released by Samsung and Apple. Thus, I have decided to compare these two, after all, the best way to really compare two large companies is to take their crowning achievements and look at those. If your best is better than someone else's best, than you can honestly say, hands down, that you are better than that certain person/company with which you are comparing yourself.
So let us start this little contest, shall we ?
Display
Now on the display side, the Galaxy Note is sure to overtake the iPhone 4S since it is a special phone, a combination between a tablet and a phone. It's quite performant and has an awesome aspect as well. The Galaxy Note's screen is a Super AMOLED capacitive touchscreen with 16M colors and the iPhone's screen is a LED-backlit IPS TFT, capacitive touchscreen with 16M colors. Now there is a really huge difference between the sizes of the screens, that means that one has a higher resolution and/or pixel density than the other. The one with the bigger screen is the Galaxy Note, it being a sort of hybrid between and Android Phone and an Android Tab, as I have mentioned before. The galaxy note has a 5.3 inches big screen with a resolution of 800 x 1280 pixels and a pixel density of approximately 285 ppi. The Apple iPhone, on the other side, has a screen of 3.5 inches big screen and a resolution of 640 x 960 pixels. The pixel density of this particular iPhone is about 330 ppi. They both have a multi-touch option, but that isn't something to brag about, since that is a MUST for all phones. As far as screen protection goes, they both have excellent protection, one better than the other, or vice-versa. The Galaxy Note has a Corning Gorilla Glass display AND a TouchWiz UI v4.0. The iPhone, on the other hand, has a Scratch-resistant glass display with oleophobic coating. Although the iPhone seems to have a nicer display, the Galaxy Note has a bigger screen with more features. My opinion would be that the Galaxy Note is about equal with the iPhone 4S, at least at this part.
Memory
Memory is a vital part in all phones/devices. As far as the storage space goes, these two titans are in a pretty tight competition. While the iPhone ranges between 16, 32 and 64 GB of internal storage space, it has no memory card slot. The galaxy note, on the other hand, has a card slot which uses MicroSD cards of up to 32 GB but has an internal storage space ranging between 16 and 32 GB. So in total, none of the two phones can go beyond 64 GB of internal storage space. A tie so far, so we'll have to rely on the RAM memory to be the tie-breaker. While the iPhone 4S only has 512 MB of RAM, the Galaxy Note has 1 GB. So in this tight competition, I'd say the Galaxy Note wins at this part because it has twice the RAM the iPhone has, despite the fact that they both have equal storage space at their best.
Camera
This particular part seems to be of interest to many people around. As far as cameras go, these two phones are pretty much equal. Few things can set apart these two in the camera division. But don't take my word for it, instead keep reading and form your own opinion. Both phones (if the Galaxy Note can be called a phone) come with an 8 MP main camera. Both phones take snaps at resolutions as high as 3264 x 2448 pixels. Both of them have autofocus and LED flash. That was all of their similarities. Now come the differences. The features of the Galaxy Note are quite different from those of the iPhone 4S in more than one way. First the iPhone : touch focus, geo-tagging, face detection and HDR. Secondly, the Galaxy Note : geo-tagging, touch focus, face and smile detection and image stabilization. Now I'm not sure what to make of these, props to both of them, I guess. As far as the video recorder goes, they can both record at 1080p full HD at a steady 30 fps. The main difference here is that the iPhone 4S has a bit more features, such as : LED video light, video stabilization and geo-tagging. Moving on to the secondary camera, the Galaxy Note has a 2 MP secondary camera and the iPhone only a VGA camera.Still, Apple has chosen  to overdo it with the features here as well, despite the fact that they are trying to add a whole lot of features to a VGA camera. Those features that I have previously mentioned are as follows : 480p at approximately 30 fps video quality during video calls and the video calls can only be done over Wi-Fi. Be that good as it may, it's quite disappointing that they can only be done via Wi-Fi.
Hardware
While some of the tech you see at the Galaxy Note can be found at other phones/tabs as well, the Apple used tech is quite unheard of to many people, especially those that have never had an iPhone. Attention, I'm not using the term UNHEARD OF to describe their quality or performance, rather their anonymity. Whether they're good or bad, remains to be seen.
Chipset : the Apple iPhone 4S has an Apple A5 chipset, which I am told is the crowning achievement of Apple as far as chipsets go. The Galaxy Note, however, isn't any lower than that, it having an Exynos chipset. The Exynos is believed to be one of the best miniature chipsets around (miniature with the sens of it being smaller than the PC chipsets – much smaller).
CPU : Now this is a good thing to be considering whenever you choose a "Smart" device. The processor means a world of difference, no matter how strong it may be. Be warned there is a great difference between the processor of the Galaxy Note and that of the iPhone 4S. While it iPhone 4S is the first Apple device to be equipped with a Dual-Core processor, it's still lacking in strength when you compare it with the Galaxy Note's processor. The Galaxy Note has a Dual-Core 1.4 GHz ARM Cortex A9 processor – among the best processors around – while the iPhone 4S has only a Dual-Core 1 GHz Cortex A9 processor, which, frankly, it's not that big of a deal. It may have been pretty awesome an year ago, but now it's sort of "the usual".
GPU : If you're planning to use your device in video-demanding activities such as gaming, using certain apps or entertainment in general, and not of business purposes only, than you have to take into consideration the GPU as well. These particular phones happen to have some really powerful GPUs, no matter how you look at them. The Galaxy Note has a Mali-400MP graphic processor and the iPhone 4S has a PowerVR SGX543MP2 graphic processor.
While I can't really see much of a difference between the chipsets or graphical processors of these two devices, the main processors do act as a tie-breaker, and what a tie breaker it represents. In conclusion, the Galaxy Note beats the iPhone 4S by a little bit at this part as well.
Software
While the iPhone 4S comes with the latest version of the iOS pre-installed on it – the iOS 5 – the Galaxy Note does not. It comes with a pre-installed 2.3.5 version of Android OS or the latest version of Gingerbread, as some refer to it. It is, however, upgrade-able to Ice Cream Sandwich. Why the people at Samsung have not released this phone with a pre-installed version of ICS on it eludes me, although I can find a few reasons as to why that could be, but they are only presumptions. The fan-boy presumption would sound like : it's too powerful already, even without the ICS update. However, the most logical explanation would be that it wasn't ready yet. You see, Apple knew what they were doing when they created the iOS. They made an OS that works for multiple platforms, while Android created more OSes that were designed individually for each and every platform to run at their full potential. Thus, there were the 2.3.X OS versions for the phones and the 3.X.X versions for the tabs. What Ice Cream Sandwich did was take those two OSes to the next level and fuse them together. That, in itself, even a silly little iFan could say, takes a lot of skill. Not only did they have to take two different OSes to another level and fix all of their bugs and minor mishaps, but they also had to do it in such a way as to blend them  both into a single OS, one that would run cross-platform and that would bring out the best of each device. I personally applaud them for the development they made on this OS and see why it took so long to make. Since both the iOS and the Android OS are at the latest version and I have sadly not had the pleasure of fully exploring both of them, I cannot pronounce a winner at this part, and would have to declare it a tie.
Conclusions
Now the Galaxy Note seems to overtake the iPhone 4S in many domains. While the iPhone 4S has an artificially intelligent virtual assistant to aid you in your needs, keep in mind that the Galaxy Note can also have such assistants via certain apps. Also, a really important detail you should keep in mind is that the Galaxy Note is a 4G phone and the iPhone is not. The battery life is also quite a bit larger in the Galaxy Note, as it has a better battery than the iPhone 4S.
Even with these minor details in mind, the Galaxy Note still manages to surpass the iPhone 4S and should be your number one choice when it comes to choosing a wonder of modern technology.